Candi Staton
by Pete Nickols
Several female purveyors of southern-soul have rightly been awarded very high marks by fans of the style – Ella Washington had a vulnerability which shone through her several top-drawer recordings, her trademark occasional 'lisp' only adding to her appeal. At her best, Tommie Young could rival (and even sound quite like) the great Aretha. Ann Sexton and Alder Ray Black were other formidable southern songthrushes – but many of these clearly very fine singers (probably through no fault of their own) nevertheless only recorded a relatively small body of southern-soul work. Irma Thomas too could sing southern-soul incredibly well but, although widely recorded, she didn't sing in that particular soul style all that often.
Candi Staton recorded much more widely in the southern-soul style and this is why, based on the very high overall quality of her large output, I have to tip the scales in her favour and rate her probably the greatest female southern soul singer of all time. Her voice is almost instantly recognisable and combines so beautifully the three essential ingredients of the best country-soul: that sanctified gospel-honed soulfulness, a ready appreciation of the simplicity and honesty of a good country song and an ability to empathise meaningfully with a good storyline lyric.
March 13 1940 is most commonly quoted as Canzetta Maria Staton's birthdate, a date she herself cannily avoids providing in her autobiography "This Is My Story".
Raised in poverty in the rural hamlet of Hanceville in Alabama, musically her grounding started with family gospel singing sessions at age 5. By the age of 8, Candi was singing in a gospel group called the Four Golden Echoes, together with her sister Maggie, Leatha Mae Malcolm and Betty Jean Byers. When the relationship between Staton's mother and her alcoholic father reached breaking point, Candi was moved, along with her older sister Maggie, to Cleveland, where the oldest of the Staton siblings already lived.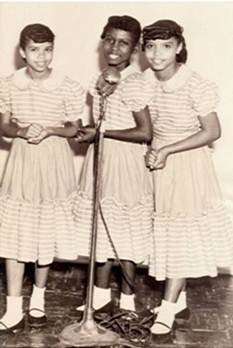 Soon, though, Candi (at age 11 or 12 according to her own recall) and her older sister were both sent to attend the Jewell Christian Academy in Nashville, whose Principal was Bishop Mattie Lou Jewell, a descendant of the founder of the Jewell Dominion Church Of The Living God, which she would lead for some 52 years. She asked the sisters to join with another young singer (Naomi Harrison) in what would become known at first as The Original Jewell Gospel Trio. Naomi was the daughter of Nettie Mae Harrison who often played piano for the girls and sometimes sang with them as well as overseeing/managing them on what became their regular tours of other churches in various parts of the USA (and even Nassau in the Bahamas and in Cuba), which all formed part of the parent organisation named The Church Of The Living God Pillar And Ground Of The Truth.
By the age of 13, Candi and the other girls had cut their first gospel sides out on the West Coast for Aladdin, while touring with the Trio. This was on 25 August 1953 at the Radio Recorders Studio in Los Angeles with Nettie Mae both singing with the Trio and playing piano, while her husband Lorenzo played guitar alongside another guitarist and a drummer. This session was credited to the Jewell Gospel Singers. The trio proved very popular on the gospel circuit, playing gigs with then contemporary gospel luminaries like the young Aretha Franklin, Mahalia Jackson and The Staple Singers. They were also one of the few gospel groups in those days to have a regular band, namely Lorenzo Harrison (Bass Guitar), Harvey Jones (Rhythm Guitar), Cooroneva Burns (Drums) and Bobby Powell (Piano), and were sometimes augmented by two additional singers, Sederia Boles and Shirley Boyd. As a result, Candi, Maggie and Naomi also continued to record as the Jewel Gospel Trio for Nashboro Records, cutting a total of 5 singles up to 1958. You can catch the Trio's version of "The Gospel Ship" from Nashboro 588 circa 1956 here and also their "Too Late" from Nashboro 617 circa 1958 here. However, even better to my ears, is the other side of their Nashboro 588 single,

Jesus Is Listening.
Some gospel discographies also mistakenly show Candi as part of the Jewel Gospel Singers who recorded for Savoy on into the mid-60's but this was a totally unrelated group from Richmond, Virginia, their main line up being Doris Anne Allen (lead), Anne Gardner, Ernestine Jackson, Henrietta Doswell and her sister Ellen Rose.
While she was still with the Trio, Candi's life took a serious turn at age 17 when, following a crush on then gospel-singer Lou Rawls, she ran away intending to marry him; however, it was Lou's mother who sent her back to Nashville, saying she should finish her schooling!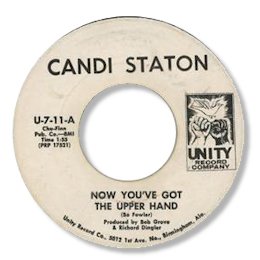 By 1959, Candi was back with her own mother in Alabama and trying indeed to rather belatedly finish her schooling; however, in this, her final year, Candi fell pregnant to the son of a pastor, duly married him and went on to produce four children in 'short order'.
Come 1967 this marriage was 'on the rocks' (a divorce would come in 1968) and Candi was still singing gospel in (and playing piano for) a choir at a Baptist church in Birmingham, Alabama. However, she now felt that she had been 'used' both by her first husband as little more than a 'baby-machine' and indeed even by the churches, in that she had never made any significant personal money out of singing gospel music. This led to her wanting to try to sing secular material and she was taken to the 27-28 Club in Birmingham by her oldest brother Sam, where, despite a limited repertoire, she was soon given the chance to perform regularly, resulting in her being 'spotted' by Bob Grove, who signed her to Unity Records in that city.
Only one 45 emerged on that label, the mid-paced dancer which later became something of a UK Northern Soul favourite, "Now You've Got the Upper Hand" (coupled with the almost poppish "You Can't Stop Me").
Then, a little later, two alleged duets by Candy (with a 'y' replacing the 'i' at the end of her name) and country singer Billy Walker appeared on each side of a Minaret single. Candi has never completely confirmed whether it was indeed her on this 45 and aurally it certainly doesn't sound like her - but in one quote I have seen she claims to remember the recording, albeit under the title of "The Soul Of A Man", which indeed is the opening phrase of the lyric. It's interesting to note, too, that Candy (with a 'y') Staton is named on the label as one of the three authors of the 'A' side and Bob Grove, who produced Candi's Unity sides, is also shown as having produced the Minaret recordings, which he probably leased to that label. Therefore either this is indeed Candi or else perhaps Bob had someone else sing, whilst using a close approximation of her name, seeing as she was probably still contracted to him at the time.
However, by now, Candi had also been 'spotted' singing at the same Birmingham night club by blind southern-soulman Clarence Carter, who asked her to tour with his band. Candi says: "but I was still going to nursing school and I just wasn't ready." So it was nearly a year later, at the end of 1968 (after her divorce), that Candi finally decided to go on the road with Carter and give up her nursing career. It wasn't long before Carter took her to Rick Hall at Fame, who was duly impressed and immediately bought out her contract with Bob Grove.
Candi went on to make Clarence her second husband on 9th August 1970 and another son would appear from this union before it too came to an end in 1973; however, Clarence (and Rick Hall) must be given much credit for sending Candi in what was clearly the right direction for her musically from 1969 onwards.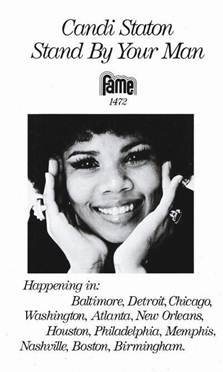 Between that year and 1974 at Fame she produced a body of southern-soul music probably unequalled in its overall excellence for such a concentrated period of recording. To enjoy the best of this remarkable output you need look no further than UK Kent's beautifully mastered (and packaged) 2-CD retrospective 2011 release entitled "Evidence – The Complete Fame Records Masters" (CDKEN2 353), which only omits the few later Rick Hall-produced Fame tracks which Candi cut circa 1974 for inclusion on her first Warner LP.
Picking favourites from such a plethora of southern-soul gems is not easy but, if pushed, on the 'deep' front I'd settle for

How Can I Put Out The Flame,

What Would Become Of Me, "You Don't Love Me No More", "Another Man's Woman" and her fine take on O.V. Wright's "That's How Strong My Love Is". As for her several superb, pacier items, "I'd Rather Be An Old Man's Sweetheart",

I'm Just A Prisoner, "Evidence" and the gloriously risqué

Get It When I Want It are the stand-outs for me.
Her Fame label output embraced three great albums (the first two featuring on the R&B album chart) and no less than 12 R&B single hits, 8 of which also crossed-over to the Pop Hot 100, with two others 'bubbling under' that chart.
While live performances by Candi from this 'prime' part of her career are hard to come by, you can see her from 1970 on Eddy Arnold's "Sound America" TV show singing "You Made Me So Very Happy" here.
While her next body of work, for Warner, reflected the mid-to-late-70's musical times and therefore her examples from this era are likely to be of less interest to 'real' soul fans, there's no doubt that Candi obtained her biggest cross-over success with that label when, in 1976, her disco-slanted "Young Hearts Run Free", also adopted as an 'anthem' by the gay community of the time, not only hit No.1 on the R&B chart but made the US Pop Top 20 too. It was also an international best-seller, peaking at No.2 on the UK Pop chart. Here you can see her performing this song for a TV show of the time.
Her Warner single from the following year, a fine version of the Bee Gees' song "Nights On Broadway", also did well around the world, hitting No.6 in the UK, yet, amazingly, only registering moderately on the R&B chart in the States while managing only to 'bubble under' the US Pop chart.
After Warner, in 1981 Candi re-joined Dave Crawford who had produced her at that label when she recorded for him another very acceptable dance-track, "Without You I Cry", on the LA label in both 7 inch and 12 inch formats (distributed by Jamie/Guyden).
Soon after this, she linked up with the Sugar Hill label where her 1982 "Nightlites" album featured her popular UK hit cover version of the Elvis favourite, "Suspicious Minds" (this track having failed to chart as a 1981 single in the States) and also "Count On Me", which conversely had spent just 5 weeks in the lower reaches of the US R&B chart through December 1981/January 1982. In truth few of her Sugar Hill tracks are likely to appeal all that much to 'real' soul fans and they certainly didn't compare even to her Warner output let alone her superb Fame material.
In 1982 Candi said hello to her third husband, Ashford & Simpson drummer John Sussewell, and said goodbye for the time being to secular music. Candi and John duly founded Beracah Ministries in Atlanta with help from Jim and Tammy Faye Bakker's PTL group and Candi went on to issue a spate of gospel albums, two of which received Grammy Award nominations.
During this period of her life her only secular musical venture came about initially without her knowledge. Candi had recorded the gospel-themed "You Got The Love" for a video-only 1980s documentary about an obese man who was trying to lose weight. In 1986, The Source released a version on UK Streetwave MKHAN 78 which sampled Candi's vocal from this documentary and they awarded her due credit on the label which proclaimed the song to be by "The Source Featuring Candi Staton". A US release on Source 9001 would spend 9 weeks in the lower part of the US R&B chart from the end of November that year. The most well-known house mix of the song, however, was by DJ Eren and was released much later, in 1991 and this reached number 4 in the UK singles chart. It was remixed and re-issued in 1997 (this time reaching number 3) and then re-issued again in 2006 with yet more new mixes, reaching number 7.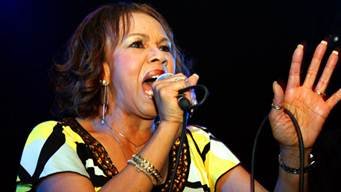 In 1998, John and Candi divorced and before too long she was back recording secular material again. Her continued superior way with deeply-expressed country-soul is ably demonstrated by several tracks on her two good Nashville-recorded UK Honest John CDs, namely "His Hands" (HJRCD23) from 2006 and "Who's Hurting Now?" (HJRCD37) from 2009.
Highlights are Candi's very expressive version of Tommy Tate's

When Hearts Grow Cold (a truly great song also well covered by Bobby Bland and Otis Clay); then there's the lovely deep country-soul of

Breaking Down Slow (co-written by Dan Penn), the moody and also very deeply soulful slow-blues "I Feel the Same", the emotive, quiet lay-back piece "Mercy Now", another very countrified slowie in the self-penned "Dust On My Pillow", a fine soul version of country star Merle Haggard's lovely ballad "You Don't Have Far To Go", the smouldering slow-paced gospel-soul storyline piece "His Hands" with its vocally dramatic interlude three parts of the way through; and the lilting self-penned "I'll Sing A Love Song To You".
In 2010 Candi was married for the fourth time, to former Major League Baseball player Otis Nixon, who had by then conquered both drug and alcohol addiction and had formed his On Track Ministries.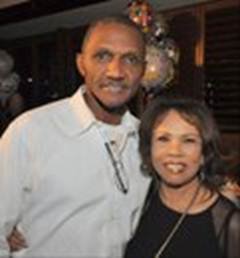 Since the start of the new millennium, Candi has continued to carry out regular personal appearances, She sang "Stand By Your Man" and "Young Hearts Run Free" on the 2004 New Year Jools Holland Hootenanny Special on UK TV. Then in 2008 she was at the UK's prestigious open-air concert at Glastonbury where she featured, inter alia, her old Fame successes "I'd Rather Be An Old Man's Sweetheart" and "That's How Strong My Love Is". The former song was included again in her 2011 performance at the Jazz Café. Meanwhile that year she also appeared at the Shoals Theater in Florence AL as part of a benefit concert for the Alabama Music Hall of Fame, her first song that night being "I'm Just A Prisoner". She went on to sing "Stand By Your Man" and "That's How Strong My Love Is". Clearly this Alabama lady, by then around 70 years of age, was still more than prepared to help out an organisation designed to honour her own home State's fine musical heritage. However, it's Candi's own wonderful musical heritage which we honour here!
P.S. At the end of January 2012 Rodney Hall, Rick's son, indicated that Candi was back at Fame with Rick, cutting tracks for a brand new album. Good news indeed!
UPDATE ~ Dean Rudland of Ace/Kent Records has written to say that:

"I thought I should point out that the chronology on the Unity single is slightly wrong. From what we can see from paperwork, that single wasn't released at the time of recording. When Candi signed to Fame, her contract with Unity was bought out along with the rights for Unity to release any recordings that they had made. However when Candi began her string of hit singles, the temptation proved too much and the single was pressed up and released. There is an advert in Billboard for this release. Fame put a stop to it very quickly - hence the rarity. I see no evidence that there was an earlier release of this single. These shenanigans make me think that the Minaret Recordings aren't by Candi - the terms of the agreement with Fame wouldn't have allowed their release. I hope this is helpful".
It is – and thanks to Dean for providing this information.
Notes ~
1. You can find Candi's own website here. She has an discography which you can read here.
Thanks to KS for info on Candi's gospel days.