Quin Ivy And His Norala And Quinvy Studios, Part 8 – 1970:
Sledge spends summer in Africa, 7 Quinvy label 45s are released and Ivy upgrades his studio to an 8-track facility.
Having dealt in the last Part with some of the musicians and song-writers who first found their way to Quinvy in 1970 (or even a few months earlier), we shall now address the recordings and other information that we have been able to amass for 1970, starting with Percy Sledge's activity. Now various alleged summer and Fall recording dates (some on Quinvy sheets, others provided by the Atlantic discography) are discussed in more detail below but, as you will see, the evidence points strongly to Percy being on tour in Africa from late May probably right through to early November and therefore not around to record anything in the States during that extended period. However, let's start much closer to the beginning of the year.
The year began with a particularly interesting recording by Percy – his take on Jamaican Jimmy Cliff's self-penned "Many Rivers To Cross", which either Ivy, David Johnson or Sledge chose to call "Too Many Rivers To Cross". Ivy's session sheet shows this was recorded on 6 or 7 January, along with his version of Margaret Ann Rich's song "Life Has It's Little Ups And Downs". (The Sledge Rhino box-set/Atlantic discography has the Cliff song recorded a little later, on 5 February, while the other song is not shown as being recorded by Percy until what was surely a much later interpretation by him identified as recorded in "Muscle Shoals" on 4 October 1971. This later cut, given the more simplified title of "Life's Little Ups And Downs", would appear in 1974 on the German Atlantic 20085 Midi-LP "The Golden Voice Of Soul").
However, returning to the Cliff song, the story behind Percy's version is worth telling. Jimmy Cliff's version had emerged in 1969 on his second album, named simply "Jimmy Cliff" (Trojan TRLS 16). Whereas most of the other tracks on this album were cut in Cliff's native Jamaica (and merely 'finished' in New York), "Many Rivers To Cross" was cut wholly in the 'Big Apple'. Cliff's version would not appear on a single until 1978 and although widely covered by other artists, most of these covers came after Cliff's rendition had been used on the soundtrack of the 1972 film "The Harder They Come", meaning Sledge's cover of it in early 1970 was certainly the first by a major artist.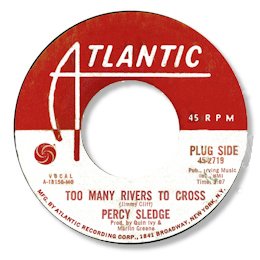 At the back end of '69, Percy had been touring in the UK, where he remained a popular 'live' attraction (albeit it is staggering to realise that only his "When A Man Loves A Woman" and "Warm And Tender Love" ever managed to dent the UK charts!). While in London, Percy heard Cliff's version of the song via the Trojan album. (Trojan being a subsidiary of Island Records at the time, it probably appeared in the UK before most other markets). He was so taken with

Many Rivers To Cross that he made a trans-Atlantic call to Quin Ivy there and then and said he wanted to cut it, Ivy then getting a rhythm track put down in Sledge's absence (maybe this was what the January session focussed on?). Percy says that when he arrived to add the vocals (possibly in January but perhaps more likely in February 1970) he had laryngitis (probably largely as a result of his almost incessant live-appearances); but there was no time to put things 'on hold', though Sledge admits even today that he has never been happy with his vocal performance on the record. Personally, I think he handles the song pretty well – see what you think via this MP3 of it here.
The performance was produced by Quin Ivy and Marlin Greene, Marlin often re-involving himself just for Sledge sessions and, indeed, playing on this one too in the company of Messrs Guarino, Perkins, Evans and McKinney plus the horns led by Bowlegs Miller with Jeanie, Mary and Ginger on back-ups.

The coupling on the released 45 (Atlantic 2719) was April '69's "Push Mr Pride Aside" (the Atlantic discography dates this one as cut on 4 June '69) but, sadly, despite Billboard's opinion (see review) that this single would "fast return him to the Hot 100 and Soul charts", Percy would fail to register with this release. Indeed, Sledge would have no more Atlantic label US Pop hits whatsoever on either the Billboard or Cashbox charts and only one more Atlantic Billboard R&B hit, a non-Quin Ivy production from 1973 (see later Part). To be fair, Cashbox's R&B chart smiled a little more favourably on Percy and featured two more Atlantic hits in 1971 and one in 1972.
Another 'early 1970' Sledge recording (according to the box-set) was Percy's nice take on Kris Kristofferson's

Help Me Make It Through The Night. Ivy's sheets indicate a December 1970 date but here the box-set seems to be right as the recording was apparently released as early as May on Atlantic 2754, coupled with "Thief In the Night" which, unless it was re-cut, stemmed from way back in 1966, a track from Percy's very first album. Some sources show there to have been an alternative flip side to this release, namely "Come Softly To Me" (recorded June 1967 according to Ivy, or 15 March 1968 according to the box-set/Atlantic, and possibly considered as a 'replacement' flip-side due to the then active build-up of sales for it in South Africa - see shortly).
The Sledge single didn't chart of course but it was certainly a very early 'cover' of the song as the song-writer's own version only appeared the same year on his "Kristofferson" Monument 18139 LP. Single-wise, the song itself wouldn't see US chart action until Sammi Smith, Joe Simon and O.C Smith all had hits with it the following year, 1971, Sammi Smith's (on Mega 0015) being a huge seller, topping the country charts and crossing over to also spend a staggering 16 weeks on the Hot 100, peaking at No.8. Arguably the finest soul version would be by Gladys Knight on Soul 35094 in 1972, a performance I personally regard as one of very few top-drawer deep-soul offerings to emanate from Motown's 'stable-of-labels'.
According to the Sledge Rhino book-set/Atlantic discography, at least 6 more Sledge sides were also recorded around February 1970, the six listed all appearing purely on the Dutch Atlantic 588220 LP "My Special Prayer" which was issued later in the year. However, Ivy's session sheets provide alternative dates for all of these sides! Five of the six are shown as being first recorded much earlier. Claude Putnam's

Set Me Free was first cut by Percy (and very well too) as early as 8 or 9 November 1967, while Charles Langston's "Cotton Mill Man" had been first cut on 9, 10 or 11 of April 1968, then re-cut on 19 or 20 August 1968, with some over-dubs a week later. Arthur Alexander and Dale Ward's "Love's Where Life Begins" had also been put down at that 19 or 20 August 1968 session. Both Gilbert Becaud's "Let It Be Me" and the Bee Gees' "I've Gotta Get A Message To You" were cut on 21, 22 or 23 October 1968. Perhaps all these five tracks were re-cut around the February 1970 date provided by the book-set, but we have no way of knowing for sure.
Meanwhile, the sixth track, Donnie Fritts and Jon Reid's "Blow Out The Sun", is first listed on an Ivy sheet for some sessions held on 5, 6 and 7 of August 1970, this, conversely, being some 6 months after the date given by the box-set and possibly a little too late, seeing as the track saw issue on the aforementioned Dutch LP. Also it seems likely Sledge would still have been in South Africa at this time, although his last reported gig in that particular African country that summer had been on 1st August, so it is just conceivable that he could have flown back to the States in time for sessions beginning only some 4 days later. However, on 3rd October 1970 Percy was in Swaziland in Africa to head-up a one-night soul festival at that country's Somhlolo National Stadium and, as it seems unlikely he would have flown out again specially from the States to that smaller African country simply for a one-night performance, one has to think that perhaps Percy remained on the African continent right through from his first appearance in South Africa in late May 1970 (see shortly) to after the early October Swaziland gig, thereby perhaps allowing himself enough time to also relax, rest his voice and see something of the continent's delights. This prognosis is given added weight by a Billboard report as late as 21 November 1970 which implies that Sledge had then only been back in the States from his African tour for one week, albeit he had stopped off en route in Amsterdam to collect a gold disc for sales in Holland of "My Special Prayer".
So, although the session may not have been held at this time, we should add that also shown as recorded on Ivy's 5, 6 and 7 August sheet was Percy's take on the old Falcons hit "I Found A Love", although the box-set has this as a very much later cut, from 4th October 1971. This recording found its way onto that 1974 German Atlantic 20085 Midi-LP "The Golden Voice Of Soul". Two more titles allegedly from the same early August session are something of a mystery – "Shed Me No Tears" has two question-marks entered after it on the session-sheet and the other title contains a typo, it being listed as "It's Uo (sic – perhaps "Up") To The Woman". If ever and whenever these little-known tracks were put down they certainly seem to have completely escaped the reissue compilers.
Talking of Africa, in view of Percy's lack of chart success in the USA (and, come to that, the UK), it was indeed fortunate that his recordings were still selling well in both Scandinavia and South Africa. In the latter country, 1970 saw three earlier-recorded tracks achieve major chart status. The aforementioned

Come Softly To Me was a huge No.1 hit for him that summer, spending no less than 17 weeks on the chart and no doubt making lots of song-writing royalties for the members of the ex-Fleetwoods vocal group who had spent 4 weeks at the top of the US Hot 100 themselves with their original self-penned version on Dolphin 1 way back in 1959. Percy followed up this success in South Africa with "Let It Be Me" which made No.9 and spent 7 weeks on the listing, while, in the Fall, "Push Mr Pride Aside" would hit No.7 and survive for 10 weeks.
Indeed the amazing success of "Come Softly To Me" in particular led to Sledge's long tour of the country in the summer of 1970, to which we have already made reference. The singer appeared at some major venues, sometimes causing comment by playing to all-white audiences. On 29th May he opened at Cape Town's Luxurama Theatre, where he appeared for three weeks. The South African Atlantic ATC 9257 album "Percy Sledge In South Africa" (see cover-photo in Part 5 of this article) was issued to feature some of the songs Percy sang at this gig; however they were actually old studio cuts with intros and crowd noise overdubbed. Then on 22nd June he opened at the Three Arts Theatre (also in Cape Town) where he appeared for four weeks up until 20th July. On 31st July and 1st August he was in Johannesburg at the Empire Theatre for a two-night appearance and a genuinely live album was issued to celebrate these two performances, namely the South African Atlantic ATC 9281 "Percy Sledge Show" set, the cover of which is featured here.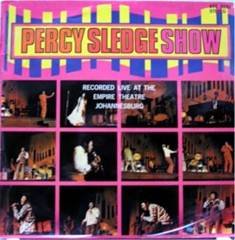 An introduction plus five songs, all from this LP, saw reissue on Disc 4 of the excellent 2010 Rhino 4-CD book-set "Percy Sledge – The Atlantic Recordings" (RHM2-526138), to which we have made much reference, and here we feature Percy's good live version of the old Chuck Jackson hit

Any Day Now, a studio version of which, of course, he also recorded.

Percy's success in (and prolonged stay in) South Africa even prompted South African Pepsi to sign him up to promote their teen-market drink, "Teem". For those interested in such trivia who also belong to the Yahoo southernsoul group, in the Files section of that group you will find I have added a folder embracing two ad posters, a label-shot of the promo 45 for the ad, and an MP3 of Percy singing the 'jingle'.
An instance where the Atlantic discography is clearly wrong is their reference to Percy's version of Troy Seals'

Stop The World Tonight being recorded in Alabama on 5th July 1970. Also wrongly-timed must be a 14 July session where the Atlantic discography claims the unissued track "Plenty Good Lovin''' was recorded. The fact is Sledge was in the middle of a long run at the Three Arts Theatre in Cape Town on these dates. The Ivy session sheets for 6 and 7 May 1970 show that "Stop The World Tonight" was in fact put down at that time, before Sledge headed off to South Africa. This fine recording opens with some lovely steel-guitar from long-term country-sidesman Weldon Myrick (see reference to this and to Weldon in our last Part).
"Stop The World Tonight" would eventually feature in 1971 on Atlantic single 2826, coupled with Philip Mitchell's fine song "That's The Way I Want To Live My Life", a track recorded by Sledge, according to Ivy's session sheets, later in 1970 in December, though given a 1971 date by the box-set/Atlantic. At the same May 1970 sessions, Percy also cut Jerry 'Swamp Dogg' Williams' "Everything You'll Ever Need" (which apparently would be re-recorded in May 1972 according to the Atlantic discography before appearing on Atlantic 2886 that year). A third track put down by Percy on 6 or 7 May was his take on George Soule and Steve Wiggins' "What I Don't Know Won't Hurt Me", a performance which remained unissued until it appeared on the South African Atlantic ATC 9364 LP "That's The Way I Want To Live My Life" (see cover-pic in Part 5 of this article). The Rhino book-set claims a version of this song was cut by Percy on 4th October 1971 and, if so, it might have been this later one that made it onto the South African LP; however, the Rhino book-set fails to note the existence of this LP, claiming that they themselves were the first to give a release to Sledge's performance (an erroneous claim unless theirs is a re-cut and the album features the original!). However, back in June 1970, Paul Thompson's superb version of this song emerged on Volt 4042, having been cut at a 'spec session' at MSS under the production of Barry Beckett and Terry Woodford, with George Soule and Woodford then getting Thompson the lease deal with Volt. You can hear it here. It's interesting that John Ridley describes Thompson as sounding like Sledge's 'younger brother' and he also rightly points to another fine version of this song by the always dependable Wlliam Bell on his 1972 Stax STS 3005 "Phases Of Reality" LP.
On 16 October, the Atlantic discography indicates that Sledge was down at the Criteria Studios in Miami (Jerry Wexler's and Arif Mardin's new 'venture') to cut the unissued "As Long As I Can See The Light". However, to go specifically there for just a single day to cut a single song seems unlikely in itself and, of course, other evidence also suggests Sledge was quite probably still in Africa at this time.
Ivy's session-sheets have Sledge back in the studio some time in December 1970 and this is where it is apparently wrongly stated that this session featured "Help Me Make It Through The Night" (see above for why it surely had to have been recorded somewhat earlier). Five other tracks are also listed but the personnel suggests to me that the venue was probably not Quinvy but MSS, as the musicians present were Messrs. Hood, Beckett, Hawkins, Perkins, Greene and Jimmy Johnson, while added to Jeanie, Mary and Ginger on back-ups was Temple Riser (see details about her in our last Part), plus, for one of the other five tracks (namely Phillip Mitchell's "That's The Way I Want To Live My Life") Mitchell himself, together with Curtis Thomas and Eddie Haynes, who all provided vocal support. This particular track is shown by the box-set/Atlantic as being recorded sometime in 1971. The other four tracks were "Time", which was unissued until the 2010 Rhino box-set which dates its recording much later on 4 October 1971; "Love Is A Job", a song written by Dan Penn and Bobby Emmons, which again remained unissued until the Rhino box-set, which this time lists it as a 29 January 1971 recording; and two unissued tracks about which I can find no other details, namely "Remember The Good Times" and "Make It With You", the latter presumably being a version of the Bread song, which only that summer had topped the Hot 100 on Elektra 45686, spending 17 weeks on the Chart.

Moving on from Percy Sledge's activity in 1970, let us next consider the releases that year on Quin Ivy's Quinvy logo, which you'll remember was purely an in-house label and was never distributed by another record company, although at least one Quinvy release apparently saw issue also by two other record companies (see shortly) while some other recordings by Ivy's artists which might otherwise have been destined merely for the Quinvy logo were instead leased out to other labels with broader distribution potential. However, sales of singles on the Quinvy label itself were not all that good, as David Johnson explains:
"The Quinvy label was pressed in Nashville and independently distributed. We promoted the releases in seven south-eastern States via distributors in Nashville, Birmingham, Atlanta and Charlotte, NC. We had (some) regional success (although generally) sales were low. We created some interest with the majors and some (records) were placed with them but with no great national success, any success being (purely) in the south."
No doubt much to the chagrin of record collectors, Johnson finally adds: "I threw away thousands (of copies of Quinvy 45s) years ago".
I am assuming here that all of the Quinvy 45s with numbers beginning "70" were issued in 1970, plus (although we have no session details for it) I think that the first issue on the label that year was probably Tony Borders' "For My Woman's Love" coupled with "Please Don't Break My Heart (Like You Did Jerry's)" which was simply awarded both a Quinvy 001 and an 002 issue number, the former number relating to the first-named side and the latter to the second-named side of the same 45. Ben Peters' "For My Woman's Love" was a real country weepie with not much real 'soul' in evidence, recorded by Borders on 16 February 1970, with Messrs Guarino, Perkins, McKinney and Evans in attendance. The other track, for which we have no session information, was a self-penned Borders item which possessed a certain naïve charm and actually worked quite well. Both tracks later re-appeared on that much-mentioned 1989 series of Charly LPs but they can also be found in CD format on the legally questionable "More Power To Ya" Overture 34904-2 CD from 1996 as well as on the excellent 2007 Borders retrospective "Cheaters Never Win" on Soulscape SSCD7002.
An unissued-at-the-time recording by Tony Borders was his fairly 'straight' take on Buffy Sainte-Marie's 1965-penned "Until It's Time For You To Go", although Borders changed the word "You" in the title (and in the song) to "Me". We have no session details for this recording but we are assuming for now that it was probably cut sometime in 1970 as Neil Diamond had the first-ever pop hit of the song that February-March, his Uni 55204 release peaking at No.53. Borders' recording finally appeared on the 1989 Charly CRB 1225 LP "Rainbow Road" before being included on the same "Cheaters Never Win" Soulscape CD mentioned in the previous paragraph.
Borders would return to Quinvy on 13 and 14 July 1970, the session which, in addition to session-men Randy McCormick, Jimmy Evans and Wayne Perkins, also featured the black Palmore Brothers, Charles and John (see last Part for further details about them). The two main tracks laid down would see release on Quinvy 7101, though, in view of the "71" prefix, this probably didn't see release until early in 1971 and would prove to be the last Quinvy 45 ever to be issued. These songs were both penned by the black staff-writer Bob Jubilee (see also last Part) who had come to Quinvy from LA and perhaps Bob not only had some say in the Palmore Brothers getting the gig but in the more 'uptown' than 'country-soul' sound achieved at the session. In the event "Promise To Myself" had a really 'big' arrangement thanks chiefly to some dominant horns, played by some guys 'new' to Quinvy, namely Michael Stough, Stacy Goss, Reuel Royal and Dale Quillan, though, despite being atypical for a Quinvy recording, it was really quite good of its kind and became something of an underground soul favourite in the UK in the late 80's. "Mix And Mingle" attempted to be 'catchy' but it just becomes a bit of a bore to my ears, an expressive soul voice like Borders' being rather wasted on this almost 'singalong' 'throwaway' piece. The session-sheet lists one other song as also being recorded, namely "Thread Your Own Needle" but the reference is followed by two question-marks and it also appears to have been struck through, so maybe it was never satisfactorily completed – we really don't know.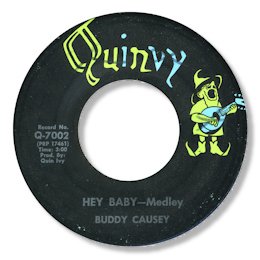 There was never a Quinvy 7001 (perhaps Borders' 001/002 forty-five mentioned above was effectively that) and Quinvy 7002 was the Buddy Causey offering which showcased a medley of "Hey Baby", "39-21-46" and "I've Been Hurt" on one side, plus

I Had No Idea on the other. We first discussed this release in Part 6 because it had been recorded in mid-September 1969. This pairing was also earmarked for Spring 1970 release on Atlantic 2718, though (as we said in Part 6) this forty-five seems rarer than hen's teeth. Both Stak-O-Wax and Soulful Kinda Music's Atlantic listings show the Causey 45 as awarded this Atlantic issue number; however the Atlantic discography used by the likes of Rhino Records etc. shows Atlantic 2718 as being the three-minute-long, edited 7-inch release of a nine-plus-minutes long Thunderclap Newman "Hollywood Dream" album track called "Accidents" – however, this is 'technically' incorrect, as this forty-five 'spin-off' (a follow-up to "Something In The Air") was issued in the USA on Track 2718 (not Atlantic 2718), albeit Atlantic seemed to award Track the same numbering system as its own label, something it had also done for the US release of Newman's Track album which had been numbered SD 8264 as per Atlantic's own LP series. Track was a UK label and it came to be distributed in the States by Atlantic via the New York company's connections with German Polydor who distributed both Atlantic and Track in the UK.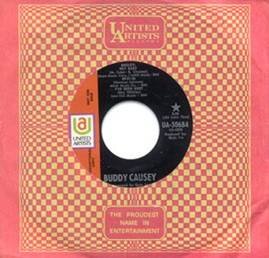 Anyhow, Causey's two-sider would appear yet again in the middle of that year on UA 50684 (see picture close by) and Causey's "medley" would later become very popular with the US Beach Music fraternity, later featuring on the 2003-released Ripete 2187 CD "Preppy DeLuxe".
As you can also see here, on 6 June 1970 Billboard actually reviewed the UA release but they wrongly awarded it a UA 6307 number. (In fact UA never had a four-digit-numbered series which reached as high as the six-thousands).
Buddy would return to Quinvy on 2nd and 3rd April to record four sides which would remain unissued, namely "I'm Alive", "My God And I", "Oh Suziannia" and "I Love You More Than You'll Ever Know". The fine last-named song had been penned by Al Kooper and first cut by Blood, Sweat & Tears, while founder-member Kooper was still with them, as part of their 1968 LP "Child Is Father To The Man" (Columbia 9619). The following year Tina Britt would record what is for me the finest-ever version, a deep, emotive piece of bluesoul from her fine "Blue All The Way" Minit 24023 LP. We cannot say what Causey's 1970 Quinvy interpretation was like but by 1972 Donny Hathaway was reviving the
song and hitting No.60 on the Hot 100 with it on Atco 6903, this version also seeing inclusion on Donny's 1973 album "Extension Of A Man" (Atco 7029). A live version from around the same time recorded at The Bitter End club in New York (released posthumously on his 1980 "In Performance" album) was probably his finest interpretation. Also in 1973, The Jacksonians cut a version for Sounds Of Memphis which remained unissued until UK Kent's "Steppin' Stone" CDKEND 339 CD emerged in 2010. In 1976, the Redwood City born and 'Frisco-based white soul-rocker Lydia Pense and her re-formed Cold Blood group also cut a very listenable version on their lone ABC LP. In 2008, the late guitarist/vocalist Gary Moore would put down a good bluesy interpretation on his Eagle EAGCD 379 set "Bad For You Baby".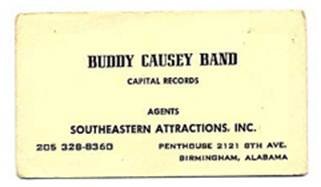 Buddy Causey would record again much later at 1307 Broadway for David Johnson – we don't know exactly when – but he put down a fairly creditable version of James Brown's "It's A Man's World", this cut remaining unissued until 1989's "More Power To Ya" Charly 1224 LP. Meanwhile, Buddy's early-70's group featured himself on vocals, Dave Martin and Dennis Clifton on guitars, Allen Breland on bass, Frankie Gulliam on keyboards and Boo Boo McAfee on drums. In September 1974 he linked up with fellow songwriter and producer Jerry Fuller to write and record for the latter's Moonchild Productions. This liaison resulted in two Capitol 45s in 1975, namely "There's A Way"/"I'll Lean On You" (3996) and "Tell Me Where It Hurts"/"Sweet Misery" (4133). (At time of writing you can hear both of the Capitol 'A' sides on You Tube).
In 1977 Buddy cut his "Dixie Fried" LP for the Lanark label and by 1983 he could be found working on the music for the sexy comedy film "Getting It On". Always 'on the scene' and busy writing songs, Causey moved to Atlanta where he lived for some 10 years and in 1987 he co-penned "Atlanta Will Be Rockin'", a song to celebrate the success that year of the Atlanta Falcons Football team for which James Brown provided the vocals. The other writer of the song was Jacque Daughtry, wife of Dean Daughtry, then keyboardist of the Atlanta rhythm section. Buddy was also professionally close to Dean, the two writing songs together and both playing in Causey's band The Handsome White Boys. In the late 80's and 90's Buddy was to be found gigging with his Cooter Brown Band, now billing himself as Buddy 'Cooter' Causey.
The next Quinvy forty-five (7003) was Quin Ivy's largely unsuccessful attempt to at least obtain some mileage from Z.Z. Hill's excellent

Faithful And True c/w "I Think I'd Do It" (both recorded in October 1969), which, as we explained in much more detail in Part 6, Atlantic would fail to release even though they had provisionally earmarked it for issue on Atlantic 2711, a release they awarded instead to Mighty Sam's "Your Love Is Amazing" and "Evil Woman".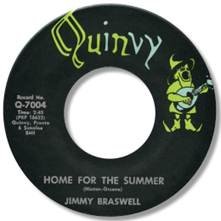 Quinvy 7004 featured the fairly obscure but highly-talented soulman Jimmy Braswell's versions of two songs both earlier recorded at Quinvy by Don Varner. "Home For The Summer" had featured on Don's South Camp 7005 single, released in 1967, while "Handshakin'" had been one side of his mid-1969 release on Diamond 264 (see earlier Parts).
Both of Braswell's Quinvy recordings were cut on 3rd and 4th March 1970 and are described in more detail on his artist's page on this web-site, which includes an MP3 of "Home For The Summer" as well as one of Jimmy's Gene 220 side "One More Chance", a song Braswell also re-recorded at his March '70 Quinvy session, though this version never saw release. While talking of the Macon, Georgia-based Gene label, check out Braswell's very fine Gene 222 recording "I Can't Give You My Heart", which also appeared in 1971 on King 6374, not forgetting his later Jar-Val 15 winner too. MP3's of these recordings can also be found on Braswell's page here.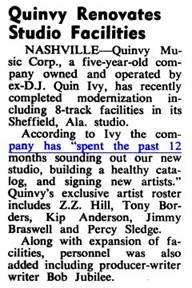 So, mentioning in passing that Quinvy 8002 was confusingly a late-1967 release by Don Varner of "Tearstained Face" and "Mojo Mama" (fully discussed in Part 4), we should next move to Quinvy 7005 featuring "One For The Money" and "Turn Around Home" by W. C. Quillen. There is further information about Quillen in Part 4 but the suggestion in that Part that he was not the same guy as the country-pop singer-songwriter Carroll Quillen was incorrect and was duly amended in an update to that Part at the foot of the page. Yes, that particular W.C. Quillen was indeed Carroll Quillen who, in addition to recording at Quinvy in 1971 (see next Part), must have cut his two Quinvy 7005 sides there in 1970 (or earlier) as the 45 in question was a 1970 release. As also stated in the aforementioned update to Part 4, the W.C Quillen (Carroll Quillen) who recorded at Quinvy was indeed not the same person as the Rev. W.C. Quillen, who was Wilbert Carrell (with an 'e' not an 'o') Quillen, a local Alabaman preacher who was born in Florence in 1913 but passed away in 1981. Neither was Carroll Quillen the son of this preacher, as the late Reverend's only three children were all girls.
In addition to his 1971 Quinvy recordings (see next Part) and his songwriting credits (see Part 4), we should just also add perhaps that Carroll Quillen clearly remained close to the Shoals because, as David Hood recalled when discussing MSS's move from their 3614 Jackson Highway studio to their new location in 1978, "the first things we did (there) were demos for local songwriter W.C. Quillen".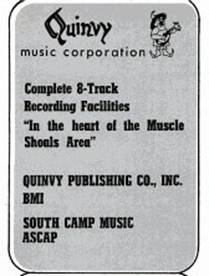 By about August 1970, Ivy had 'taken the plunge' and created a full 8-track facility at Quinvy. However, this apparently would still leave him 'in the wake' of Muscle Shoals Sound 'up the hill' as, according to Charles Fuqua, Jerry Wexler, having helped fund the original 8-track MSS studio just over a year earlier, was again on hand in 1970 to provide money to turn it into a 16-track facility. Nonetheless, Ivy's modernization of Quinvy was duly noted in Billboard and, soon afterwards, Ivy was featuring the new recording standard of his studio in his press ads.
Still flirting with the commercial potential of also recording country-based rock music, an article in Billboard in December 1970 refers to then-recent Quin Ivy 'acquisitions' as being Birnam Wood, The Male and Lynyrd Skynyrd. The first-named group may have got lost in the rock 'n roll shuffle but The Male, a group from Raleigh, North Carolina, would at least be afforded the privilege of a 45 release on Quinvy 7006. "Over My Head" and "You're Playing With Fire" would duly fail to bring them any real attention but we can see from the record label that these tracks were surely recorded at 1307 Broadway, as production credit goes to Quin Ivy and drummer Jimmy Evans.
That seems to have been all that anyone ever heard of The Male but, of course, Lynyrd Skynyrd would go on to much greater things in the rock world and we should briefly fill in some more details about their visit to Quinvy in the fall of 1970.
By October 1970, Skynyrd, originally from Jacksonville Florida, had been together for five years and had already played nearly a thousand gigs. They had a manager, who just happened to be Alan Walden and Alan, as we have seen, was a long-term associate of Quin's.
Jimmy Johnson maintains it was he whom Alan first contacted and he who got Quin and David Johnsn to cut some Skynyrd demos at Quinvy. He even has a You Tube video about this which you can access here. However, it is important to note that both David Johnson and Quin Ivy himself completely refute this claim.
Quin Ivy says: "I owned the first recording contract on Skynyrd and subsequently sold my rights to Jimmy Johnson for about $3,500 of studio time we had on the books. (Jimmy) Johnson's story of sending them to me to do 'demos' is total bullshit." David Johnson adds: "I first produced the band for Quin (at Quinvy) and then 'shopped' their recordings around for some months. It was only after I (was unable) to get them a deal that Alan Walden finally played the Skynyrd demos to Jimmy Johnson and only then that Muscle Shoals Sound got involved." Meanwhile Stephen Foster's 'take' on the Skynyrd story appears in an update near the foot of this page. Thanks are due to Stephen for providing his understanding of what happened.
Johnson was especially taken with both the group's guitar work and Ronnie Van Zant's voice on the Quinvy demos and he believed enough in them to offer to produce an album's worth of material for nothing but a producer's percentage, although these recordings would, in fact, take place not at Quinvy but at Johnson & co's Muscle Shoals Sound studio 'up the hill'. Jimmy Johnson and production partner Tim Smith virtually taught the band how to record and Ronnie Van Zant would later emphasize the group's debt to the Muscle Shoals crew for everything they learned, affectionately immortalising them as 'The Swampers' in the lyrics to the group's classic country-rock hit "Sweet Home Alabama."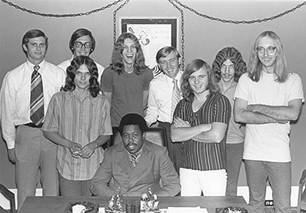 Lynryd Skynyrd sign with Alan Walden and Eddie Floyd
It's interesting to note, as mentioned in our last Part, that Ivy was reported towards the end of 1970 to have been recruiting chiefly self-contained groups/artists to alleviate problems with maintaining a regular 'in-house' group of session musicians. This was probably chiefly due to the withdrawal of Atlantic funds by Wexler. Billboard also reported that the first pre-requisite to working with Ivy was to stay away from drugs, with Ivy himself adding "I only use clean, creative people; when I find them I ask them to re-locate here." Ivy was either making a 'PR' point and/or simply choosing to be oblivious to the drug intake in the music business which, at this particular time, was pretty widespread (Wayne Perkins' visit with his pals back in 1969 to cut demos at Quinvy - see Part 6 – was, by his own admission in the dialogue between him and David Johnson, very 'drug-fuelled') and one feels pretty certain that a few narcotics would have been around at the Skynyrd demo sessions too. To be fair though, Ivy never entertained either Perkins' crowd or Skynyrd beyond the demo stage and it could be that artists and groups he specifically recruited like The Male did get some kind of deal either because they really were 'clean' or at least were able to convince Ivy to that effect. These 'recruited' artists were then managed by "Hustler's" (Alan Walden's publishing and management company which he had formed on 1st April 1970); indeed Billboard, in December that year, described Alan Walden and Eddie Floyd as Ivy's 'management team' and stated that they had just opened a production office "in conjunction with Quinvy".
Billboard had also previously noted the use at Quinvy of producer-writer Bob Jubilee (see reference to him both above and in Stephen Foster's piece in our last Part) and they now went on to add that Paul Kelley (the same WLAY radio-station engineer who had re-wired Ivy's original console when he first set up Norala) was still Ivy's 'maintenance engineer', while they described David Johnson no longer as just the 'studio engineer' but rather as the 'studio manager'.
This was certainly true and, with Ivy giving more and more time to his other business interests (as noted in an earlier Part by Bob Wilson), Johnson was in full 'hands on' day-to-day control of the Quinvy studio in late-70 when (as we mentioned in our last Part) it first became host to that maverick singer, song-writer, producer, entrepreneur and general extrovert Jerry Williams, who, by now, had recently re-christened himself "Swamp Dogg" and had obtained a recording deal under that moniker with Elektra. Swamp duly arrived to produce vocals, rhythm and horn tracks on some fine artists he had brought together to record material which would see release the following year, not on Elektra, but on what would be his new Mankind label.
I feel that these recordings and relevant background information on the fine soul performers who sang for Williams at Quinvy are worthy of some fairly in-depth coverage and present indications are that 'Swamp' himself has kindly agreed to play a part by commenting upon the situation and/or adding any relevant extra information that he may have. So, in these circumstances, I propose to deal in my next Part with The Swamp Dogg Recordings at Quinvy, albeit it appears these commenced in late-1970 during the period covered by the Part you are now reading.
UPDATE ~ I am very pleased to say that Bob Pierce has written to me about the group he was in, The Male. He says:-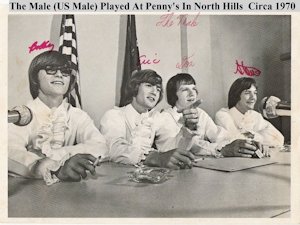 "I was the bass player for The Male and I can assure you that we were squeaky clean when we met Quinn Ivy to record at Broadway Sound. We were all star struck teenagers still in high school and convinced that we were going to be the next Beatles. Needless to say, Muscle Shoals proved to be a humbling, yet great experience for four kids from North Carolina. The Male was often confused with British Rock Bands because we had been so influenced by British Rock that we developed a "British Tint" to our music. The Male remained together for about two years after our sessions in Muscle Shoals and toured promoting our 45 in the southeast. I will forever be in debt to Quinn Ivy and David Johnson for giving me the "summer of my life" as I got the incredible opportunity to flirt with fame. I returned to Muscle Shoals in 1974 with our former drummer and manager to attempt to break in as a studio bass player. It seems the McDonalds restaurant in Florence found my skills as a hamburger flipper more valuable than any recording studio found my bass playing. Once again, I returned to North Carlolina humbled yet thankful for the experience."
Bob also sent the excellent picture of the group and comments:-

"I received this picture from the former manager of our band. He had just received the picture from a fan of The Male a few weeks ago. I believe this picture was taken at a local press conference in Raleigh, North Carolina announcing the release of our Quinvy 45. The title across the top on the picture is a reference by the fan of a promotional appearance by The Male in the record department of J,C. Penny's (a local retailer) in the North Hills Shopping Center, Raleigh, N.C."
The group members are (from the left) - Robert Pierce (bass and back up vocals), Eric Herbert (guitar and lead vocals), Don Kempf (lead guitar and back up vocals) and Eric's brother Steve Herbert (drums and back up vocals).
I'm very grateful to Bob for providing such excellent info on The Male.
UPDATE ~ I'm very pleased to say that Stephen Foster has been in touch with a different view of Lynryd Skynyrd's part in the Quinvy story. He writes:-

"Hey, enjoying the articles, thanks for being kind to me. About Skynyrd, I was standing in the control room - actually went out to greet Ronnie & the guys when they walked into Quinvy for the first time. Wayne Perkins was there when they first walked in, and knows the real deal, and so was Dale Quillen.
Skynyrd had just been to see Jimmy Johnson at MSS. He didn't have anything for them, so he told them that Quin was looking for a rhythm section for Percy. They came down the hill, wanted to audition. So we set them up, they played "Freebird" and Quin hated them. I suggested maybe it was the material. So Quin told me to give them a tape of songs Bob Jubilee and I had written for Percy. They went over to Dale Quillen's house with Wayne Perkins, who was crashing there, and they stayed up all night learning those songs. They came back Sunday 10am and Quin hated them again. David got a roll of 8-tk tape and recorded the B side of "First And Last" that afternoon.
I was in David's office when he played "Freebird" for Alan Walden. Alan got up and left. You know what for, to go sign Skynyrd! David tries to make out that he developed those guys. Not true. He was there, they showed up, he recognized something different and unique (thank God) and recorded it. I can't imagine why David doesn't agree on this. If I had done that I would brag about it. And of course Quin wants to be viewed as Skynyrd's producer but truth is, he hated them, thought they were awful. Later Jimmy and Steve Smith cut the other tracks. By the way, Ronnie was playing bass on those tracks, Leon didn't make the trip, had to work. I remember those 2 days like looking in a mirror."
It's very kind of Stephen to take the time and trouble to send over his memories - I'm grateful.
Acknowledgements: John Ridley; Peter Guralnick; Barney Hoskyns; Charles Fuqua; Gary Cape/Paul Mooney Grapevine-Soulscape; Soulful Kinda Music; Billboard; Rick Clark/Lynyrd Skynyrd Boxset Booklet; Tony Rounce; the websites and blogs of many of the artists/personalities featured.
Paul Mooney - All licensing enquiries for Quinvy / South Camp / Broadway Sound masters should be directed to Selrec Ltd and most of the songs are controlled by Millibrand Music Ltd in all territories outside the US and Canada.