Z Z Hill
by Sir Shambling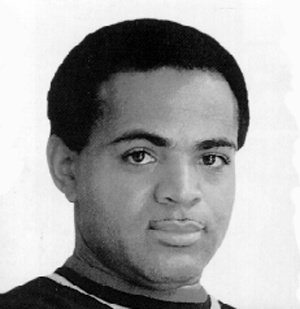 It's hard for me to write with any real sense of objectivity about Z Z Hill as his music has meant so much to me for well over four decades now. In the pantheon of southern soul singers, indeed soul singers period, Arzell Hill occupies a special place. From his earliest "home made" 45s for his brother Matt to his final years with Malaco, his profile output was chock full of quality music, wherever it was cut and whoever was producing it, and his throaty powerful baritone was always a joy to hear. Throughout his career he always walked the line between soul and blues, and although he used a lot of gospel tricks and traits in his singing, he never lost the blues man's minor key vocal nuances either. He truly did combine the best of both worlds.
He was born in Naples, TX, on September 30 1935, and like so many other singers of his generation he spent his early years in the gospel field, touring with the Spiritual Five. But the blues got him too. Artists like Freddie King and Bobby Bland were big influences on him, and he even took B B King's own nickname as his starting point when he took to calling himself "Z Z" (for UK readers that's pronounced "Zee Zee"). He played the clubs around Dallas with such luminaries as Big Bo (Thomas) and Finis Tasby, using material from the likes of Jackie Wilson and his idol Sam Cooke.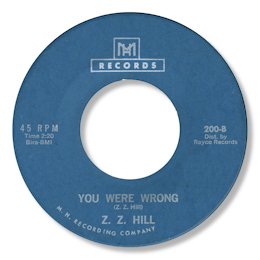 By the turn of the 60s he and his elder brother Matt were in California, and Z Z had his first session for Chess in LA, but nothing was issued at the time. His initial releases were for Matt's own MH and Mesa labels, with pianist/arranger Milt Grayson to the fore. The east swaying blues ballad "Five Will Get You Ten" was a lovely piece of West Coast R & B, and the similarly styled "You Were Wrong" was even better, and it provided him with his first regional seller. My personal favourite from these 1963/4 days is the melodic "One Way Love Affair" which has a fine gritty vocal from the man.
The success of "Wrong" which put him into the Billboard charts for the first time, took Hill up a gear to Kent records, who released a couple of original LPs and a good many singles up till the end of 1968. Picking highlights from this wealth of material is no easy matter as the quality of the recordings was very high indeed, as were the songs, a majority of which came from Z Z's own pen. The session men on the dates were picked from the very best, like Jackie Kelso and Arthur Wright, and the arrangers and producers included such top notch names as Maxwell Davis, Wright again, Milt Grayson and Mike Akopoff. Uptempo R & B like the excellent "Hey Little Girl" and "Have Mercy Somebody" were matched with more soul orientated tracks like "You Got What I Need" which featured some good strings, and cuts that put his bluesy cadences in a straightforward West Coast dance rhythm like "You Just Cheat And Lie".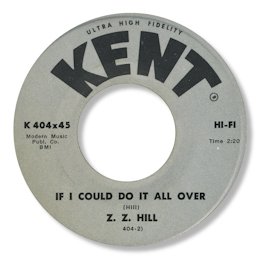 But for me Hill was always at his most expressive on a ballad, and Kent made sure he recorded some beauties. There's the lovely "Happiness Is All I Need" which features a very fine Joe Scott impersonation from Maxwell Davis in his arrangement for example, or the blue toned "The Kind Of Love I Want". "Happiness" was also featured on Episode 19 of The Beat!!! And Z Z looks very relaxed as he lip synchs his way through this super track. One or two of his Chess recordings were dusted off and given some extra sweetening and TLC, such as "I Want Someone To Love Me" and "Oh Darling". But for me the two best tracks from his stay at Kent were the really tasteful and really well realised blues ballad "If I Could Do It All Over" on which Hill is at his very best and the stop go "I Found Love" which has everything a West Coast blues addict like me could ever want. The chord changes in the bridge on this one are pure heaven.
From Kent Hill went to Muscle Shoals for a brief and unhappy spell, courtesy of a recommendation from Phil Walden. But while he was with them he cut his first masterwork in "Home Just Ain't Home (At Suppertime)". This was recorded at Quinvy in Muscle Shoals in July 1969, under the supervision of Bob Wilson, and it is an agonised heartfelt ballad, perfectly suited to Hill's rasping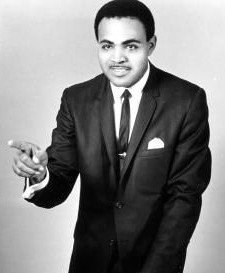 baritone, and featuring some lovely blue guitar fills. Check out the gorgeous run out groove with Z Z testifying over climbing horns and superbly chorded piano from Wilson himself. The other tracks from this session aren't bad either, "It's A Hang Up Baby" showing the funkier side of Hill's talent, and the fine ballad "Faithful And True" which, although given an Atlantic release number, only ever came out on Quinvy. You can read Pete Nickols' detailed account of Z Z's travails with Quin Ivy and his studio in Part 6 of his definitive account of the Quinvy/Norala Studios here.
After the Alabama session Hill quickly went back to the West Coast, where Matt started other another imprint, Hill. A reissue of the Mesa 45 was followed pretty quickly by a very fine take on Johnnie Taylor's lovely blues ballad "Mr Nobody Somebody" and then early in 1971 by the outstanding "Don't Make Me Pay For His Mistakes". The great bass/electric piano riff which this track introduced was used again both by Matt Hill on tracks by Sonny Green and keyboard wizard/arranger Miles Grayson for Vernon Garrett's excellent "Jody Can Ease The Pain" on Gatur. But all this started with Z Z's own smash which became his second biggest 45 seller peaking at no 17 in Billboard's chart placings. And it was this hit which caused Kent to issue "I Need Someone" and take him back into the top 30. It also meant that Matt Hill could take his brother and his label to United Artists where they stayed for more than three years. But before that it also encouraged Swamp Dogg to involve himself in Z
Z's career by doing a deal with Quin Ivy for his masters, and with Matt Hill and Z Z himself for further Muscle Shoals sessions (without Ivy himself being present) which he intended to release via Mankind where he was contracted as A & R man/resident genius.
Swamp Dogg took Hill into the charts three times. First with a version of the evergreen country beat ballad "Choking Kind", the melodic pleading ballad "Second Chance" on which Swamp's piano dovetails beautifully with Z Z's growl, and finally the bluesy toe tapper "It Ain't No Use" with its great horn lines. By this time the black market was getting into LPs and Swamp put these cuts and several more goodies such as "A Man Needs A Woman" and a remixed "Faithful And True" from his Quinvy days onto an album called "The Brand New Z Z Hill". As was so fashionable in 1971/2 this was a concept set with side one comprising tracks linked up via a series of spoken "playlets". Today I think this makes the set rather dated and I always mute the intros to the music when I'm listening to it. But the songs themselves are fine and Z Z really does give his considerable all on the vocals.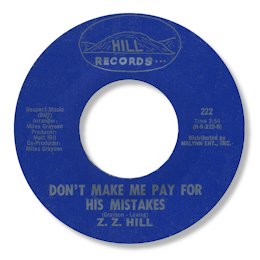 You can read a lot more about the relationship between the Dogg and Z Z Hill, and the way they made music in Part 10 of Pete Nickols' definitive account of the Quinvy/Norala studios here.
Once again, after an Alabama interlude, the Hill brothers went back to LA and picked up on the contract with UA. This huge corporate company put Hill with illustrious producer/writers Lamont Dozier and Allen Toussaint during this period, but they kicked off with Matt at the helm in Los Angeles working with familiar, tried and tested, musicians like Arthur Wright. The LP "The Best Thing That's Happened To Me" was a well-judged mixture of soul and blues, and included several class cuts like Jimmy Lewis' typically clever "Friendship Only Goes So Far" and the excellent "Got To Get You Back", another Lewis classic. "Love In The Street" was chosen for the first 45 but didn't break into the charts, and rather than these fine originals it was a pretty straight version of Bobby Bland's killer "Ain't Nothing You Can Do" which did the trick. That UA were aiming Hill at a much wider audience than his traditional one can be inferred from the splendidly "Pseud's Corner" notes from Coleman Andrews, complete with references to Arab poets, and a college course he took led by Dr. Gustave von Grunebaum.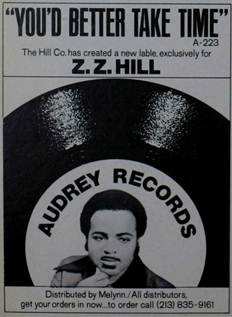 In 1974 Hill was back in Muscle Shoals recording his second UA set which was to be titled simply "Z Z". Matt produced the tracks which featured a who's who of the best session men then playing at Fame including guitarist Ken Bell and drummer Roger Clark. The great George Soule was one of the remix engineers – and may well have been involved in other behind the scenes activities. Both Sonny Thompson's "Let Them Talk" and Hill's own funky "Am I Grooving You" went into the Billboard charts, but better than these were most of the tracks on the second side of the album which showed off Z Z's mastery of country soul, something that would stand him in very good stead at Malaco in the following decade. The aptly named "Country Love" was excellent as was "Two Wrongs Don't Make A Right" but the cream cut was undoubtedly Frank Johnson's beautiful "You're Killing Me (Slowly But Surely)" which was also recorded with distinction by Freddie North for Mankind and Johnnie Taylor for Columbia.
Hill's final UA sessions comprised material and production from Dozier and Toussaint, plus a couple from Matt which may have already been in the can. Lamont Dozier was in demand at the time of the recordings thanks to his success with his "Out On My Own" album, and the singles that were taken from it. Most of Z Z's fans, although not all by any means, will tell you that his sessions for Dozier were the most unsympathetic of his career. Chattering funk rhythms weren't really Hill's strong suit and yet "I Created A Monster" went into the top 40 R &B charts. Rather more palatable to me were the cuts that emerged from his time in the Crescent City. Yes "I Keep On Loving" was funky – but it was New Orleans funk,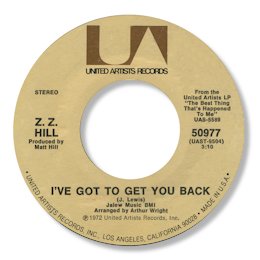 always a special breed of the genre. And there was a real highlight in "Who Ever's Thrilling You (Is Killing Me)" with its plodding rhythm, fine horns and the bonus of some grade A Toussaint harmonies in the back ground.
It was while this set was out that Matt Hill died of a heart attack and this no doubt had a huge impact on Z Z and his career. Whether this had anything to do with him parting company with UA is debatable, but he did and joined Columbia in 1977, where Clive Davis had already put together a very strong R & B roster. And although sessions were held in New York with veteran Bert DeCoteaux producing, many of the songs for the first LP entitled "Let's Make A Deal" came from southern soul writers. And right off the bat the Jimmy Lewis / Frank Johnson deep soul ballad "Love Is So Good When You're Stealing It" went to no 15 in the charts, Hill's highest ever chart placing. This was smooth southern soul, not the raw variety, but Z Z's rasping delivery gave it great strength, and DeCoteaux was sparing with the strings and made sure the horns were up in the mix, which was very heavily echoed. But for 1977 this was as good as it got – and the song has of course become a classic of the genre.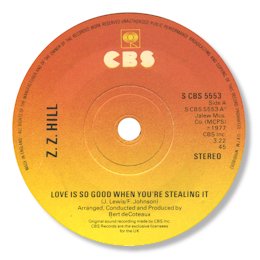 The follow up "This Time They Told The Truth" was penned by Frederick Knight, and this tuneful cheating tale was another hit the following year. This was even smoother that "Stealing" as the strings were piled on, and Hill was lower in the mix. The album that contained both 45 hits was full of other good things, like the highly commercial title track "Let's Make A Deal" again from Knight, and Jimmy Lewis' cautionary "A Message To The Ladies", neither of which was chosen for issue as a 45. That "Deal" in particular was omitted sounds to me like a big error – but it remains one of my favourite tracks of all of Hill's prodigious output. Instead, having had two ballad hits Columbia went with the disappointing uptempo "Universal Love" as the next single. It bombed. The LP had its fillers as well such "You Got Me Doing The Disco" written by Hill and an old friend from Dallas, R L Griffin.
In fact this track was a harbinger of things to come with Hill's second Columbia set "The Mark Of ZZ", again under the control of Bert DeCoteaux, which was full of not so good things, and is easily his worst ever LP. No southern writers, and no real spark to the tracks. The first 45 from it was the poor "Whip It On Me", and the second was the better "I Don't Want Our Love To Be No Secret" but despite Hill's throaty and impassioned vocal, the day for this sort of ballad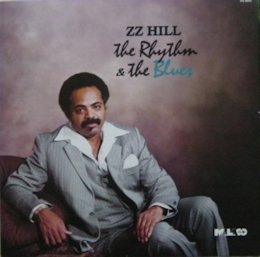 seems to have been over. The only other track of any consequence was the tasteful "Just Because We're No Longer Lovers". Columbia were losing interest in soul by 1979 as well, which can't have helped promotion of Z Z's work, and he left the company and headed back south to what would be his last contract with Malaco.
The first fruits of their association was the "Z Z Hill" LP which included some prime country soul like "I'm So Lonesome I Could Cry" and the excellent "Please Don't Make Me Do Something Bad To You". The bluesier side had "Bump And Grind" and "Blue Monday" but the pick of the tracks was the lively, commercial sounding "Rolling Stone". But while this album showed promise, it was nothing compared to the reception that Hill's second set "Down Home" achieved in 1982. This album spent almost two years in the Billboard charts, an unheard of run, pretty much only on the strength of "Down Home Blues". This simple and pretty repetitive George Jackson number struck a chord with black buyers throughout the South in a way that coupled nostalgia for the blues of the old days with the enjoyment of a good time party song. And it did so without appearing on a 45 pressing during this time.
And looking back at this phenomenon it is hard to over emphasise the number's importance or effects. Firstly it showed Malaco that there was a huge market for what label owner Tommy Couch referred to as "those old blues singers" and the signing of huge talents like Bobby Bland, Johnnie Taylor, Little Milton and Benny Latimore followed pretty quickly. As did the resurgence of southern style writers like George Jackson, Frank Johnson, Tommy Tate, Denise LaSalle and Paul Kelly after years in the wilderness. Think how much wonderful music might not have existed without "Down Home Blues". An awful "what if". Secondly it confirmed finally and once and for all that the black market was now an album orientated one – the days of the 45 really were numbered. Thirdly, it kick started, virtually single handedly, the renaissance in rhythm and blues, contemporary blues or southern soul, call it what you will, that is still continuing today.
Finally of course "Down Home Blues" meant that Z Z Hill was right back at the top of the tree where his talent deserved. And it was nowhere near the best track on the album. With ballads of the quality of "Love Me" and "That Means So Much To Me" and blues songs like "When It Rains It Pours" it probably doesn't even get into the top half dozen. The pick of the tracks was probably the enduring "Cheating In The Next Room" which was offered on a 45 and which took Hill back into the R & B charts, and back into the top 20.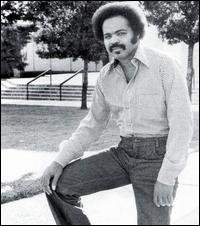 With his third Malaco set "The Rhythm And The Blues" Hill reached the artistic peak of his career. Although the mix of music was as indicated in the title, the songs were really first class, with the two covers "Wang Dang Doodle" and the Patterson/Strickland classic "Open House At My House", being perfect for his gruff tones, and the new songs from Johnson, Jackson and LaSalle superbly well crafted. It is almost impossible to pick winners from this set as it is sheer delight from start to finish, but of the uptempo songs the famous "Someone Else Is Steppin' In" is probably the pick, and of the several ballads I think the intensity of "That Fire Is Hot" wins out. And although no 45s from it got into the charts that shouldn't detract in any way from the LP's reputation.
Hill's final two LPs for Malaco couldn't really scale the heights of the "The Rhythm & The Blues" but both "I'm A Blues Man" and "Bluesmaster" had some standout music on them. From the former set Jimmy Lewis' typically ingenious lyrics on "Get A Little Give A Little" took Z Z into the R & B charts for the last time, and you can tell how closely he modelled his vocal on Jimmy's demo as that too has now been issued. Other highlights included two from Frank Johnson – the pleading deep ballad "Don't Let Our Good Thing End" and
the fine blues "Blind Side", but the key songs were from George Jackson. "I Ain't Buying What You're Selling" had a great commercial feel to it, once it's in your head the hook stays there all day, and the superb deep "It's Been So Long".
"Bluesmaster" had a couple of good covers, especially Paul Kelly's very fine "Personally", a big seller for Jackie Moore, and Phillip Mitchell's outstanding "Be Strong Enough To Hold On", best known for the emotional interpretation by the great Bettye Swann. But the new material wasn't really up to the standard fans like me expected. Perhaps only "I'll Be Your Witness" had the sharp melody and hard hitting arrangement that suited Z Z's growling vocal. And the saddest part of all is that this album was to be his last. Suddenly he was gone, the victim of circulation and heart problems caused by an auto wreck while he was on tour. He passed away on April 27th 1984.
I can still recall the shock and sense of loss when I heard the news. Of course I never met him or even saw him perform live, but through his music I felt I'd come to know him well over all the years I'd been buying his discs and listening to his voice. And the feeling that his death somehow took away some of the light in my own life has persisted. I miss him still.
Discography
There is a good discography of Z Z's 45s at Soulful Kinda Music here.
LPs
Soul stirring ~ KENT 5018 (1965)
A whole lot of soul ~ KENT 5028 (1966)
Greatest hits ~ KENT 560 (1969)
The brand new Z Z Hill ~ MANKIND 201 (1970)
The best thing that's happened to me ~ UA 5589 (1972)
Keep on lovin' you ~ UA 417 (1975)
Z Z ~ UA 212 (1976)
Let's make a deal ~ COLUMBIA 35030 (1978)
The Mark of Z Z ~ COLUMBIA 36125 (1979)
Z Z Hill ~ MALACO 7402 (1981)
Down home ~ MALACO 7406 (1982)
The rhythm & the blues ~ MALACO 7411 (1982)
Velvet soul ~ MALIBU 05820 (1982)
I'm a blues man ~ MALACO 7415 (1983)
Blues master ~ MALACO 7420 (1984)
Thrill on the hill ~ BULLET 2001 (1984)
When a man loves a woman ~ KENT 2013 (1984)
Final appearance ~ KENT 2026 (1984)
In memoriam ~ MALACO 7426 (1985)
Turn back the hands of time ~ TUFF CITY 4439 (1985)