James Dudley
It is more than a bit confusing trying to sort out the various soul and R & B singers who called themselves "Jimmy Dee" or variants thereof. But the artist I'm writing about here is James Dudley who cut more 45s as Jimmy Dee and James Dee than under his own name. Sorting out the order of his singles is also a difficult job.
He may well have come from Georgia as his early 45s have Georgia addresses on them. The first on Hear Me from Savannah is a very rare disc indeed but both sides have merit. The storming uptempo "I Found Out About You" has enough energy behind it to set any dance floor alight, while the deep top side

No Need Pretending is a heartfelt plea. James is suitably anguished here, and much less obviously influenced by Sam Cooke.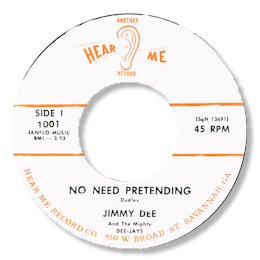 Dudley's Shurfine 45 is also pretty scarce, but again features two strong sides. The slow

We'll Meet Again is well structured and arranged with James using his falsetto range to good effect especially on the first 30 seconds or so. I like the middle rap, with its meandering lead guitar, and the horn charts very much.
His disc for Chess is his most famous one, and is well recognised as first rate deep release. Both sides are slow ballads which may well have been recorded in Georgia as well – they certainly don't sound like Chicago records that's for sure.

What A Man Will Do is pretty much "When A Man Loves A Woman" with words altered to describe the feelings of a guy about to go off and serve in Vietnam. It's mostly spoken but in the last 30 seconds Dudley cuts loose to electrifying effect. The flip

Have Faith is - as you might expect – a gospel based number, beautifully sung by "Peter & Leon" rather than Dudley – I must assume these guys were members of James' band "The Mighty Dee Jays".


It is my view that Dudley's New York discs come after this. He was now calling himself James Dee and his intial release for Enrica was a funky tribute to James Brown - who was not referred to as "Brother James" until the late 60s. Further the track includes some wah-wah guitar which must date the track to the second half of the 60s at the very earliest. His second for the label was rather more to my taste. The delicatley melodic "Jealous Over You" featured a really tough Dudley vocal - a nice counterpoint to the style of the arrangment. And the top side

My Pride has another of his spoken intros and a classuc deep soul feel, aided by some fine background harmonies from the Primettes, and a bluesy guitarist and muted horns. I assume that the sadly lacklustre Sound -Rite 45 must have been later than these discs as it is recorded and issued in stereo.
More info on this fine artist would be appreciated.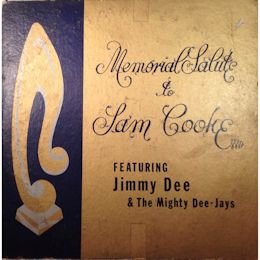 UPDATE ~ David Kulgren has kindly written with details of a very rare Jimmy Dee LP. Even more kindly he has provided scans of the set and also MP3s of both sides. The LP is called "A Memorial Salute To Sam Cooke" and was released on Jimmy's own Georgia based Hear Me label.It was recorded live at the RVA club in Charelston, SC only two days after Cooke'stragic death.
The whole set is really an extended medley of Sam Cooke songs, really appropriate as a tribute to one of black music's greatest stars, and it comes from a guy who knew Cooke well and as is crystal clear from all his Hear Me material, was heavily influenced by him as well.
The most moving songs are the reprise of one or two of Cooke's early gospel Soul Stirrers favouriotes such as "Do You Love The Lord Like I Do" and "Stand By Me Father" but sensibly Dee leaves the crowd on an upbeat note via Sam's evergreen set closer "Having A Party".
The full track listing of the set is:-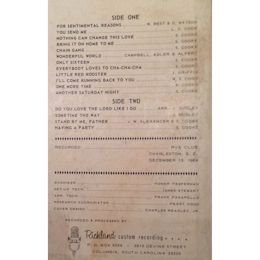 SIDE ONE
For Sentimental Reasons
You Send Me
Nothing Can Change This Love
Bring It On Home To Me
Chain Gang
Wonderful World
Only Sixteen
Everybody Loves To Cha-Cha-Cha
Little Red Rooster
I'll Come Running Back To You
One More Time
Another Saturday Night
SIDE TWO
Do You Love The Lord Like I Do
Sometime The Way
Stand By Me Father
Having A Party
One of the best things about the album from this website's viewpoint is the liner notes which give quite a few details of James Dudley's life and career. I reproduce the full notes below:-
"JIMMY DEE & THE MIGHTY DEE-JAYS
Jimmy Dee – a long-term admirer of the late Sam Cooke – was born in the Eastern North Carolina town of Fayetteville in 1935. His musical career began some six years after birth by singing in his church choir. Church singing continued into and through his teens coupled with public school singing. After graduating from the E. E. Smith Senior High School in Fayetteville, Jimmy and his family moved to Savannah, Georgia where he continued his musical career as a soloist.

In the summer of 1964, Jimmy organized the Mighty Dee-Jays and rapidly established a name for originality and showmanship in theater, night, service and country club circuits of the Southeastern United States. Jimmy Dee and the Mighty Dee-Jays have performed in clubs such as the Red Carpet, Savannah, Georgia; the Howard Theater, Washington, D. C.; The Cave, Raleigh, North Carolina; Club 400, Orangeburg, South Carolina; Paramount Country Club, Augusta, Georgia; and the RVA Club in Charleston, South Carolina; plus performances in areas including New York City,; Baltimore, Maryland; Greensboro, North Carolina; and many others.


Music and entertainment is the one love of Jimmy Dee. His performances – as can certainly be noted on this records come from the heart. Each performance is a new task, but the audience immediately is engrossed in the fresh style of this young and energetic entertainer.

This "Memorial to Sam Cooke" was recorded live just a matter of hours following the tragic death of this well-known performer. The feeling of his many admirers is so well expressed in this "Memorial to Sam Cooke" … by Jimmy Dee and the Mighty Dee-Jays."
Also of great interest is that the LP sleeve gives details of the members of the Mighty Dee-Jays. They are:-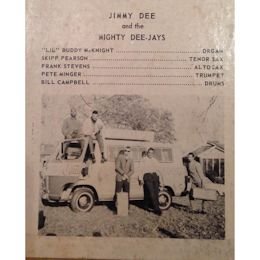 MIGHTY DEE-JAYS

"Lil" Buddy McKnight (organ)
Skip Pearson (tenor sax)
Frank Stevens (alto sax)
Pete Minger (trumpet)
Bill Campbell (drums)
All in all this is a fascinating glimpse of James Dudley's great voice in a live setting as he gives a heartfelt tribute to an artist he clearly idolised and whom he was proud to call a friend as well.
Discography
As JIMMY DEE

No need pretending / I found out about you ~ HEAR ME 1001 (mid 60s?)
Little girl says she loves me / Little girl ~ HEAR ME 1002 (mid 60s?)
I don't know what's troubling me /

We'll meet again ~ SHURFINE 015 (mid 60s)
( In my heart) You'll always remain / If it wasn't for pride ~ V-TONE 236 (1962)
Shanty Town / The push ~ PALM 306 (1962/3)
As JAMES DUDLEY

What a man will do (when he loves a woman) /

Have faith ~ CHESS 1995 (1967)

As JAMES DEE
Brother James / Destruction ~ ENRICA 1017/8 (late 60s?)


My pride / Jealous over love ~ ENRICA 1019/1020 (late 60s?)
The flame / Loving more than gold ~ SOUND RITE (103) (early 70s?)
LP
A Memorial Salute to Sam Cooke ~ HEAR ME 64-25 (1964)

Note - the Enrica 45s are often referred to as being cut in 1962 or 1963. I don't believe this from their style or quality of recording .
Note ~ The Little Jimmy Dee on Infinity is almost certainly a different artist but I am now convinced the guy on V-Tone and its subsidiary Palm from 1962 is the same artist. These tracks are now in the discography.
Special thanks to my great friend Greg Burgess for some fine sleuthing and helpful comments, and especially to David Kullgren for the wonderful info on Jimmy Dee's rare album.