Helene Smith

On the Miami soul scene Betty Wright is the first name that springs to everyone's mind, but Helen Smith was there first, and, in the opinion of a few knowledgeable fans could give her more famous sister a good run for her money. Helen was the first female vocalist that Willie Clarke and her future husband Johnny Pearsall recorded, initially for Steve Palmer's Blue Star concern, and then for an excellent run of 45s for other Miami labels once the talented Clarence Reid had joined the set-up.

Although Helene's voice could sound rather insipid on some of the more poppy arrangements that her writers/producers asked her to sing in front of, when given a decent ballad to interpret – and there were several – she was able to let go with both power and passion. "The Pot Can't Talk About The Kettle" was a brisk uptempo number whi8ch has had some Northern soul plays.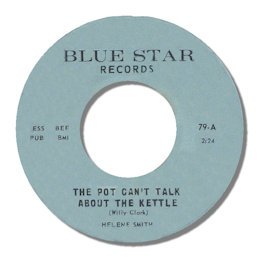 The doo-woppy ballad "Somebody Tell Me" has an undeniable charm, but she really hit her stride on her next release. While the Northern side of the Reid/Deep City is nothing to write home about, the flip certainly is. On

Willing And Able Helene sounds much more mature, getting a good grip on the slow beat, aided by the way Clarence Reid hammers away at the piano and the drummer really slams his bass drum. The horn lines are beautifully set up as well. "I Am Controlled By Your Love" is slightly lighter in tone but still worthwhile.
Sides like the dramatic minor keyed "True Love Don't Grow on Trees", the superb deep soul of

Wrong Or Right He's My Baby, and the funky "You Got To Be A Man" with it's JB horn line confirmed her growing confidence. The delicate "(Without) Some Kind Of Man", another song in a minor key, was good too, but her one true masterpiece was the much heralded

A Woman Will Do Wrong. This has been covered several times – southern fans should know Dee Dee Sharpe's Atco cut – but the original with Reid's idiosyncratic piano lines and one of the most delayed backbeats ever to come out of Miami will always be the one I return to.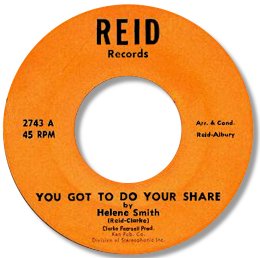 Many of these cuts were brought together on Deep City's only LP "Helene Smith Sings Sweet Soul" which is one of the great 60s albums, not enough of which appeared on the recent Eccentric Soul CD. As the decade closed Helene found herself less in demand, but she did make a comeback of sorts with a couple of fine singles for Dash in 1973. The best of these was the heartfelt plea

Help Me To Keep What I've Got on which Helene sounds even better than on her earlier material. Her voice is pitched in a lower register, overcoming the major criticism she's faced of sounding too much like a little girl to be a true southern soul queen. We really could have done with more in this vein from her in the 70s but sadly it was not to be.
| | |
| --- | --- |
| | |
Discography
The pot can't talk about the kettle / Gossip don't worry me ~ BLUE STAR 79 (1964)
Demonstrate your love / Somebody tell me ~ DADE 1853 (1964)
You got to do your share /

Willing and able ~ REID 2743 / DEEP CITY 2743 (1964)
I am controlled by your love / Thrills and chills ~ LLOYD 009 (1965)


A woman will do wrong / Like a baby ~ DEEP CITY 2368 (1966)
True love don't grow on trees / Sure thing ~ DEEP CITY 2375 (1967)
Sure thing /

Wrong or right he's my baby ~ DEEP CITY 2380 (1967)
What's in the lovin' / China melody ~ DEEP CITY 2381
Pain in my heart / You got to be a man ~ DEEP CITY 2390 (1967)
A woman will do wrong / Like a baby ~ PHIL L.A.OF SOUL 300 (1967)
You got to be a man / (Without) some kind of a man ~ PHIL L.A.OF SOUL 325 (1968)
You got to be a man / Away we go ~ Phil L.A. OF SOUL 330 (1969)
Let's wait until dark / Too good to be true ~ PHIL L.A. OF SOUL 335 (1969)
You never say you love me / My love ain't no good to me ~ DASH 5001 (1971)


Help me to keep what I've got / I tried hard to be good to you ~ DASH 5004 (1972)
Sings sweet soul ~ DEEP CITY LP 1001 (1967)
Note 1: There are "split" issue copies of a Phil LA of Soul 45 with "Like A Baby" (300) on one side and on the reverse Frank Williams' "The Spanish Flyer" (304).
Note 2: The Phil LA of Soul 330 and 335 singles are catalogued but were probably never released, although demo copies of 330 at least have been seen.
Note 3: "Willing And Able" is on the "Eccentric Soul: Deep City Label" Numero 007 CD; "Wrong Or Right - He's My Baby" is also on the other Eccentric Soul Deep City CD "Eccentric Soul: The Outskirts Of Deep City" on Numero 017.
Thanks to Jeff Lemlich for extra info and to Pete Nickols for the CD info.