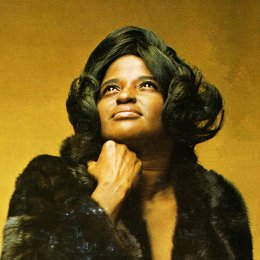 Kim Tolliver
Despite the fact that she never had a hit single in her lengthy career, those who know Kim Tolliver's recordings will testify that her brand of emotional passion and power made her a premiere league singer. Her voice could project a sense of world-weariness and resignation like no other, making her ballads deep soul of the highest quality. And unlike many of her contemporaries she wrote some very fine songs, not just for herself but also for others, notably Margie Joseph in the early 70s. Sadly, Kim passed away earlier this year but I am writing this page as a tribute to a wonderful underground talent.
Dorothy Kimberley Tolliver was born in the small town of Lebanon, near Nashville on 21 June 1937. She was raised in Cleveland, however, initially in the predominately black Hough district, and that city became her home. Kim's recordings started with the 1967 release of "In Return For Your Love". Although released on Don Robey's Houston based Sure Shot label the songs certainly weren't cut in Texas, but most likely taped in Memphis or Nashville. The excellent deep ballad top side showed that Kim had matured into a powerful vocalist with a fine sense of dynamics. The way she allowed her voice to become horse and grainy, particularly in the run out groove clearly demonstrated that here was a singer to listen out for.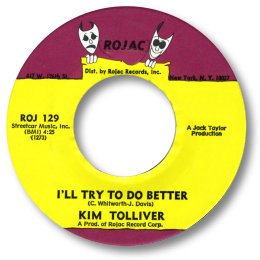 In 1968 she signed with Jack Taylor in New York, who issued four Kim Tolliver 45s on his Rojac label. With his superb series of recordings by Big Maybelle, Taylor had already demonstrated that he could bring out the best in a female artist, and the tracks he cut with Kim were further proof. The first Rojac single

I'll Try To Do Better was a dead slow ballad brim full of resignation sung with immense maturity and conviction. A quite superb record. Her second 45 featured another stone deep slowie "Tuesday's Child" and later in 1969 Taylor reissued "I'll Try To Do Better" coupling it with a very fine rendition of Sonny Thompson's old warhorse "Let Them Talk", cut in Memphis and perfectly matching Kim's dark brown voice. Her final Rojac 45 was the dancer "Driving Me Into The Arms Of A Stranger" featuring a bravura vocal performance full of power and passion, along with several of those great high soprano "whoops".
Kim was by now married to Freddy Briggs, a songwriter of no mean ability and the couple based themselves in Memphis and Cleveland, the first fruits of this Memphis connection being Kim's releases on Superheavy and General American Records. The self-penned "How Long Can I Keep Hanging On" (Superheavy 301) was issued under the pseudonym "Big Ella", possibly for contractual reasons. It was another of those emotionally wracked songs at which so excelled, as was the flip of the GAR release

Get Myself Together which had a fine melody and the benefit of a tortured vocal performance.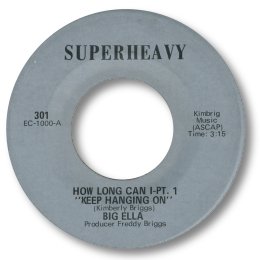 Over the next couple of years Kim issued her two LPs. Briggs pressed up copies of the first set on their own Kimbrig label and titled it teasingly "Who's Kimberley?" Fantasy picked it up the following year and issued it as "Passing Clouds" by Kimberley Briggs. Sadly the rather overproduced set vanished without trace. As did her second album, "Come And Get Me I'm Ready" which was issued in 1973 on Chess. This set was in a different league to the first effort, full of finely honed songs; although the production was again heavily orchestrated there were less of the soul/rock overtones that rather marred "Passing Clouds". I think it was very significant that neither Fantasy nor Chess issued a 45 from the albums – were they both aimed at the rock market rather than a black audience?
After a dance orientated 45on Castro, Kim had a very fine 45 which was leased to Pathfinder. This was a truly excellent version of a country hit

Standing Room Only on which Kim gave one of her very best vocal performances. It's one of the very best country soul records cut in 70s – up there with the Candi Staton discs on Fame and Marion Love singles on Mercury. These singles are just the tip of the iceberg of Kim's mid-70s recordings as enough material for another LP was cut but sadly never released. She issued – if that's the word for pressing a couple of hundred copies – a piece of a live performance singing

If Loving You Is Wrong at a venue in LA on her own "Revillot" label (try "Tolliver" backwards). This lengthy two-part version has a rap related to the one with which Millie Jackson scored so heavily. Notwithstanding the glorious lo-fi, hearing Kim singing her heart out, and working the crowd backed by a full band is a real treat.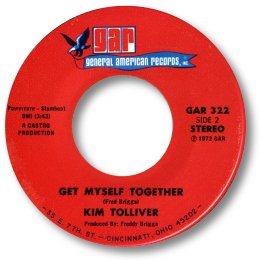 It wasn't until 1980 that Kim had one last shot at making a hit record. She reunited with Jack Taylor who had re-activated his Tay-Ster label and released two 12" singles. The first was the hard-hitting

Where Were You, rated by some as her best ever recording. Certainly it's difficult to think of a performance comparable to the way she pours out her tearful scorn for her errant man, her voice just dripping with emotion. Her final disc, in contrast, was a rather weak recut of "Let Them Talk". It was coupled with the dreadful uptempo "Party Lights", without doubt the worst song she ever recorded and totally out of character.
This was a rather sad way to conclude such a distinguished recording career. In the 90s she was sadly diagnosed with Alzheimer's, such a cruel disease, which eventually led to her premature death on 6 June 2007. Her two sons, who partnered her in her real estate business, and one daughter, survive her.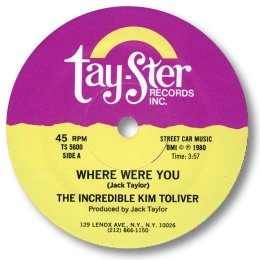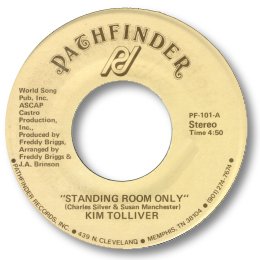 Discography
Get a little soul / In return for your love ~ SURESHOT 5035 (1967)


I'll try to do better / I gotta find a way ~ ROJAC 126 (1968)
Tuesday's child / (Your trying to) cop my stuff ~ ROJAC 128 (1969)
Let them talk / I'll try to do better ~ ROJAC 129 (1969)
Driving me to the arms of a stranger / I gotta find a way 1970 ~ ROJAC 131 (1970)
How long can I (keep hanging on) / Pt 2 ~ SUPERHEAVY 301 (1971/2) (as BIG ELLA) ***
I caught you /

Get myself together ~ GAR 322 (1972)


Standing room only / Your love's on the money ~ PATHFINDER 101 (1974/5)
I don't know what foot to dance on / Inst ~ CASTRO 101/2 (1975)


If loving you is wrong / Pt 2 ~ REVILLOT 8008 (mid 70s)
Where were you (long) /

Where were you (short) ~ TAY-STER 12" 5600 (1980)
Party lights / Let them talk ~ TAYSTER 12" 5800 (1981)
Who's Kimberley? ~ KIMBRIG LP KS001 (1971) issued as
Passing clouds ~ FANTASY LP 8415 (1972) (both as KIMBERLEY BRIGGS)
Come and get me I'm ready ~ CHESS LP 50040 (1973)
*** Notes –
1. Other records credited to Big Ella on Lo Lo, Salem and Rush are by Ervaella Tate.
2. There is a reissue CD of "Come And Get Me I'm Ready"on Reel Music.
Special thanks to Matt Starr for the Revillot 45 info and to Pete Nickols for the lovely poster.
UPDATE ~ My friend Tom De Jong has written concerning Kim's final (and rarest) Rojac 45

Driving Me To The Arms Of A Stranger". Tom says " after a few spins I would swear this was recorded at Fame, it is uncannily similar to Candi Staton's recordings there. Back home I checked the label and it is also a Jack Taylor production, there is a NY address. But on the Driving side it does say East Memphis Music. So do you think it is the fine weather, too much wine and long Portugese nights that are playing tricks with me or could it be possible Briggs & Tolliver made a trip to Fame in 1970?" There are certainly similarities with Candi's tracksas Tom says, and it may well be that Clayton Ivey is the painist and Freeman Brown the drummer on the track. So Tom could well be correct in his suggestion. Can anybody confirm?