The (in)complete ICA discography
by
Tom de Jong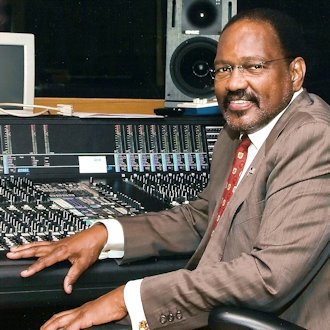 When STAX was declared bankrupt in July 1976 and after the lawsuits, director Al Bell left Memphis. Robert Gordon's recent (2013) and excellent book, states that he did little in the music industry until he later became president of Motown records in the late 1980s. That is not 100% correct since already in 1977 the first records on ICA, Independence Corperation of America, came out. Rob Bowman (2003) wrote that in January 1977, Bell moved to Washington DC "working from a phone booth and a friend's car". The ICA address, 226 Massachusetts Avenue in N.E. Washington DC, is a small building, now home to Armand's Chicago Pizzeria. Then in June 1978 Bell moved to his birth place, Little Rock, in the state of Arkansas, continuing ICA on a shoestring.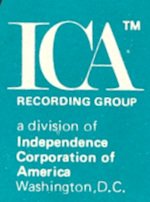 The ICA label has hardly been researched and none of the material has be reissued on CD. Some 45s are quite common while others are extremely rare and surprisingly there isn't even a complete discography of the label! The discography here is a step in the good direction but still not complete.


Often the Tom Shoemaker 45s are included in the ICA discography. I think this is another label. The ICA font is different, the color is red&white, the label is based in Dallas Texas and the three Tom Shoemaker 45s that I have are straight country. It could be argued that the Shoemaker numbers 14 and 16 are missing numbers in the discography below. But there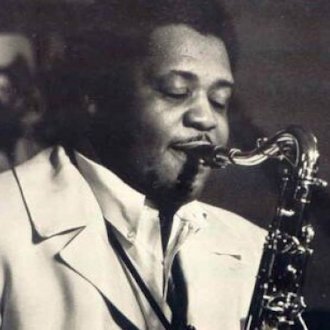 is also an ICA 12 by Shoemaker. That number overlaps, making it more likely that it is a different label all together. So the Tom Shoemaker 45s are out, even though I am not 100% sure. So 9, 14, 16 and 20 are unknown!

A prominent artist/ producer on the label was the great sax player Monk Higgins (Vea Pea). He was at that time based in California. Other artists seem to be from all over the US.
The ICA Label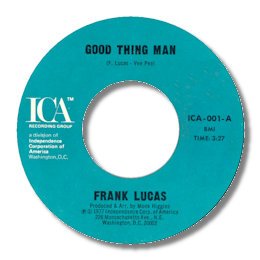 ICA 01. Frank Lucas "Good thing man" was the first 45 on ICA, it went up to place 9, staying 28 weeks in the Billboard R&B charts in 1977! Immediate success for Al Bell's small label. Half spoken text, sparse backing, no big issues. You feel bad? Just call the Good thing man! This is the type of soul that made Malaco big in the chitling circuit in 1980s, but this was definitely an early recording in that style. Arrangement and production by Monk Higgins. Frank Lucas made a handful of 45's, all in about the same style. But "Good thing man" was his claim to fame.

ICA 02. You have a hit. So why not do it again? Margie Evans did "Good thing queen" part 1& 2, following the route Shirley Brown had set out with Stax. This record went to place 47, staying 8 weeks in the Billboard R&B charts.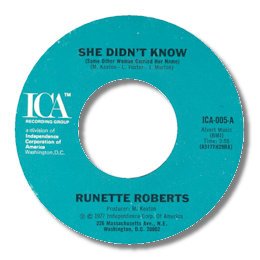 ICA 03. If Tyrone Davis was at the turning point, why can't Vernon Garrett be at the crossroad? This is what probably what Monk Higgins and associate Freddie Robinson had in mind. Maybe there is a difference between part 1 and 2 but I am not patient enough to spot it. Originality is not always equal to success. The record went up to 38 in the Billboard R&B charts and stayed there for 20 weeks. It was the best selling record ever for blues veteran Vernon Garrett.


ICA 04. Freddie Robinson's "I'd like to dance" is slightly funky and was backed by the instrumental Knee bone. No chart success this time.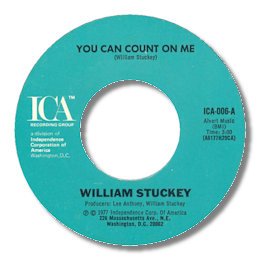 ICA 05. The next 45 is by Runette Roberts. It is a lovely midtempo track in which she asks: "Why can't we get married?". The male voice answers:" Because another woman is holding my name". So the title is more a description of the plot, rather than a reoccurring line in the song. No connection between this and Dee Dee Warwick's song with the same title. Producer was M. Keaton, no connection to Monk Higgins. No chart success.

ICA 06. Next up is William Stuckey's dreamy "You can count on me". The synthesizer is there in the background, but there is also piano and a background choir. Nice stuff! The instrumental Disco fly on the B-side could not have been more dissimilar. Producers Lee Anthony and William Stuckey take credits for both.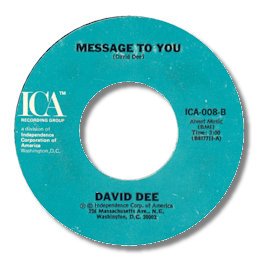 ICA 07. John Gllliam is an excellent singer who recorded a handful of A+ deep soul 45s, on Bomar and Cancer. "Come back Carol" is enjoyable midtempo and the same can be said about the B-side. But it is rather easy listening, John didn't lose much sweat much over these sides.

ICA 08. Midtempo with a disco beat summarizes David Dee's "Give me some air" adequately. The same pounding beat backs up the synthesizer on side B. But David's singing is more emotional here and is more upfront. It sounds a bit like Al Green at Hi. David Dee's 45 "Forgive me girl" on Time 34 is great deep soul, but quite rare also.

ICA 09. is unknown.
ICA 10. is an instrumental by Stan Holland, an artist from Maryland with apparently one other disco 45 "Hot for what you got" that came out on, among others, Maiden Voyage and a bunch of other labels. I know this exists through an Ebay listing but that is all the info I have. We have reached very low levels of success and printing records.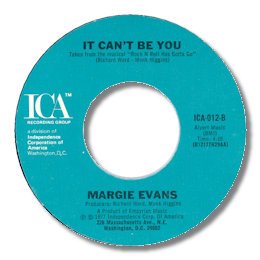 ICA 11. So what's next? Of course "Good thing man" Frank Lucas who scored big with the first ICA release! "Don't put out the fire" is on the same theme of love making. Higgins plays the sax. Sirens of the fire truck. Sounds like a real budget production. But in 1978 Frank made the charts again with this track, reaching number 85 and staying in the charts for 5 weeks. The label announced a "Good Thing Man" album but that never materialized.

ICA 12. It must have been a disappointment that this Margie Evans 45 did nothing chartwise. "I'm on my way" was uptempo, nice production (I mean no synthesizers) and with gospel vocals. "It can't be you"is highly original, starting off slowly and only halfway through the song Margie takes over. This is apparently from a musical "Rock n roll has gotta go" conceived by Monk Higgins and Richard Ward. Before this record Margie Evans had a long career working with Johnny Otis band in California and later she would perform as a blues artists in Europe.
ICA 13. This Billy Eckstine 45 is again very rare and I never heard it. He recorded an lp for Stax just before that label went down and that was probably the connection to Al Bell. I imagine these two tracks were already recorded in the Memphis studios.

ICA 14. is unknown.
ICA 15. has a choir singing with funky instrumentation. From the "Rock n roll has gotta go" musical. I am not keen of the Higgins instrumentals in general, but this is even worse.
ICA 16. is unknown.
ICA 17. Theresa Davis does a tune written by Betty Crutcher. Higgins was clearly aiming for disco charts.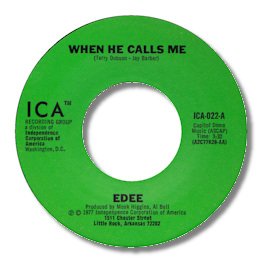 ICA 18. is along the same lines as ICA 15 - another couple of Monk Higgins instrumentals.
ICA 19. Both sides are quite suitable tunes for blues man Vernon Garrett, but not outstanding. Production credits go to Monk Higgins and Al Bell.
ICA 20. is unknown.
ICA 21. The midtempo "Thank you for loving me" opens with electric guitar opens. John Gilliam is a strong vocalist, but the band is more rock than soul. This is the first 45 from 1978 and the address has changed to Little Rock, Arkansas.
ICA 22. The most collectable 45 on ICA is by Edee. It appeals to Northern soul fans who pay over $100 for it. Apparently this is Edee Leatherwood and the original is on Chi-Heat from 1977.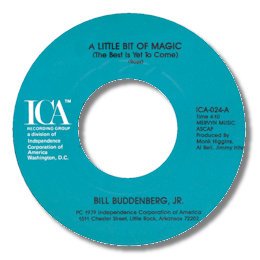 ICA 23. Chairmen of the Board is the well-know group with General Johnson from Holland-Dozier-Holland fame. I am clueless how this landed on ICA, it sounds like a Detroit recording from a couple of years earlier. This is a fairly common 45 but without chart success.


ICA 24. Bill Buddenberg Jr has all the right producers, Monk Higgins and Al Bell, and no costs were spared. Unfortunately it is rather indiscriminate pop music. ICA 24 is very rare so they probably realized there was no market for this. This is from 1979.





ICA 25. A pairing of Arlean (Lynn) Varnado and Margie Evans. I like Margie's vocals but the Monk Higgins disco production puts me down, far-removed from the Stax formula.


ICA 26. Former Stax musician LV Johnson "discoes until the morning comes" in "Let yourself go". But then he records a superb side "It's not my time". Lush production by Higgins with strings, great lyrics also: "The dirty dog came back and he robbed me blind". Fantastic! Finally there was chart success again, Billboard R&B position 44, staying for 12 weeks in 1980.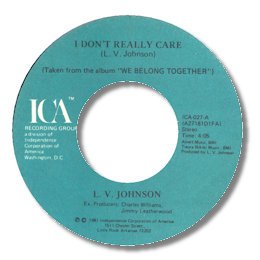 ICA 27. "I love you" is nice modern soul. Slick production, except for the drummer who plays too loud. "I don't really care" is also classy soul. Producers on this great side are Charles Williams and Jimmy Leatherwood. The track was sampled by J Dilla in Airworks. This 45 charted, position 51 and staying 11 weeks in the Billboard charts in 1981. A worthy finish and too bad that the album "We belong together" did not come out on ICA. Fortunately the lp did come out in 1981 on Phono records.
Sources:
Rob Bowman (2003) Soulsville USA, the story of STAX records. Schirmer Books.
Robert Gordon (2013) Respect yourself Stax records and the soul explosion. Bloomsbury.
001 Frank Lucas –

Good thing man / I want my mule back
002 Margie Evans – Good thing queen / Pt. 2
003 Vernon Garrett – I'm at the crossroad / Pt. 2 (1977)
004 Freddie Robinson – I like to dance / Knee bone
005 Runette Roberts –

She didn't know/ Instrumental version
006 William Stuckey -

You can count on me / Disco fly (Arkansas)
007 John Gilliam – Come back Carol / It's true, it's true, it's only you
008 David Dee – Give me some air/

A message to you
009
010 Stan Holland - I wonder/?
011 Frank Lucas – Don't put out the fire / I believe it's time to move along
012 Margie Evans – I'm on my way /

It can't be you
013 Billy Eckstine – The taste of my tears / All in love is fair
014
015 International Coral Aggregation – ICA Special Pt. 1/ Pt. 2
016
017 Theresa Davis – Daddy long legs / Pt. 2
018 Monk Higgins – My girls /Rock N Roll has got to go
019 Vernon Garrett – Hey young girl / Midnight in the City
020
021 John Gilliam – Love will make it alright/ Thank you for loving me
022 Edee – Make it last / When he calls me
023 Chairmen of the Board – Come on in and dance / Someone just like you
024 Bill Buddenberg jr –

A little bit of magic/ She's in love with a star
025 Allean Varnado – What is this life / Margie Evans You are to me
026 L.V. Johnson – Let yourself go/

It's not my time
027 L.V. Johnson – I love you, I want you, I need you /

I don't really care
12 inches:
D-4001 Allean Varnado – What is this life / Margie Evans You are to me
D-4002 Chairman of the Board- Come on in and dance / Someone just like you
D-4003 L.V. Johnson – Let yourself go / It's not my time
D-401 Vernon Garrett Dill pickle and a peppermint stick/ instro (1983)