Quin Ivy And His Norala And Quinvy Studios: Part 1 The Early Years
by Pete Nickols
(with a contribution or two from Sir Shambling)
Quin Ivy
Quin Ivy was born in 1937 in Oxford Mississippi, the son of a white sharecropper. As he grew up in the late 40's and early 50's he got to listening (like so many southerners both black and white) to the likes of John Richbourg, Gene Nobles and Hoss Allen on WLAC with its powerful transmitter out of Nashville. (WLAC's call-sign initials stemmed from its founders back in 1926, the Life And Casualty Insurance Company).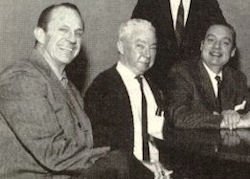 John Richbourg, Gene Nobles & Hoss Allen
These white dee-jays sounded black and played predominantly black music and, although many white traditionalists (especially in the south) did not approve of white folk listening to black music let alone playing it on the radio, it wasn't long before the young Ivy was emulating them via his hometown radio station in Oxford. Then he moved to Memphis to take a job with 1210 WMPS-AM before, in early 1959, moving on again, this time to WLAY-AM in the Shoals for a brief first stint there. This was the very station where a certain local boy called Sam Phillips, himself the son of tenant farmers, had begun his professional career back in 1942 and it was during Quin's early spell there that he first met Rick Hall, who would drop by on his way to Nashville to plug his songs. Later that same year, Ivy himself moved yet again, this time to Music City USA itself, to present a programme for WKDA-AM and here he would have kept in touch with Hall, due to the latter's regular visits to the city. Ever looking for new opportunities, by 1961 Ivy had found himself back in the Shoals as, this time, the 'top jock' at the WLAY-AM station, a station with an "open playlist" policy allowing it to feature gospel, pop, C&W, Blues and R&B, something which Sam Phillips always maintained had permanently influenced his own approach to music.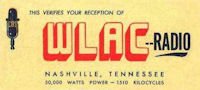 WLAC logo
Anyway, Ivy and Hall now began to see each other even more regularly to the point where the two began writing some songs together, Ivy providing the lyrics. This 'team' were responsible for two of Jimmy Hughes' early Fame-studio outings, "I'm Qualified" (leased out to Guyden for 1964 release on Guyden 2075 - and later Jamie 1280) and "Lollypops, Lace & Lipstick", the flip-side of Hughes' sizeable mid-1964 hit "Steal Away" on Fame 6401. Seeing his friend Hall now with his own studio and wanting to be more than just a local dee-jay and occasional song-writer, Ivy now opened a record store on 2nd Street in Sheffield, which he called Tune Town.
Hall, like the owners of most fledgling studios of the day, had at first kept his Fame pot boiling by providing cheap-rate studio time for unknown wannabes seeking demo sessions as well as the local advertisers wanting to record their radio commercials; but as his studio came to be used more often by significant artists, he found he was now having to turn away many of these local small-income providers. So it was that his pal Quin Ivy asked him if it would be OK if he opened up his own little studio directly opposite his 2nd Street Sheffield record store in order to offer recording time to such custom. Hall readily agreed and so Ivy's Norala (for Northern Alabama) one-room studio came into being in 1965.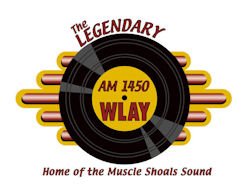 WLAY logo
Ivy bought an old RCA control console from WLAY for $150 and had the station's engineer, Paul Kelley, rewire and paint it for him. An equally old 351 Ampex recorder and a couple of A7 speakers were added and that gave Ivy all he needed for demo work. When session men were required, Ivy's pal Hall would usually let him borrow his Fame players, who, at this time, were not under contract to Hall anyway. These were the group of guys who would later become known as The Swampers, namely Roger Hawkins, David Hood, Jimmy Johnson and, initially, Spooner Oldham, to be replaced by Barry Beckett.
Ivy had wanted to use Dan Penn as his A&R man/engineer but Rick Hall was making much too much use of Dan over at Fame to release him. Instead, Rick put Marlin Greene Ivy's way. Locally, Greene, a trumpeter and guitarist, had occasionally substituted for Terry Thompson in the Mark V group, which, coincidentally, had used Dan Penn as its vocalist. This group, with Penn still singing, became The Pallbearers and apparently Greene sometimes sat in with them too, although he doesn't appear in the featured photo of the group (below, right).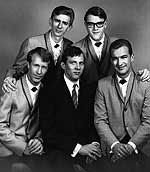 The Pallbearers with (top) Spooner Oldham, Roger Hawkins (bottom) Jr. Lowe, Dan Penn, Donnie Fritts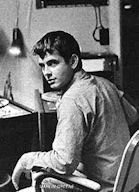 Marlin Greene
The good-looking Greene had also been recording as a teeny-pop vocalist from as early as 1957 with one 45 on James Joiner and Kelso Herston's local Tune label, that label having been formed only that year by these ex-Army pals and Florence natives, its first release, Bobby Denton's "A Fallen Star", now being remembered as the first-ever Shoals-cut commercial recording (Jimmy Johnson's uncle Dexter's studio was the first studio in the Shoals but Dexter only made private recordings of himself and his country-music pals).
Marlin Greene next cut two 45s on RCA-Victor after Joiner and Herston, through their Nashville 'connections', had managed to get him signed to the 'major', then he had 1 on UA, 1 on Delta and 2 on Philips. (You Tube has sound-clips of most of Marlin's pre-Quinvy teeny-pop sides except for his first Tune offering, though these are universally just too sugary-sweet to reproduce here).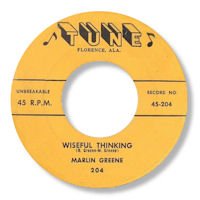 Marlin Greene Tune 45
It had been in 1958 while working for RCA-Victor that Marlin first encountered the 15-year-old Mary Elizabeth Johnson (some sources say her surname was Lee) - later to be Jeanie (Mrs. Marlin) Greene. Born in Corinth, Mississippi in 1943, Mary was a 'natural singer', cutting a private recording at Sun Records as early as age 13. At age 15 she sang on a Corinth radio show and she then also came to the attention of James Joiner and Kelso Herston, who persuaded Chet Atkins of RCA to put out three 45s by her as Jeanie Johnson between 1958 and 1960, though all were on the sickly-sweet side and none of them sold all that well.

Early Jeanie Greene RCA picture sleeve
In 1965 and 1966, Marlin and Quin cut Jeanie (now given the surname of Fortune) at Norala on two further RCA 45s including

"Angry Eyes" (RCA 8914) but, by the time of this, her second release, Ivy (and Marlin) had already hit big with Percy Sledge and Jeanie began to get regular work, not as a soloist, but as a back-up singer for Sledge and other artists at Norala and then at Ivy's new Quinvy studio, though now as Jeanie Greene, Jeanie/Mary having married Marlin by this time.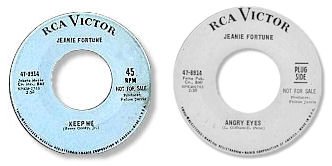 Jeanie Fortune RCA label shots
Ivy would soon cut Marlin in for 10 per cent of his new venture and would never regret the time that Greene spent with him. Ivy said he "could do anything – play guitar, engineer, arrange strings" and added "he even drew the logo for the business and later designed my second studio." New wife Jeanie Greene became the mainstay of the chiefly Caucasian female background vocalists, along with Donna Thatcher, who had just happened to have been Quin's first-ever customer at Norala when she had wanted to cut a demo there (Donna would later marry pianist Keith Godchaux and would then become associated with the West Coat group The Grateful Dead). Male back-up singers occasionally used included Hurshel Wiginton and Jerry Eddleman.
Later, in 1967, Mary Holladay (born 30 April 1946 in Birmingham, Alabama) and Susan Pilkington, both still in their Junior year at Auburn University, would augment the female back-up singers at Quinvy for a short while before moving on to Chips Moman's studio in Memphis in 1968, once they had graduated.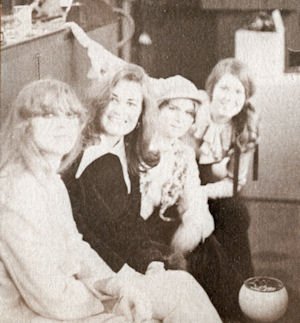 Jeanie Greene, Donna Thatcher, Sue Pilkington and Mary Holladay
Meanwhile, back at the very beginnings of Norala in 1965, between organising demo and advertising work, Quin Ivy soon decided to follow Rick Hall's lead by starting up his own record label, which he simply named Norala after his studio. Its first release on Norala 6501 was by The Mosriters (Mosrite being the name of a Californian-manufactured guitar, which had primarily been popularised via its use by the big-selling instrumental group, The Ventures).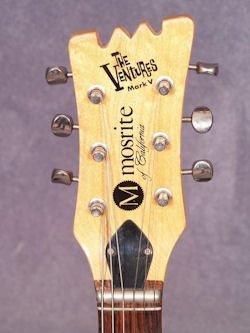 Ventures Mosrite headstock
This was indeed a Ventures-like surf-sound instrumental 2-sider, featuring "On The Run" and "Turmoil", both penned by Don Srygley and Jimmy Johnson. Johnson had been influenced in his very early days to take up the guitar (rather than the trumpet he had played in the Sheffield Junior High School Band) when he saw Srygley play guitar for Hollis Dixon & The Keynotes at a dance held in the basement of the Sheffield municipal building. His Aunt had then bought him his first basic guitar and amp and, when the 15 year-old Johnson came back a whole $10 better off one night from a local Saturday night dance gig at the National Guard Armory in Tuscumbia, his father Ray (himself a musician and ex-member of the Johnson Brothers country duo together with his brother Dexter) bought Jimmy his first Fender, trading in his own Gibson acoustic guitar to help conclude the deal.
Don Srygley
After playing in a few local bands with his new Fender, Jimmy settled in as guitarist in the Del-Rays. They cut an early 45 for Rick Hall at his Fame studio and, at the end of the session, Rick offered Jimmy a job as a general 'gopher', Johnson becoming Rick's first 'employee'.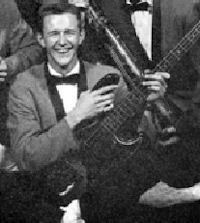 A young Jimmy Johnson
Srygley and Johnson along with David Hood and Roger Hawkins made up the four 'Mosriters' who played on the disc and they followed it up on Norala 6502 with another 2-sider which paired "Take That" with an instrumental version of "Treat Her Right". As you can hear,

"Treat Her Right" is more rock 'r roll/R&B than soul perhaps but a powerful instrumental rendition of the Roy Head classic nonetheless.
The third Norala 45 featured a young Muscle Shoals native called Mickey Buckins who was trying to make it as a songwriter as well as a singer. The top side

"Silly Girl" is now a highly sought after (and expensive) Northern "soul" 45 but in truth it is a pleasantish if unremarkeable uptempo pop number. Undoubtedly this disc has the Mosriters playing behind Buckins but sadly like the two previous Norala 45s it sold poorly. Buckins went on to become a key percussionist in Muscle Shoals as a member of the Fame Gang and contributed several very good songs for artists like Clarence Carter and Millie Jackson along the way. In 1969, Buckins would also engineer Solomon Burke's great Bell album "Proud Mary" at Fame.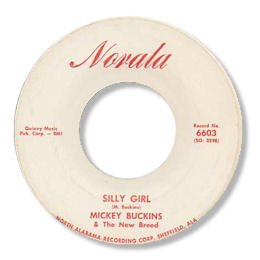 Silly girl - NORALA 6603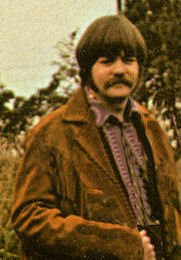 Mickey Buckins
It seems Ivy had 'big plans' for the Mosriters and was also hoping that his leased out recordings by Jeanie Fortune would do well for RCA-Victor - but all these plans came to nought with the arrival at Norala in the summer of 1965 of a certain group called the Esquires and their then unknown lead-singer, Percy Sledge.
Sledge had been born in Leighton, just south-west of Muscle Shoals, on 25th November 1941 into a poor farming family and was raised not on 'black man's music' but on 'hillbilly'. Percy began singing at age 15 at the local Sterling High School and it would be his old music teacher, James Richards, who, some years later, would recruit him to be lead vocalist of the Esquires Combo. The combo played the southern universities frat circuit and even gigged at 'Ole Miss' after Jimmy Johnson, no less, had had words on their behalf with the uni's Tuscumbia-born entertainments chairman, a certain Tommy Couch (future boss of Malaco Records). Sledge's later claims to have sung with fellow Shoals area performer Jimmy Hughes in a gospel group (The Singing Clouds) appear unfounded and local music pioneer James Joiner maintains Sledge had been trying for some years prior to 1965 to land a secular recording deal.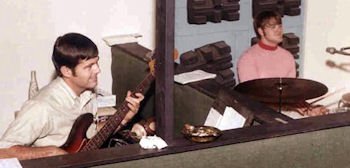 David Hood (bass) and Roger Hawkins (drums)
After a number of local dead-end jobs, Sledge became an orderly at the local Colbert County Hospital. The story of how he first came to Norala varies considerably depending on who is recounting the tale. Sledge himself says Ivy was in the audience one night at an Esquires gig and heard him sing the song which would become "When A Man Loves A Woman", albeit it was then called "Why Did You Leave Me". Dan Penn says he made a demo of the Esquires at Fame and, having promised Percy it would win Rick Hall over, sent Sledge and co. over to Quin Ivy instead after Hall surprisingly voted the demo a 'miss'. Ivy himself tells what many believe is the true tale. He says that an old friend of his, Leroy Wright, had heard Percy singing along the corridors at the hospital whilst he had been there as a patient and when by chance Percy and Leroy appeared together at Ivy's Tune Town record store one day, Wright confided in Ivy how well Sledge could sing. As a result, the Esquires auditioned for Ivy that very afternoon across the street at Norala and Quin was hooked on their main song, albeit it took a while to knock its lyrics into shape. It seems surprising, especially given the amount of re-working that was required, that the writing credits were awarded merely to Calvin Lewis and Andrew Wright, two members of Sledge's Esquires group; but Ivy himself reckoned the Norala 'clan' only spent two weeks re-writing the lyrics and still gave the song merely to Lewis and Wright because they had originally come up with the melody. This re-write of the lyrics, though, may account for why there is an unconfirmed report that Marlin Greene claims to have written the piece and to have given the rights to the two Esquires members merely to avoid Rick Hall getting any money from the song, Greene apparently still having had some tie-up with Hall at the time, despite now also 'having a piece' of Norala.
Percy Sledge
If this were true, certainly Greene could have had no idea how big a success the recording would prove to be once Rick Hall had heard it and had interested Atlantic's Jerry Wexler in it, Hall having previously been introduced to Wexler by Atlantic's southern 'pusher' Joe Galkin. (Hall in fact did profit from the deal despite getting nothing through the songwriting credits as Atlantic gave him a 2 per cent finders fee for the 'A' side – plus he obtained a further 1 per cent from Ivy and 1 per cent from Wexler – whilst also enjoying publishing rights on the flip). Ivy's own first big pay day had certainly arrived with Atlantic agreeing to give him $1000 up-front plus 8 per cent; however, Quin only kept 2 of the 8 per cent for himself, 1 per cent (as already noted) going to Hall, 3 per cent to Sledge and 2 per cent to Greene.
Also, of course, getting a company like Atlantic to distribute both nationally and internationally a production by an unknown, tiny studio like Norala was one truly big deal in itself for Quin, although, sadly, whilst Atlantic were shrewd enough to 'keep' Sledge on their books for many years and also later agreed to distribute Quin's own labels via their Atco subsidiary, saleswise they never really achieved much non-Sledge mileage for Quin, despite a couple of Z.Z. Hill offerings seeing release on the parent Atlantic label and despite Ben E. King, Ted Taylor and Jeanie Greene Atco 45s being cut at Quinvy.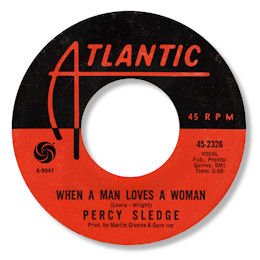 When a man loves a woman - ATLANTIC 2236
Meanwhile, back at Norala in 1966, it was clear that the other Esquires' musical days were now numbered as they did not play on the final "When A Man…" session and, once the record took off, they said goodbye to their lead-singer forever. The musicians used on the session were Spooner Oldham (playing a little red farfisa organ), Roger Hawkins on drums, Junior Lowe on bass, Marlin Greene on lead guitar, and Don Srygley on rhythm guitar. Behind the old ex-WLAY control board was Jimmy Johnson. Loss of quality from tape transfer meant there was room for only one overdub and that was later used for voices, a brief guitar-fill and the now famous 'out-of-tune' horns, played by three local guys. Jerry Wexler wanted the horns recut and Ivy obliged with Wayne Jackson, Bowlegs Miller and Andrew Love but it was the original tape that got pressed as the 45. The "preferred" version only came to light on a Rhino CD in recent times and it is this cut of

"When A Man Loves A Woman" that you can listen to here.
Whilst the lesser-known but very talented soul singers who would later cut for Ivy's soon-to-be-introduced Quinvy and South Camp logos are the names that southern soul fans chiefly revere, in truth it was the continued success of the also exceptionally good country-soul singer Percy Sledge which would bring in the paychecks over the next few years and these would almost single-handedly 'finance' the creation and maintenance of Ivy's brand new Quinvy studio situated further away from Sheffield town centre at 1307 Broadway (now Broadway Street).
Sledge, Ivy & Wexler celebrating the success of "When A Man Loves A Woman"
NORALA LABEL LISTING
6501 The Mosriters ~ Turmoil / On The Run (1965?)
6502 The Mosriters ~

Treat Her Right / Take That (1965?)
6603 Mickey Buckins ~

Silly Girl / Long Long Time (1966?)
Note ~ Mosriters tracks can be found on several compilation CDs of dubious origin if you search about. "Silly Girl" can be found on a similarly questionable Beach Music set. The splendid take of "When A Man Loves A Woman" with the "correct" horn arrangment can be found on the Rhino CD "The Very Best Of Percy Sledge".
To be continued in Part 2.
UPDATE ~ Bill Jarnigan has written to the southernsoul group to say that "Mickey's record was breaking on the West Coast on black radio stations, one of whom called for a photo of him and the New Breed. Once they received the photo and saw he was white, the station dropped the record and it died. In Pete's story, he referenced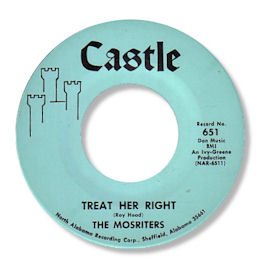 Jeanne Johnson's surname being Lee. That was after she married songwriter Max Lee, who is since deceased. She is back living in Corinth." Thanks to Bill we can now confirm that Jeanie Greene's maiden name was indeed Johnson and that Lee was merely the surname of her second (post Marlin) husband.
Peter Hoogers has written with some info on the second Mosriters 45. He has a copy of the tracks on a Castle 651 single also issued in 1965, which shows the release as by North Alabama Recording Corp., Sheffield, i.e. the Norala Studio. Neither Peter nor either of us has seen a copy of the Norala 45 - was it ever issued?
We're very grateful to both Bill and Peter for their info.
Also please note that Atlantic/Atco only agreed to distribute Ivy's "South Camp" label - an amendment to where we wrongly say in this Part that they "agreed to distribute Quin's own labels" (i.e. all his labels).
ADDITIONAL UPDATE ~ An MP3 download website, relying on the private owners of recordings making them available for download, shows that the particular Mosriters 45 of "Treat Her Right" which they used for that purpose was actually on Norala 6602. This would be a logical 'reissue' of the 1965 Castle 45 (probably early the following year in view of its '66' number), as this Norala release would then slot conveniently between the Mosriters first 1965 Norala (6501) single and a later one in '66 by Mickey Buckins (see next Part) on Norala 6603. It therefore also seems likely to me that this particular recording was never issued on Norala 6502 (as first thought) but merely, in 1965, on Castle 651 and again in 1966, on Norala 6602.
FURTHER UPDATE ~ It's now thought that Jeanie Fortune's (Greene's) 1965 and 1966 RCA singles were cut not at Norala but at RCA's Nashville studios.
Certainly both Jeanie's and Marlin's earlier RCA 45s had been cut there under the auspices of Chet Atkins; however by 1965/6 another producer was on the RCA Nashville scene. He was the future Elvis producer (Charles) Felton Jarvis who, in 1963, re-located to Nashville from his native Atlanta, where he had produced Tommy Roe's big hit "Sheila" (ABC-Paramount 10329).
Soon he moved to RCA's studios in the Music City and there, before Chet Atkins let him take on Elvis, he would certainly produce Jeanie Fortune's final RCA single in 1966, which coupled Berry Gordy's song "Keep Me" with Penn and Oldham's "Angry Eyes" on RCA-Victor 8914 (the label actually credits Jarvis).
Jeanie's earlier 1965 release of Greene & Penn's "Once More With Feeling" and Ivy and Greene's "Occasional Tears" (RCA-Victor 8704) bears no production credits at all. Whilst it is possible that all of these songs were 'worked up' or even demo-ed at Quinvy or Fame, it still seems likely that they were finally put together in Nashville.
Acknowledgements:
John Ridley; Peter Guralnick; Barney Hoskyns; Charles Fuqua; Gilles Petard; Colin Escott; Roben Jones; David Cole/In The Basement; Clive Richardson/RPM-Shout; Gary Cape/Grapevine-Soulscape; Soulful Kinda Music; Vintage Soul fanzine; Billboard; Rick Clark/Lynyrd Skynyrd Boxset Booklet; the websites and blogs of many of the artists/personalities featured.
Special thanks to Paul Mooney - all licensing enquiries for Quinvy / South Camp / Broadway Sound masters should be directed to Selrec Ltd and most of the songs are controlled by Millbrand Music Ltd in all territories outside the US and Canada.