Quin Ivy And His Norala And Quinvy Studios: Part 2 1966 - Percy Sledge's Year
By Pete Nickols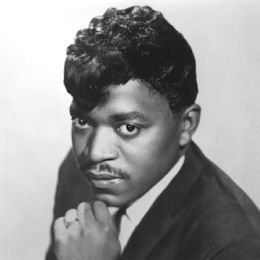 1966 could definitely be called Percy Sledge Year as far as Quin Ivy's still-fledgling Norala studio was concerned. Despite Atlantic inadvertently issuing the original late-1965 version of "When A Man Loves A Woman" (complete with those out-of-tune horns played by local guys Jack Peck, Billy Cofield and Don 'Rim' Pollard) the 45 was such a huge success that the need for Ivy (and particularly Atlantic) to sustain sales momentum in its wake was paramount.
The record was a genuine phenomenon by any market standards of the time. This was 1966 and segregation in the land and therefore on radio too was still to be found most everywhere, especially in the South. As a result, very few recordings by black artists ever got enough play on 'white' stations to cross over into the Hot 100 pop charts, let alone get to the very top of them! With the final version of the recording being cut at Norala on 17th February, it would enter the national pop chart only some seven weeks later on 9th April where it would reside for nearly 3 months, spending two weeks at the very pinnacle of the pop pile. It would spend 16 weeks on the national R&B chart too, four of these at No.1. What's more, it was a true international hit as well, charting in many countries around the world, with the record entering the significant UK chart as early as May and spending 17 weeks there, peaking at No.4 – and remember this chart was only a Top 50 back then so very few singles achieved such a degree of longevity. Of course, there would also be massive re-issue sales in the decades ahead but its mid-1966 sales alone gave Atlantic their first-ever gold record for a 45, awarded as early as 15 July that year.
As a 'nod' to the telling, across-the-board significance of Percy's massive hit, at least two answer-song 45s were soon committed to wax. In New York, as early as 2nd May, Atlantic decided to bank even more money from their hit by having Esther Phillips record "When A Woman Loves A Man" (Atlantic 2335), the idea proving a success as the 45 spent 8 weeks on the R&B chart peaking at No.26 while also cracking the Pop chart, spending 5 weeks there and peaking at No.73. Atlantic had taken its chance to link Esther with the big hit song as early as Sledge's 'welcome to the Big Apple' bash at the Prelude Club in mid-May – in the sleeve notes to Sledge's second album (see later), Jack Walker of Radio WLIB New York, who attended the proceedings, recalls the event and says Sledge and Phillips entertained the music-biz and radio luminaries present with a duet of the song, backed by King Curtis' band, and included 19 choruses before signing off! There is little doubt that Atlantic's New York 'clout' and their direct link to Sledge helped Esther's recording eclipse another arguably even better version of "When A Woman Loves A Man" by Ketty Lester on Tower 236, this non-charting 45 nonetheless surprisingly also spawning an album of the same name (Tower LP 5029). Even big-voiced white MOR songstress Jane Morgan got in on the act by including the answer-song on her October 1966 Epic 26211 album "Fresh Flavor". In 1968, Maxine Brown would include the song on her "Out Of Sight" LP (Epic 26395) and much, much later in 2000, easily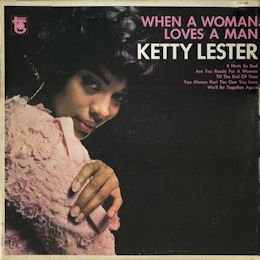 the finest version of

When A Woman Loves A Manwould be recorded by Shirley Brown on her Malaco 7503 CD "Holding My Own".
So there was clearly a need for Atlantic to next 'cash in' big-time with a really good follow-up single by Sledge himself – but first the label took a very early – and brave - decision to release a spin-off album. I say 'brave' for two reasons: firstly, hits back then by black artists rarely generated enough 'clout' to warrant a quick album release because, outside of the jazz arena, albums in 1966 were still predominantly aimed at the wealthier 'white' market; and secondly, whilst a massive-selling 'crossover' hit would almost certainly guarantee much-better-than-usual follow-up album sales by a black artist, the decision to put Sledge's first album together was taken as early as April 1966 purely on the strength, at that time, of Sledge's hit having maintained enough momentum in the predominantly 'white' Pop chart to move up from its entry point at No.100 to a mere No.73. So, when the decision was taken, there was clearly no way that Atlantic (or Quin Ivy back in Sheffield) could have known for certain that the 45 would go on to become such a giant seller.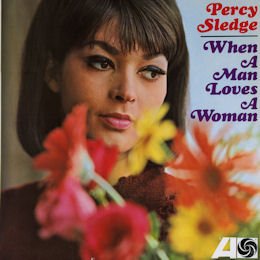 Percy had cut four songs at the February "When A Man..." session and the other three, Marlin Greene's "Love Me Like You Mean It" (the flip of the single), "You're Pouring Water On A Drowning Man" (to become a hit later that year for James Carr) and Dan Penn's "You Fooled Me" were all quickly added to Sledge's 'big single' to provide four sides for his album. Of course, now that the decision had been taken, more tracks were urgently needed, so on 21st April seven more songs were recorded at Norala by Sledge and all were used on the album, which, unusually, was released with just 11 tracks rather than the standard 'six-a-side' twelve.
Perhaps the pick of the 'new' seven was the superb lay-back country-soul of "My Adorable One", a fine cover of Joe Simon's 1964 Vee-Jay side (also recorded at Fame in November 1964, though unreleased at the time, by Jimmy Hughes). Local boy, Peanut Montgomery's fine "Love Me All The Way" proved another good vehicle for Sledge, while the other tracks included Dan Penn and Jr. Lowe's "Success", Deon Jackson's up-tempo hit from earlier that year, "Love Makes The World Go Round", "Put A Little Lovin' On Me" and "Thief In The Night". Also very good was Percy's version of "When She Touches Me", which he cut around the time Rodge Martin was performing the song on the "The !!! Beat" TV show, leading to Martin's own recording of it on Bragg and Newark (Later Mighty Sam would have his say too with a great version for Amy). The album cover of "When A Man Loves A Woman" (Atlantic 8125) underlined Atlantic's determination to market Sledge as a 'crossover' artist as it portrayed merely a colour picture of an attractive brunette Caucasian girl, with Sledge's own photo in black and white firmly relegated to the back-sleeve.

Some sources claim that Percy's follow-up 45, a cover of Joe Haywood's 1964 Enjoy (and later White Cliffs) side

Warm And Tender Love, was a song Ivy and Sledge heard Haywood sing at The Apollo in Harlem on a bill he shared with Percy. Now I'm sure Percy first played the Apollo fairly early in his career on the strength of his initial big hit (and our photo of the guy in Part 1 of this Article was allegedly taken on that very stage) but even by the time Percy was recording "Warm And Tender Love" at Norala on 18th May 1966, "When A Man Loves A Woman" was still only just entering the US Top Ten on its way to No.1, so any prior Apollo Show featuring Sledge as well as Haywood would have had to have been scheduled around the time that Sledge's single was only just beginning to 'break' nationally. Whether Sledge was indeed at the Apollo this early is uncertain and another assertion that Bobby Robinson (Joe Haywood's NY-based manager/label-owner) simply 'sold' the idea of "Warm And Tender Love" to Jerry Wexler back-stage at the same famous Harlem theatre is probably more believable. Certainly Robinson, who claimed writer's credit for the song, would have known he would make plenty of bucks from any recording of it which Sledge might make and the Spartanburg, South Carolina raised Haywood, who probably had uncredited input into the song, would have had no say in the matter. Of course, Ivy and Sledge did indeed make their way to the Big Apple in 1966 - our photo in Part 1 of the duo celebrating with Jerry Wexler was taken at that aforementioned 'welcome bash' at the Prelude Club in NYC but was printed in a 21st May issue of Billboard, indicating the southerners probably only arrived in New York just after Sledge had already cut his follow-up single at Norala.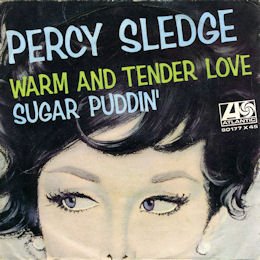 In any event the follow-up song proved a fine choice, successfully emulating the sincerely expressed romantic feelings of the first big hit and creating the same kind of 'crossover' appeal which Atlantic in particular had sought. You can watch/hear "Warm And Tender Love" by playing the movie clip above. Smoother and less 'deep' than Haywood's earthier 1964 original, it was nonetheless a fine soul performance by Percy, who at first had clearly been worried about 'covering' the earlier version when he later said: "I liked the way (Haywood) sang the song – very strong. I was scared of the song and I said to Quin 'what in the world can I do with this song? I can't sing his song!' And Quin said 'just sing it the way you feel it yourself'. Then they cut the backing track before I sang it and I was able to listen to that before I cut my vocal and feel my way through it."
As a result of Percy's empathy with the song, his version on Atlantic 2342 duly entered the prestigious Hot 100 on 23rd July, stayed there for 9 weeks and attained a very creditable No.17 peak-position. On 30th July it had also entered the R&B Chart where it stayed for 11 weeks and peaked at No.5.
The 18 May session at Norala had also spawned the fairly banal flip to the second Sledge single (Marlin Greene's "Sugar Puddin'") as well as the unissued at-the-time "Treat Her Like A Lady". However, the only other recording that day produced a Penn-Oldham country-soul gem which would later become Sledge's third Atlantic hit-single, "It Tears Me Up" (see later).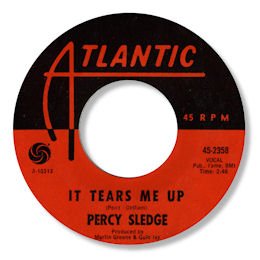 However, before "It Tears Me Up" was even released, there was a need for a second Sledge album on the strength of his second big hit. This album would be named "Warm And Tender Soul" (Atlantic 8132) in deference to the single but, again, more new tracks were needed. With Sledge now in big demand for personal appearances all over the country, it was late September before he re-appeared at Norala for two sessions on 20th and 23rd of that month.
Only four songs were waxed at the first session. Of these, "Warm Baby" and "The Woman I Love" remained 'in the can', while "You've Got That Something Wonderful" would only see later single release on Atlantic 2383 the following year. Penn and Oldham's "I Love Everything About You" would also be held over, for inclusion on Sledge's third album (see later).
However, the second September session was much more fruitful, providing the 10 tracks required to be added to "Warm And Tender Love" and

It Tears Me Up in order to complete Sledge's second album. From this session only one recording remained unissued, namely "With Every Beat Of My Heart". Greene's "Heart Of A Child" would appear on the album as well as joining "It Tears Me Up" for its single release but the other songs were all 'covers', which probably indicates the need for haste as there was clearly no time to get songwriters together to pen new material.
Elvis' "Love Me Tender" was the only 'cover' on the album which would also see later single release (on Atlantic 2414 in 1967). The others were Don Covay's song for Solomon Burke "I'm Hanging Up My Heart For You", Smokey's "You Really Got A Hold On Me", Roosevelt Jamison's song for O.V. Wright "That's How Strong My Love Is", Joe Tex's "A Sweet Woman Like You", Jerry Butler's "I Stand Accused", Edwin Starr's "Oh How Happy" (which had been a big Pop and R&B hit that summer for a white mixed-sex quartet he had 'discovered' called Shades of Blue) and Goffin & King's "So Much Love" which had been a minor Pop-only hit in late-May that year for both Ben E. King (Atco 6413) and Steve Alaimo (ABC-Paramount 10805).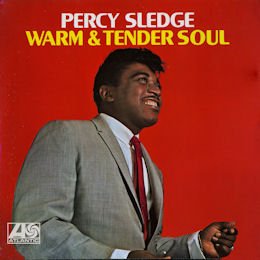 I've singled out the remaining track

Try A Little Tenderness for some special attention because many think this was merely a cover of Otis' Volt version. Not so. Otis' now much more famous souled-up version of this old song (written by three British songwriters as long ago as 1933) was cut at Stax only 10 days before Sledge nailed his take at Norala, Otis' cut being for inclusion first of all on his "Dictionary Of Soul" LP (Volt 415) before its later single release. It is extremely unlikely that anyone at Norala could have got to hear Otis' rendition before Sledge cut his and, when you listen to Sledge's interpretation of the song, it is so completely different to Redding's that there is no way the one influenced the other. I believe it was pure coincidence that the powers at Norala (or Atlantic) decided to cut Percy on this old 'chestnut' as something of an album 'filler' with maybe a look backwards to the many earlier recordings of this 'standard' by the likes of Crosby and Sinatra but especially perhaps to Aretha's nice interpretation for Columbia, recorded on 27th April 1962 for her horribly-titled album "The Tender, The Moving, The Swinging Aretha Franklin" (Columbia 8676).This theory is given extra weight by those aforementioned Jack Walker album-notes when he refers merely to the Sinatra and Aretha versions of the song with no mention whatsoever of Otis. For me, Percy's rendition does not begin to rival Otis' but make your own mind up as you listen to it here.
Much of Sledge's second album was somewhat less impressive than his first 12 inch outing but nonetheless the inclusion of his second big single-hit (and what would soon become his third) ensured reasonable sales, although the inclusion of so many covers, chiefly of songs associated with black artists, did not bode so well for 'crossover' success this time around, the set only just scraping into the bottom reaches of the Top 150 Pop LPs for a mere 3 weeks in November/December, while doing noticeably very much better in the R&B LP chart (now a Top 25), remaining on that listing for no less than 4 months from mid-November onwards and peaking at No.9. There was also no 'white' girl on the album-cover this time, just a nice full-colour shot of Percy himself, indicating to anyone who should still be unsure, that here indeed was an LP by a black soul singer.
If Quin Ivy and Jerry Wexler were a mite disappointed at the reduced 'crossover' sales of this second Sledge album, they could at least console themselves with the success in both of the national charts of Sledge's third hit-single "It Tears Me Up" which (coupled on Atlantic 2358 with Marlin Greene's mid-pacer "Heart Of A Child") would spend November and December and even the beginning of 1967 on the Pop and R&B charts, peaking at No.20 (Pop) and No.7 (R&B) respectively.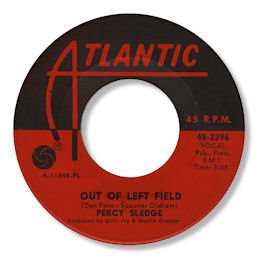 There remained one final session for Percy to undertake at Norala in 1966 and this took place on 12th December according to Quin Ivy's studio session sheets (Atlantic discographies usually wrongly attribute the songs cut at this session to sessions dated 11th and 20th January and 6th March 1967). Two songs to be used sooner or later as flip sides were cut, namely "It Can't Be Stopped" (Atlantic 2396) and "Behind Every Great Man There's A Woman" (Atlantic 2453). There was possibly also an unissued song recorded called "Little Girl", this being shown as an 11th Jan. 1967 recording in the Atlantic discographies but, as it is not shown at all in Ivy's own session sheets, I have included it as most likely recorded back on 12th Dec. 1966. However, two soon-to-be 'A' sides also materialised at this session. Firstly, there was Bobby Womack's mid-paced "Baby Help Me", a good enough recording but one which demonstrated that Percy was less happy with this faster rhythm than with his forte, the soul ballad. This would show in the single's relatively poor chart performance in February/March 1967 on Atlantic 2383 after it had been issued as a follow-up to the much more impressive (and slower) "It Tears Me Up", the mid-tempo item only making No.87 on the Pop chart and No.44 on the R&B listing.
However, the big prize from the 12th December session was the fourth and final song recorded,

Out Of Left Field. This beautifully crafted Penn and Oldham deep ballad with its metaphorical allusions to baseball terminology would be one of the aesthetic high-points of Sledge's output and, when issued on Atlantic 2396, after "Baby Help Me", it would achieve for Sledge somewhat higher chart placings in April 1967, namely No.59 Pop and No.25 R&B. It might well have done even better but, at 3 minutes 30 seconds duration, "Out of Left Field" would normally have been relegated to being merely an album track back in the mid-60s and maybe the length of the piece caused there to be fewer radio-plays than would otherwise have been the case; but the song was far too good to be merely 'hidden away' on an LP, co-author Spooner Oldham's churchy organ adding just the right touch behind Sledge's emotive, gospelly tones.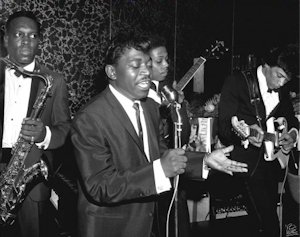 Percy Sledge, King Curtis, Cornell Dupree and Jimi Hendrix at the Prelude club in New York 5 May 1966
Yes, overall, 1966 had been a massive year for Sledge and for Norala – but it's true to say that, whilst, aesthetically there were perhaps even finer soul recordings to come from other often lesser-known artists at Quin Ivy's Norala (soon to be Quinvy) studio, saleswise things would not remain rosy for long and it would be 1968 before even the now 'established' Percy Sledge had another genuinely big national hit.
UPDATE ~ There are several more female responses to Percy's "When a man loves a woman" including Mae West (aged 73 at the time) who recorded it on her 1966 "Way Out West" LP which was the Tower LP issued immediately before Ketty Lester's set (i.e Tower LP 5028); Laura Lee from her 1972 Hot Wax LP "Two Sides Of..."; Bette Midler (from her film "The Rose") who had a No.35 US Pop single hit with her version on Atlantic 3643, issued in 1979 and a hit early in 1980; Luba (Kowalchyk was her unused surname) who had a big Canadian hit with a single of the song released in 1987 from her "Over 60 Minutes With Luba" Canadian Capitol LP; and Lynn White via her inclusion of the song in a medley on her 1989 Waylo "Love & Happiness" CD.
NEW UPDATE ~

(a) According to Barney Hoskyns' fine notes to the Rhino 526138 Book-Set "Percy Sledge – The Atlantic Recordings" (a highly-recommended compilation issued after this Part of the article was written) Quin Ivy made the following comments about trying to hastily put together Sledge's first album, required by Atlantic in the wake of Percy's huge success with his debut single "When A Man Loves A Woman":
"Marlin (Greene) was on active duty with the National Guard in (Columbus) Mississippi when the record (the single) hit. We had Atlantic telling us to get an album together so Jeanie (Greene) and I jumped into my car and took off to Columbus. I took all the material I felt was possible for the album and had Marlin look at it."
(b) The September-recorded Sledge version of "With Every Beat Of My Heart" did not remain unissued as stated but would eventually appear in 1974 on the German Atlantic 20085 Midi-release "The Golden Voice Of Soul".
(c) Where I mention Percy Sledge's 12 December 1966-recorded version of Bobby Womack's "Baby Help Me" I make the point that this performance demonstrated how Percy was less happy with up-tempo material than with ballads. This view is given credence by another quote from Barney Hoskyns' notes where Percy Sledge is credited with saying:
"I remember telling Quin 'I wanna do something that's really funky, like Wilson Pickett or James Brown.' So Quin replies 'Perse, I'm going to be honest with you. I'm your producer and I'm your friend but you are strictly a ballad singer. You don't have to sing like these guys. I'm going to show you, as the years go by, that you're going to have more great songs being a ballad singer'."
(d) Recording session date and location discrepancies for Percy Sledge tracks shown in this Part as recorded 12 December 1966:
We have no reason to doubt most of the Quinvy session sheets in our possession (albeit they do not cover every session at the studio) yet the Percy Sledge Rhino box-set (issued after Parts 1 to 5 of this article were written) often gives different dates (and even locations) for many of Percy's recordings, presumably based on Atlantic discographical information. There is no reason to assume the Atlantic info. is necessarily more accurate. Sometimes it would seem the Atlantic data may be right (as when it mentions a pre-Fall 1968 stereo recording perhaps at another studio because we now know that the old E Second Street studio was 'monaural only') but at other times it could simply be that these alternative dates (usually later) may relate possibly to when Atlantic masters of Norala/Quinvy recordings were received and noted rather than when the recording itself was actually laid down in the studio. The truth is, we just don't know.
The track "Little Girl" was indeed recorded, as it duly appears in the 4-CD Rhino Sledge box-set (which was issued after this Part was published). The song was written by Penn and Oldham and first appeared in 1969 on the South African Atlantic 9210 LP "Wanted". The box-set quotes an 11 January 1967 recording date for this track, as listed in Atlantic discographies, and it also claims it was recorded not at Quinvy but at Fame.
The same January 1967 recording date and Fame location is also given for "Behind Every Great Man There's A Woman" (Penned by Donnie Fritts) and "It Can't Be Stopped" (penned by Marlin and Jeanie Greene).
Meanwhile, Sledge's version of Bobby Womack's "Baby Help Me" (see also update (c) above) is listed as recorded in "Alabama" on 20th January 1967, while his version of Penn and Oldham's "Out Of Left Field" is also listed as recorded in "Alabama" but as late as 6th March 1967.

FURTHER UPDATE
An additional Quinvy session held on 18th December 1966 has come to light thanks to Tony Rounce's research into the Goldwax masters.
That day at Quinvy, Lamar Rutherford, who might best be described as a 'comedy country singer', cut "Alabam", "Lover Of The Town" and "You're Not An Angel". The style of singing would not be likely to interest soul fans and, in any case, these tracks remained unissued.

Rutherford's full name was John Lamar Rutherford and a year earlier he had enjoyed a Fame-cut release on Goldwax 120, namely "My Motor Bike Balked", coupled with the instrumental "Patsy", the record being credited to The Lamars. Rutherford was a friend of Quinton Claunch, and despite there seeming to be only one vocalist on the 'A' side of his Goldwax 45 and despite his later Quinvy session being credited purely to him, Claunch maintains the group did exist (certainly at the time of the Goldwax 45) and that Rutherford was merely their founder and leader. Lamar would continue songwriting, penning "Take Me To The Limit", and joining forces with Ricky Ryan to co-pen "She's Already Gone" as well as two songs which found their way onto black singer Leon McMullen's 2005 Main Street Music CD "Just A Few Words", namely "Baby's Got A Broken Heart" and "Should Have Been Me".
If you really must hear Mr Rutherford performing, his Fame-cut Goldwax 'A' side is grouped next to its instrumental 'B' side on UK Ace's "The Complete Goldwax Singles – Volume 1" (CDCH2 1226).
One other interesting fact is that the Quinvy logo on the original tape box for Lamar's 18 December 1966 session indicates that, even as early as that, the E. Second Street, Sheffield Studio was being called Quinvy rather than Norala. This is probably no real surprise as the name Quinvy was already in regular use in connection with Quin Ivy's publishing activities, with even an earlier recording like Percy Sledge's "When A Man Loves A Woman" already indicating on its label that the 'publishing house' was "Pronto-Quinvy".
ANOTHER NEW UPDATE ~
a) Where I mention in the next Part that both sides of Mickey Buckins' South Camp 7004 were probably recorded in the Spring of 1967, I omitted to notice that one side of this release ("Long Long Time") had already appeared on one side of Buckins' Norala 6603 forty-five which we believe was a 1966 release. So, unless the South Camp version was a later re-cut, only "Seventeen Year Old Girl" from the South Camp forty-five was probably recorded in the Spring of '67.
b) It is now quite clear that Percy Sledge's 17th February 1966 recording of "You're Pouring Water On A Drowning Man" (as featured on his "When A Man Loves A Woman" Atlantic 8125 LP) is the original version of this fine song.
James Carr's majestic reading of it on Goldwax 311 was never bettered but it did not pre-date Percy's Norala cut.
The evidence seems irrefutable. Firstly, as already noted, Sledge had cut it near the beginning of 1966 and it had been added to the songs fairly hastily put together on 7th April that year so that Ivy had enough tracks to let Wexler rush out an album on the back of Sledge's huge-selling initial 45. The "When A Man Loves A Woman" LP itself first hit both the pop and R&B album charts as early as 4th June, whereas Carr's Goldwax 311 single didn't chart until 29th October. Clearly, this alone makes it extremely likely that Sledge's February cut had preceded Carr's recording of the song.
The clincher, however, is in Roben Jones' book "Memphis Boys", where she quotes Quinton Claunch as saying: "Chips (Moman) found that song for me. He was down in Alabama. He said 'this'll be good for James Carr'. The song had been brought to Claunch by Moman after what authoress Roben Jones describes as "the first road trip". This was Moman's first trip from Memphis to the Shoals to play guitar on sessions at Fame and the first such session on which he played was Wilson Pickett's 8th to 11th May 1966 session at Fame when, inter alia, Pickett cut his hit version of Chris Kenner's "Land Of 1000 Dances". So Moman did not gain knowledge of "Pouring Water…" until nearly 3 months after Sledge had recorded it.
The composers of "You're Pouring Water…" were the Shoals writers, Drew Baker and Danny McCormick, who wrote for Quin Ivy's publishing company Pronto-Quinvy, the name of which duly appears on the label of the relevant James Carr Goldwax 45.
c) It is now also clear that Percy Sledge's 21st April 1966 recording of "When She Touches Me" was a cover of Rodge Martin's original on Bragg 227 (later also issued on Newark 222).
This is apparent from the fact that 12 days before Sledge committed his version to tape, Martin's Bragg 227 single was already bubbling under the Billboard Hot 100 chart for just one week at No.131. Even earlier, on 26th March 1966, Billboard had featured Martin's disc as a "New Action R&B Single", one already "registering solid sales in certain markets". It's therefore pretty safe to assume that the record was released probably around the very beginning of March 1966 and would therefore have been cut in Memphis the preceding month (or earlier).
A very small, rather hazy picture of Martin singing this very song (according to the caption) at the Houston Coliseum was also published in Billboard's 16th April 1966 edition, so he was certainly also promoting it before Sledge had recorded it.
d) Regarding Percy's "It Tears Me Up", Penn and Oldham wrote this song back in 1964. Dan Penn demoed it at Fame as early as January 1965 and this demo appears on UK Ace's 2012 CD "Dan Penn – The Fame Recordings" (CDCHD 1353). An unissued version of the song was cut at Fame by Sledge's cousin, Jimmy Hughes and this almost certainly pre-dated Sledge's 18 May 1966 Quinvy recording, although Hughes' rendition has not yet been located in the Fame vaults. An unissued Fame-cut rendition which has indeed been found is that by James Barnett, who is thought to have enjoyed only a sole session for Rick Hall from which his four known recordings from this period emerged. His sole Fame single emerged in 1966 so it's again likely that his version of "It Tears Me Up", cut at that same one and only session, pre-dated Sledge's. Barnett's version can be heard on UK Kent's2013 CD "Hall Of Fame Volume 2" (CDKEND 386).
Country-styled versions would be cut (post-Sledge) in 1967 by both Goldwax's Jeanne Newman (unissued on vinyl, although now on UK Ace's 2011 CDCHD 1284 release "Sweet Inspiration – The Songs Of Dan Penn & Spooner Oldham") and RCA's Lorene Mann (RCA 9183).
ADDITIONAL UPDATE
We mention above Joe Simon's mid-1964 Vee-Jay 609 release "My Adorable One" and note also that at Fame in November of that year, Jimmy Hughes cut an unreleased version of this song, one which Percy Sledge would record at Norala/Quiny on 21st April 1966 for inclusion on his "When A Man Loves A Woman" LP. Just to say that the Hughes recording has since surfaced on UK Kent's "Steal Away - The Early Fame Recordings" on CDKEND 324.
Acknowledgements:

John Ridley; Peter Guralnick; Barney Hoskyns; Charles Fuqua; Gilles Petard; Colin Escott; Roben Jones; Ray Ellis; David Cole/In The Basement; Clive Richardson/RPM-Shout; Gary Cape/Grapevine-Soulscape; Soulful Kinda Music; Vintage Soul fanzine; Billboard; Rick Clark/Lynyrd Skynyrd Boxset Booklet; the websites and blogs of many of the artists/personalities featured.
Special thanks to Paul Mooney - all licensing enquiries for Quinvy / South Camp / Broadway Sound masters should be directed to Selrec Ltd and most of the songs are controlled by Millbrand Music Ltd in all territories outside the US and Canada.