Quin Ivy And His Norala And Quinvy Studios, Part 7 – The musicians who in 1969/70 stepped into the shoes of the departed 'swampers', Eddie Hinton and Marlin Greene.
Obviously the history of Quinvy should contain as much information as we have about its recording sessions and the featured artists who performed there. However, we should not overlook the 'supporting cast' of players, songwriters, producers etc. Messrs. Oldham, Beckett, Hood, Johnson and Hawkins have received much coverage over the years for their important work at so many mainly southern studios but little has ever been said about some of the guys who came to Quinvy to play on sessions after these luminaries had departed.

It seems likely from comments by Wayne Perkins (see shortly) that Atlantic's financial support for Quinvy would end before 1970 was out and, probably sensing that 'the writing was on the wall', Ivy did not pay his 'new boys' particularly well. Possibly with financial savings in mind he also started to look for 'self-contained' performers or groups (sometimes in the country-rock field) to recruit to his roster, i.e. those who did not require any added session musicians. It's also clear that plenty of demo sessions were held for which we have no Quinvy session-sheets (see Stephen Foster's references shortly to the large number of artists who passed through, usually without the tangible result of an issued recording). Towards the end of the year, Jerry 'Swamp Dogg' Williams would also arrive, bringing some hand-picked musicians with him.
What one also has to remember is that nearly all the players in the Shoals area – indeed even most of the songwriters and record studio entrepreneurs as well as even some of the black performers (Sledge included) - were raised on 'country music'. Although soul fans remember Alabama chiefly for its soul output, this was and remains a hotbed State for country music. What's more it would also now look more regularly to Nashville to help provide studio musicians. So most – though not all - of the session men to whom David Johnson and Quin Ivy would turn from mid-'69 onwards were steeped in the country tradition and it's to their credit that they adapted so well to playing behind so many non-country singers. Of course, as we can now appreciate, it was often this 'country influenced' musical backdrop that combined so well with the vocals of the black soul performers to produce what is now termed 'southern-soul'.
Drummer Jasper Guarino had already played on all the Quinvy sessions from September 1969 onwards and would play on several more in 1970 including two for Sledge in January and August respectively, one for Tony Borders in February and several between September and December for Jerry 'Swamp Dogg' Williams' productions on artists who would feature for Williams' Mankind label (see later in this Part). Jasper was also instrumental in bringing to Quinvy a significant guitarist called Wayne Perkins, who would play at the studio throughout the year.

Wayne Perkins & Eddie Hinton
David Wayne Perkins (born 1951) was from Birmingham. At only age 15, while still at school, he got his first gig as a session musician at Prestige Recording Studio. Shortly after, he performed with a couple of small-time Birmingham bands, including the Vikings. Charlie Nettles was a fellow member and Wayne left home at 16 to live with him and his mother. After a Vikings gig in the Fall of 1969, Perkins bumped into Jasper Guarino who encouraged him to leave the group (and Birmingham) to join him in the Shoals as a Quinvy session man.
Wayne adds: "That was the start of my professional career as a studio musician - going to work for Quin Ivy. He had a rhythm section funded by Atlantic Records to record Percy Sledge and a couple of other artists. It was something I loved and one day Jerry Wexler walked into the control room. I remember Quin saying that Jerry WAS Atlantic Records and that we were supposed to make him happy with our work. So you can imagine this young upstart from Birmingham was quite beside himself. Well, the gig lasted for about nine months and then there was no more funding. So the band had to decide what to do because Quin couldn't afford to keep us on. So everyone went their separate ways, except for me...I didn't want to leave."

"So Quin Ivy took me aside and said, 'Listen, I'll pay your rent and one meal a day, and maybe after a while you can get some demos or something up on the hill' (meaning MSS). Quin was right - I started getting work there, at first with people like David Porter and the Soul Children, Dave Crawford and Brad Shapiro, and Dee Dee Warwick."

So here we can see how Wexler still supported Ivy's running costs through much of 1970, chiefly because of the continuing Sledge connection, but after that Ivy would be 'on his own'. Perkins would continue session work at MSS and elsewhere but would also be connected with many groups, including Smith, Perkins and Smith, the Gap Band, Shelter People, Take No Prisoners, Fever, and Problem Child before performing with the Alabama Power Band (formed by his brother Dale) which later became known as Crimson Tide. In 1995, he at last recorded a solo debut album, "Mendo Hotel".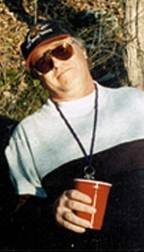 Stephen Foster
Wayne Perkins would be at Quinvy to help out another unsung but important songwriter/guitarist/singer/demo-cutter called Stephen Foster on Foster's first-ever session at the studio, apparently in the Fall of 1969. Foster started out playing piano but at age 11 he lost the tip of his right forefinger and switched to guitar. He learned chiefly in a country style after listening to his Dad's Chet Atkins albums.

When he was 19, after quitting college, he auditioned at Quinvy. He says: "There I stood: 6' tall, short hair, geeky glasses, carrying a brand-new Gibson ES 335. Quin Ivy was a great big guy and goin' bald, and he asked if I could play 'that thang' (my Gibson), and I said I knew 144 chords in 3 positions and, to boot, I could do half of everything Chet Atkins ever played. He said that the guitarist he had expected that day hadn't made the session and would I like to try it? So he sat me down beside this long-haired guy named Wayne Perkins, showed me an Ampeg Reverb Rocket to use, gave me a number chart, and left."
Perkins helped Foster learn the numbers system for arrangements and showed him how to play 'fills' rather than full chords. Randy McCormick (see shortly) was also present along with a black organ player and a drummer called Borax.

Foster would stay at Quinvy for about a year and a half and Quin teamed him up with a black guy named Bob Jubilee. (Jubilee's real name was apparently Robert E. Lee, according to Paul Mooney). Bob had just come back from LA and he and Foster would write a bunch of songs together. Stephen says: "It was a good learning experience, 'cause his 'natural feels' were different from mine, and he was older - maybe 50 at the time - so I listened to him, and we worked together pretty well. It seemed like everybody in the world came through there... we went in every morning at 10am like a regular job, and I never knew who would be there in the rhythm section. Quin got songs from everywhere, including a lot of tapes where the writer didn't play anything... just sang the song. So it was my job to sit down with those songs and figure out what the logical chords were. That led to me being session leader for a while, since I was writing the charts - and doing that number system really broke me free from traditional arrangements. Everybody in the R&B industry came through there back then, and a lot of rock and blues people, too. It was great to work at one studio, go to another to sing, and go to another to gopher just so I could watch the session. Unfortunately, the pay at Quinvy was not very good, and my father was not ecstatic about me playing music instead of going to college, so I got kicked out of the house and had to leave Quinvy and go and do things which made money. However, it had been an instructional one-and-a-half years and later I came back and did it again - but by then I was signed to a production deal with David Johnson, so it was a different thing."

In 1986 Stephen lost his left hand. It was reattached but never the same, so he moved from guitar to keyboards, though in the early 90's he learned slide-guitar to get round his numb fret-hand and today plays 6-7 different guitar-tunings and multiple keys. He has also featured as vocalist more recently with his Howler Band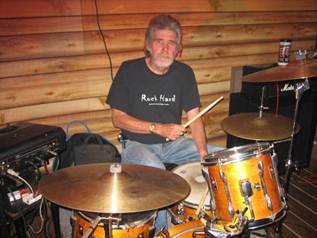 Jimmy "Be Bop" Evans
Along with Jasper Guarino, local drummer Jimmy 'Be Bop' Evans would also become more or less a fixture at Quinvy throughout 1970.
Born on 18 October 1941 in Tuscumbia, Evans should not be confused with the Jimmy Evans who cut the rockabilly 45 "The Joint's Really Jumpin'" for Memphis-based Clearmont Records in 1962. 'Be Bop' still lives in his native Shoals area and continues to play, now for a Shoals 'cover' band called 'Jukebox Jim', which also features Bobby Denton's grandson, Jordan Denton on lead guitar.
Randy McCormick
Bass-player Mabron McKinney featured on two major sessions in 1970. His credentials paralleled those of the likes of Eddie Hinton, Mabron having played with the Night Hawks (who also included Scotty Moore and became the rockabilly band J.C. (Raynor) & The Cavemen), The 5 Men-Its, the Allman Joys and Hour Glass (Mabron then being known as 'The Wolf' because of his beard). When Mabron quit Hour Glass, Bob Keller replaced him for a while before guitarist Pete Carr (see later in this piece) actually replaced Keller, apparently playing bass rather than guitar.
Randy McCormick, who, as we've noted, was present at Stephen Foster's first-ever Quinvy session in the Fall of 1969, also featured on four consecutive sessions from March through to July 1970. Randy was a keyboard player who grew up in a musical family in Rogersville, AL. He would later co-pen songs for mainly country artists, with some considerable success from 1979 on through the 80's (including No.1 country hits for Eddie Rabbit, Conway Twitty and the duetting Dolly Parton and Kenny Rogers). He has played on many sessions over the years including on Bob Seger's MSS-recorded No.1 album from 1980, "Against The Wind " (Capitol 12041), but perhaps of special note to soul fans is his appearance on Bettye Lavette's 1982 "Tell Me A Lie" (Motown 6000) set, recorded at Soundstage Studios in Nashville.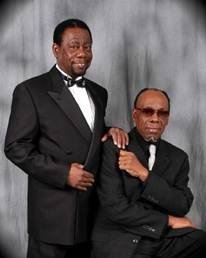 John & Charles Palmore
It was unusual for Quinvy to use many black session musicians but we have seen that Stephen Foster recalls black organ-players and some black guitarists, and, for Tony Borders' July 1970 appearance, the Palmore brothers, John and Charles, were in attendance. These were older guys who had been in the music biz for some time. Both John (keyboards) and younger brother Charles (bass) got their start in Birmingham, Alabama with Amos Gordon, a former musical director for Louis Armstrong. John toured early on with the Ike Williams Big Band and then with Joe Guy(Billie Holliday's second husband), but he would go on to change both his main instrument and his musical direction.As a keyboardist, John would work with Jackie Wilson, Mary Wells, ZZ Hill, Wilson Pickett, Joe Simon and The Platters, to name but a few. He also became the musical director, keyboardist and arranger for Bill Pinkney & The 'Original' Drifters. His brother Charles, an accomplished bassist, worked with much the same headliners and would spend no less than 17 years with Pinkney and the Drifters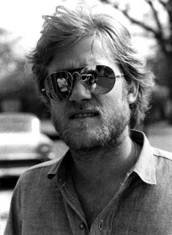 Francis "Tippy" Armstrong
That fine guitarist Francis 'Tippy' Armstrong (born in Tuscaloosa in 1947 but sadly to die aged only 32 in 1979) had played on Buddy Causey's September 1969 session and would make it to Quinvy again for Percy Sledge's August '70 session but in truth Tippy would become a regular, not at Quinvy, but at MSS. During his early teenage years Eddie Hinton had told him to tie fishing weights to his fingers and hold them over the side of his bed for 30 minutes every day. As a result the fingers on Tippy's left hand grew longer than those of his right (ideal for fret-work). His most significant early band was The Magnificent 7. Later its name was changed to The Rubber Band, remembered for songs like "Charlena" and "In And Out Of My Life". In the Fall of '67, Tippy would help out the hard-rock group Omen & Their Luv (previously just the Omen, a white soul band) by playing lead guitar on four songs cut at Boutwell Studios in Birmingham, a session at which Eddie Hinton did the 'mixing'. Eddie's guitar-playing pal Jim Colemen always considered Tippy to be a superior guitarist even to Duane Allman.
Bass-player Norman 'Butch' Owens had also played at Quinvy in 1969 (apparently on all the known sessions from ZZ Hill's 31 May date onwards – see last Part) and would be there again for Sledge's August '70 session. Owens would play with many fine artists over the years but is best remembered today for being Jerry Lee Lewis' bass man in the mid-70's. In 1976, while celebrating his 41st birthday, Lewis began fooling with a .357 Magnum, which he later stated he thought was unloaded. Pointing it at Butch, he pulled the trigger. The gun went off and Lewis shot Owens in the chest. Owens miraculously survived, while Lewis later claimed he had been trying to hit a soda bottle.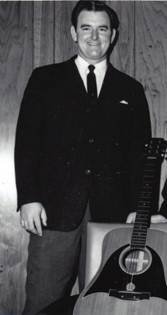 Weldon Myrick
Also at Sledge's August session was keyboard man Ronnie Oldham, who had already played on Quinvy sessions for Messrs. Causey, Sledge and Hill in the Fall of '69. A Florence native, born 3 April 1947, Ronnie began to teach himself the piano when he was 13 and by 15 he was playing in groups. From about 1963 he went on the road for three years before returning to the Shoals to establish a fine reputation as a session-man. He would go on to do work in Nashville and Houston too.

Percy Sledge's May session would see a one-off attendance by legendary country-steel-guitarist Weldon Myrick (born Jayton, Texas in 1939), whose inventive playing graced many top country recordings and also the stage of the Grand Ole Opry for over thirty years, originally as part of Bill Anderson's Po' Boys band. Just before appearing at Quinvy, Weldon had also become a member of the country 'supergroup' Area Code 615, who recorded an eponymous album in 1969 and "Trip To The Country" in 1970.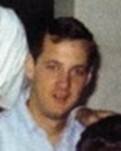 David Briggs
Also a part of Percy Sledge's May session, and making his only appearance that year at Quinvy, was keyboardist David Briggs, a member of course of Rick Hall's very first Fame studio session group who would move to Nashville and play fairly regularly with admirer Elvis Presley from 1966 onwards. From the late 60's until 1976 David would run Quadrafonic Studios with fellow ex-Fame player, bassist Norbert Putnam, before David alone opened his House of David Studio.
Playing a couple of Quinvy sessions in March and April, bassist Charlie Parson had been a member of the frat and high-school band, Libido. Apparently this had been a 'heavy' rhythm and blues band which played from Memphis to Knoxville and down south to Birmingham and Montevallo College in Alabama, as well as at many Vandy Frat parties and private high school dances at various homes in Nashville. They had also enjoyed a 2-year tenancy at the Redstone Arsenal's NCO club in Huntsville, Alabama.

Paul Hornsby (front) with Swamp Dogg at Capricorn (Sandlin, Carr and Popwell are at the back - the guy in the hat was known as 'Little Tommy').
With Ivy giving more and more time to his other business interests, it would be David 'Bat' Johnson who would oversee the Quinvy studio in late-70 when Jerry 'Swamp Dogg' Williams duly arrived to cut vocal, rhythm and horn tracks on some fine artists he had 'roped together' to record material which he would release the following year on his new Mankind label. We hope to discuss how Williams got this 'deal' and to look in more depth at these undated but almost certainly late-1970 sessions featuring Swamp himself, Doris Duke, Freddie North and Brooks O'Dell in our next Part; and at the Z.Z. Hill sessions (which apparently did not commence until July 1971) in a later Part; but we should perhaps make some comments here on the musicians used by Williams at Quinvy who have not been mentioned already and, for convenience and ease of reference, I shall also include some who played on the Z.Z. Hill sessions too.
Williams himself played most of the piano accompaniments and Jasper Guarino, as we noted above, featured on drums on several sessions. However, perhaps the main 'new name' to Quinvy who played throughout the Williams sessions was 'Pete' Carr.
Jimmy Johnson is one of many to rate Carr's musicianship. Jimmy says: "Duane Allman had a magic touch with the guitar that no one else had, with the exception of Pete." Carr would go on to play on many pop hits too, including Rod Stewart's "Tonight's The Night" and "Sailing", Bob Seger's "Main Street" and Barbra Streisand's "Woman In Love". Other major names to benefit from his virtuosity would include Paul Simon, Wilson Pickett, Hank Williams, Jr., The Staple Singers and Luther Ingram. He would also become a recording engineer and producer.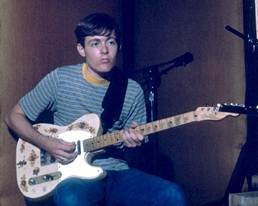 Jesse "Pete" Carr
Jesse Willard 'Pete' 'Beaver' Carr was born in Daytona Beach, Florida and first began to play an accousic guitar at around the age of 12. Ironically, he was introduced to American Blues and R&B by the records of the 'British Invasion' bands, especially the early Beatles, the Rolling Stones, the Yardbirds and The Animals. However, his own guitar-style would be rounded out by also listening to the likes of already established players like the Ventures, Travis Wammack, Chet Atkins, James Burton, Ted Connors, Jeff Beck and Eric Clapton.
The young teenage Carr would also watch local Florida bands play, the first such being The House Rockers, a pre-cursor of the Allman Joys, featuring Greg and Duane Allman. Then there was the Night Crawlers, who featured guitarists Sylvan Wells and Pete Thomason. (Later Pete would play an acoustic guitar actually made by Wells).
At the age of 15, Carr went to see the Allman Joys play at the Club Martinique in Daytona Beach and introduced himself to Duane Allman. This began a friendship which lasted until Duane's tragic death in a motorcycle crash on 29th October 1971.
In 1966, Carr moved to Decatur, Alabama to play guitar for the Five Men-Its, replacing Eddie Hinton. Johnny 'The Duck' Sandlin, Mabron McKinney and Paul 'The Berry' Hornsby were the other members of the band and Carr cites Sandlin and Hornsby as both being big influences on his own musical development. Carr, Sandlin and Hornsby next joined with the Allman brothers in Hour Glass, who would record at Fame and then out on the West Coast. After Hour Glass, with Carr back in Daytona, Johnny Sandlin called him up to come over to Miami to work with him in a studio there. Then Phil Walden asked Sandlin, Hornsby and Carr to move to Macon, Georgia to be a part of his new Capricorn set-up, where they would link with bass-man Robert 'Pops' Popwell (see later).
The boys envisioned themselves as becoming like a Macon version of Booker T. & the MG.'s; but when the Allman Brothers started to take off in their own right and Capricorn began to look more to the new southern rock movement, there was no need for a soul/R&B-type studio band so it was wound up and Carr moved to Muscle Shoals around the age of 20. However Carr, Hornsby, Sandlin and Popwell had all been at Capricorn in '69 when Swamp Dogg cut the now legendary "I'm A Loser" set on Doris Duke for Wally Roker's Canyon label (No.7704).
Of course, Doris Duke would also be one of the artists recording with the Dogg, Pete Carr (and Popwell) at Quinvy in late-'70 and we hope to discuss the fruits of these sessions in our next Part.
After his work for Swamp Dogg at Quinvy, Carr would feature on more Quinvy sessions in 1971 (see later Part). Then, in 1972, he would replace Eddie Hinton for the second time in his career, this time now as a lead guitarist at Muscle Shoals Sound, where he would duly play on most of the sessions held at that famous studio throughout the rest of the 70's. What's more, he would be on hand again (along with Popwell and Hornsby) for Swamp Dogg's 1973 production of Irma Thomas' excellent "In Between Tears" set for Swamp's BASF-funded Fungus logo (No.25150).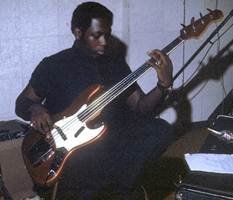 Robert "Pops" Blackwell
We've already mentioned that Robert 'Pops' Popwell played bass for Swamp on both Doris Duke's Capricorn and Quinvy tracks. 'Pops' was a favourite player of the Dogg's and was the only black guy and non-Hour Glass member to be part of the early Capricorn Macon-based rhythm section. He would go on to play on some Aretha sessions in 1972, as well as supporting The Rascals and then The Crusaders.
Chuck Leavell, Charles Hayward (variously also spelled Haywood or Heywood) and Lou Mullenix (sometimes spelled Mullinex) had all been aspiring young musicians who had been part of Johnny Wyker's 'gang' who descended on Quinvy to cut some demos in 1969 (see Part 6) but now all three also featured at some of Swamp Dogg's late-'70 Quinvy sessions.
Pianist/organist Leavell (born 28 April 1952) associated regularly with Hayward and Mullenix throughout his long and distinguished career.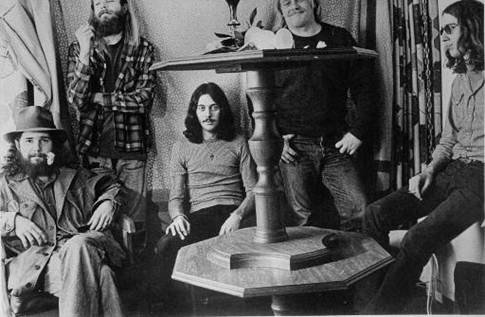 Chuck Leavell, Lou Mullenix and Charlie Hayward (the three seated figures) circa 1971
Starting out as a young teenager in the mid-60's with groups like Tuscaloosa's Misfitz and Jades, by the time of South Camp (the group – not the label) Chuck had Messrs Hornsby and Hayward for company.
Next came the group Care, along with Mullenix and Hayward, who also became part of the 1970 group Sundown along with Chuck and Court Pickett.
Leavell, Mullenix and Hayward next backed up vocalist Alex Taylor between 1970 and 1972 as well as Dr. John.
From late '72 to 1976 Leavell was part of the Allman Brothers band, then We Three, and then from 1976 to 1982 it would be Sea Level. Chuck toured with both Eric Clapton and George Harrison and, from about 1981 onwards, he would remain a regular keyboardist with the Rolling Stones, while also being in both the BHLT and BHL groups through 1982-84. The Dickey Betts Band followed in 1986/7 and from 1998 onwards Chuck would release occasional solo albums, though through 2001-2003 he played in an outfit named Govt. Mule. Living in Macon these days, Chuck is also a respected authority on forestry and conservation and a co-founder of The Mother Nature Network.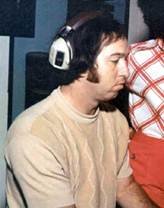 Clayton Ivey
Clayton Ivey also played some of the keyboards on Swamp Dogg's ZZ Hill sessions and would then reappear at Quinvy in April 1972 for a Percy Sledge session (see later Part). Clayton had been born and raised in Pensacola, Florida. His earliest musical influences were the country records of the 50's and 60's and his dad's western swing band. By the time he was 12 he was gigging on the weekends and was soon hired to play on a Nashville recording session. He knew right away that he wanted to become a studio musician. When an opportunity came along in 1969 to work with Rick Hall's third rhythm section, to become known as The Fame Gang, Clayton moved from Pensacola to Muscle Shoals.
Clayton worked with the Fame Gang for 3 years, freelanced for a while and then started working with the Muscle Shoals Rhythm Section. In 1973, he and his then partner Terry Woodford became producers for Motown Records, working with acts like The Temptations, The Supremes and Thelma Houston. Clayton commuted back and forth to LA for 3 years, but the south kept calling him back home and, in 1976, he and Woodford started Wishbone, a production and publishing company with its own state-of-the-art recording studio where many fine recordings were made.
In 1987, Clayton moved to Nashville. An expert rhythm arranger, he continues to play variously acoustic piano, electric piano, a select favourite few synthesizers, and a Hammond B3 on many recording sessions.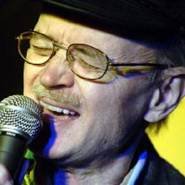 George Soule
Blue-eyed country-soul pianist-singer-songwriter George Soule also played drums (another of his many talents) on the Freddie North, ZZ Hill and Brooks O'Dell sessions at Quinvy and would return in April 1972 for a Percy Sledge session. In partnership mainly with Terry Woodford George provided a large number of classic songs for the Muscle Shoals Sound studios, and through them for Atlantic. An excellent CD of his demos from this period has just been issued on Soulscape UK. As an artist his greatest success came soon after he moved to Fame. Writing, reviewing and recording demos, playing on sessions, he got his own first national hit with the driving, funky George Jackson-penned "Get Involved" (Fame 302), a song which had been intended originally for Wilson Pickett.
Born in Meridian, Mississippi on 12th November 1945, George's long-lasting and important role in southern soul music is such that any attempt here to even meaningfully summarise it would run to many paragraphs and so it is probably easier for you to refer to a fine biography of Soule here especially as George's activities actually at Quinvy made up only a very tiny part of a very full career.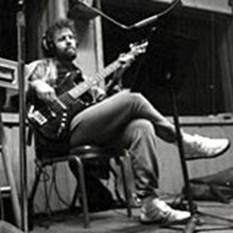 Bob Wray
We turn next to Bob Wray, who played bass on some of Swamp Dogg's ZZ Hill sessions and would also return to Quinvy in April 1972 for a Percy Sledge session. Bob (born 26 September 1947 in Stevens Point Wisconsin) has been a Nashville and Shoals session-player for nearly 40 years. The list of artists he has backed is endless but soul-related ones include Ray Charles, Clarence Carter ("Patches"), Dobie Gray, Bobby Womack, Etta James, Randy Crawford ("Miss Randy Crawford" LP), The Soul Children, Al Green ("Precious Lord" LP), Candi Staton, Willie Hightower, The Temptations, Eddie Kendricks, Delbert McClinton, Joe Tex, Wilson Pickett and Millie Jackson. Bob was nominated for ACM Bass Player of the Year in 1998 and obtained an Alabama Music Hall of Fame Contemporary Achievement Award as a Studio Musician in 2001. Bob currently lives close to the water in Sheffield and quotes boating as a main pastime.
Swamp Dogg hand-picked his own rhythm players at Quinvy and, when string overdubs were required, he would usually use Richard Rome's string arrangements at Sigma Studios in Philadelphia to satisfy his 'sweetening' needs, Richard himself making use of members of the Philadelphia Symphony Orchestra. However, most of the string overdubs required by Ivy and Johnson for their regular Quinvy work were sourced from Memphis and we should give brief mention to these largely unsung musicians as it's certainly true that strings actually contributed genuine emotional content to many a fine soul-ballad and no other instrument could beat the cello for creating an aura of sadness or pathos, when so required.
The only indigenous string-players around the Shoals area were country fiddlers and so all the local studio owners had to look to a nearby city with a symphony orchestra containing enough formally-trained string players who were prepared to make an extra buck or two doing session work on non-classical records. Memphis was the obvious choice and we do actually have some names because at just one February 1970 session (for Tony Borders, as it happens – see next Part) the String Players used to provide overdubs were identified. Several of the same players are also named, for example, on Isaac Hayes' late-1970 album "To Be Continued" (as well as on a 1969 American Studios Elvis over-dub session-sheet) but one of their number, cellist Peter Spurbeck, is perhaps typical of many who used their classical talents also for the benefit of pop, rock and soul music.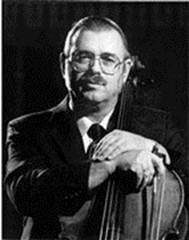 Peter Spurbeck
After getting his undergraduate and graduate degrees from Indiana, Peter and his violin-playing wife Ann moved to Illinois where Peter taught music for seven years. He moved to Memphis in 1968. Initially, instead of teaching, Spurbeck became a session musician and was given the opportunity to help make recordings for music legends such as Elvis Presley, Isaac Hayes and Al Green.
"American Studios was recording some of the greatest artists in the world, and they needed people to come in and lay down some string tracks," Spurbeck says. "I was fortunate enough to feature here as one of the string players."
Spurbeck also joined the Memphis Symphony Orchestra and became a principal cellist, playing with them at least into the1990's as well as re-commencing his music teaching via the University of Memphis, not retiring from there until 2003, the year in which he was a featured cellist on Al Green's "I Can't Stop" CD.
In looking at the Quinvy 'supporting acts' we should also certainly not overlook those magnificent female back-up singers. They were not required on all of the 1970 sessions but Jeanie and Mary made it to at least four, Ginger three, Susan three and Donna one. Jeanie would also join with Rhodes, Chalmers and Rhodes on Swamp's Doris Duke Quinvy sessions. Now, we've mentioned all of these girls before but not a certain Temple Riser who also turned up for Percy's Sledge's December session.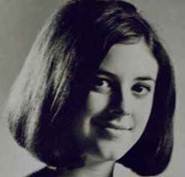 Temple Riser
Temple Riser was a white country singer who did a lot of backing work over the years, often in the company of Ginger (and sometime also Mary) Holladay and usually on country and gospel recordings. She features on Al Green's "Precious Lord" Myrrh LP from 1982 but, earlier, she worked quite a bit with Elvis. Indeed she recorded an early duet of "The First Time Ever I Saw Your Face" with Presley on 21st May 1971, 'the king' having previously also cut a version of the song on 15th March that year with Ginger Holladay. Neither duet saw release at the time but Elvis had wanted to record the song for a girlfriend called Joyce Bova and his own solo version (cut the same day as the Ginger Holladay duet) finally saw release in April 1972 on RCA 74-0672 as the flip of "An American Trilogy".
In our next Part we shall return to 1970 and the actual sessions known to have taken place that year as well as several recordings for which we have no session details but which were probably also recorded at that time.
Acknowledgements: www.swampland.com; www.garagehangover.com; www.allmanbrothersinfo.com; http://robertoreg.blogspot.com; George Soule; Billboard; Rick Clark/Lynyrd Skynyrd Boxset Booklet; the websites and blogs of many of the artists/personalities featured.
Paul Mooney - All licensing enquiries for Quinvy / South Camp / Broadway Sound masters should be directed to Selrec Ltd and most of the songs are controlled by Millibrand Music Ltd in all territories outside the US and Canada.