Quin Ivy And His Norala and Quinvy Studios, Part 9 – The Swamp Dogg Quinvy Productions (Part 1 – Doris Duke, Brooks O'Dell and Freddie North)
by Pete Nickols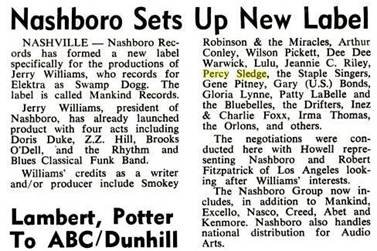 The Mankind label came about soon after Jerry Williams had decided to change his persona to Swamp Dogg (in time to be so billed on his 1970 Capricorn-recorded Canyon 7706 LP "Total Destruction To Your Mind").
Mankind was to be a joint venture set up under an arrangement Jerry Williams first agreed with Bud Howell of Nashboro Records in the Fall of 1970, although a Billboard article featured in its 6 March 1971 edition suggests that the label itself did not come into being until about February 1971.
Swamp Dogg began to record several of his artists at Quinvy for his Mankind venture as early as the latter part of 1970 and some people have assumed that Z.Z. Hill was one such artist but this was not so, Hill not appearing at that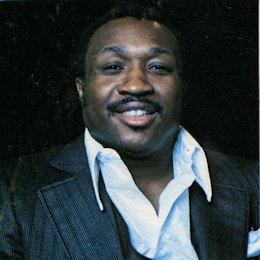 studio for his week-long Swamp Dogg session until 26th July 1971. You may therefore be wondering why Hill is named in the March 1971 Billboard article as one of the initial artists to have Mankind product already 'launched'. This is because Williams decided to reissue Hill's already Quinvy-recorded "Faithful And True" and "I Think I'd Do It" (albeit stereo re-mixes of the original mono 'takes' faded slightly later) on Mankind 12003 as part of the initial slew of Mankind 45s. This was thanks to the terms of Swamp's deal with Quin Ivy to purchase Hill's contract from the Quinvy Corporation, details of which appear in the next Part.
When recalling his production work at Quinvy, Swamp says: "I first became aware of the Quinvy studios when Percy Sledge hit with 'When A Man Loves A Woman'. After I left Atlantic I didn't go straight there - I stopped off in Macon, GA. I did a good deal with Phil Walden and I used his Capricorn studios. Later on I went down to Muscle Shoals – but I (mainly) used the same musicians."
"I loved recording there – it was relatively cheap but they gave me so much. I've worked in a lot of places but the people there made me so welcome right from the get go. It was like working with family. It was a lot of fun too – we had a good time."
The artists Swamp apparently did first bring down to Quinvy in late-1970 and/or very early 1971 were Doris Duke, Brooks O'Dell and Freddie North but it seems likely that a number of tracks which Swamp cut on the above artists at Quinvy also ran well into 1971 and resultant singles on Mankind would get released spasmodically from the Spring of 1971 on throughout 1972 and, in some cases, even beyond that.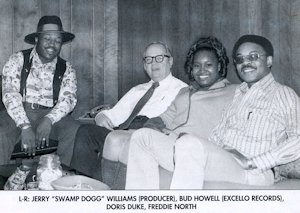 Ever since Quinvy's first upgrade to a 4-track facility in 1969, the days of cutting 'everyone live in the studio' had become largely a thing of the past and now, with a newly uprated 8-track studio available to him, most have assumed that Swamp Dogg's way of producing records at this time was to lay down the rhythm and horn tracks and then get the vocalist in to the studio to add the lead vocal over these pre-recordings. Background vocals would then also be added, sometimes by New York groups like The Cooperettes and C. & The Shells, engineered in the Big Apple by Groove Sound's Steve Jerome, and sometimes by southern-based stalwarts like Jeannie Greene and Rhodes, Chalmers and Rhodes, while any string sweetening would become the job of 919/Regent Sound in Philadelphia where Richard Rome usually used members of that city's Symphony Orchestra for his excellent arrangements, which Joel Fein engineered.
However, Swamp maintains he didn't record tracks without the artist being around. His actual comment was: "I always wrote with an artist in mind. I wanted to find a song that fit the artist – that they would be comfortable with. I wanted to make sure that the artist wasn't fighting the song. So I didn't record the tracks without the artist – they were part of the making of the record."

Doris Duke maintained Swamp did record the rhythm tracks separately but, as you'll see, it seems Doris and Swamp never could agree about too much! She says Williams had employed this approach at Capricorn when cutting her back in 1969 for her "I'm A Loser" set, which would see release on Wally Roker's Canyon label (# 7704). When interviewed by John Abbey for "Blues & Soul" magazine in 1973,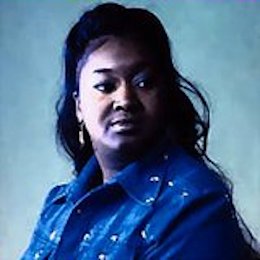 she recalled: "Jerry cut the tracks and all I had to do was come in and sing so I could never be entirely happy with the situation. He never caught the real me". Despite these views, certainly her "I'm A Loser" album would become one genuinely revered by deep soul fans. One of the first 'concept' albums, it would be released during the last weeks of 1969 but was just preceded by her first Canyon 28 single of the album tracks "To The Other Woman" and "I Don't Care Anymore" which would enter the US R&B single chart on 11 February 1970 and peak at No.7 during an 11-week run, as well as making No.50 on Billboard's Hot 100. The album itself would enter Billboard's US Top 50 Soul LP chart on 28 March 1970 where it would spend 9 weeks and peak at No.39. It was also instrumental in Doris being declared "Most Promising Female Vocalist" at NATRA's annual awards at Houston's Music Theatre in August 1970. While some would argue that her next, Quinvy-cut tracks for the follow-up album "A Legend In Her Own Time" were not as strong, again Doris would disagree, as she told "Blues & Soul" magazine that she thought this was the superior set. We'll examine it in more depth shortly - but a little background information on Doris Curry/Willingham/Logan/Duke wouldn't go amiss.
Doris Curry entered the world in 1945 in Sandersville, Georgia, some 40 miles east of Macon. It has been alleged that she featured in a number of gospel groups including the Raymond Rasberry Singers (Chuck Jackson, Carl Hall), the Davis Sisters (Jackie Verdell), the Evangelistic Gospel Singers and the Caravans (Loleatta Holloway). Soulful Kinda Music shows her as part of the Rasberry Singers in 1955-6, along with Chuck Jackson, but, whereas Jackson would have been 18 to 19 years of age, Doris would only have been aged 10 to 11, so I find this hard to believe and perhaps it's even more unlikely that she could have appeared with so many different major gospel groups while still so young.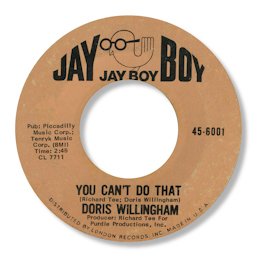 In New York, between about 1963 and 1967 she worked both as a regular in-demand session singer and as a backing vocalist at Harlem's famous Apollo Theater. It seems to me most likely that she probably encountered the above gospel groups when they visited the Apollo to feature in its regular gospel concerts. Certainly I have found no evidence that she ever actually recorded with any of them. Her studio back-up duties would embrace sessions by the likes of Aretha, Jackie Wilson, Sinatra, Dean Martin, Sammy Davis and Jerry Butler (his 'Ice Man' sessions for Mercury).
In 1965 Doris got a job at Motown's New York office in the company of Herb & Brenda Rooney (The Exciters), George Kerr and Norma Jenkins. Hoping to make it over to the music side of Motown, sadly all Doris ever managed to achieve was the making of a few demos and she duly left the company in 1967.
Then Donald Height became her manager and cut her as Doris Willingham on "Running Away From Loneliness" for his Hy Monty label, Willingham being her first married surname. In 1968, she recorded four songs under the direction of Richard Tee. Two tracks, "You Can't Do That" and "Lost Again" saw release on the newly-launched sister label to President, namely Jay-Boy (No.6001), while two others, "Too Much To Bear" and "Make It On Out", remained 'in the can' at the time. Also in 1968, she toured Europe (including the UK) backing up Nina Simone, whilst, on return to the USA, she migrated chiefly to Philadelphia where she did some back-up work for Gamble & Huff, who were still in their independent-production days. Then in early 1969, she again toured Europe with Simone and sang back-ups on Nina's live album cut in Germany in April of that year entitled "A Very Rare Evening", originally issued on German PM Records No. 90053.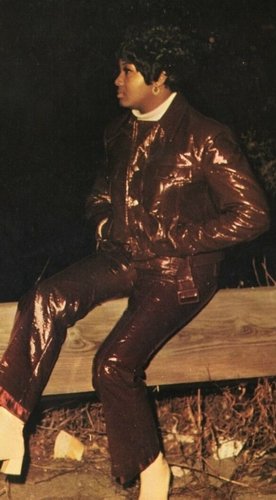 So it was that, back in the States, a little later in 1969, Doris encountered an old friend, Troy Davis, who was writing songs with (and duly introduced her to) Swamp Dogg, who had recently left his artist/production job at Atlantic Records and was branching out on his own. Swamp says: "at Atlantic I was the square peg struggling to fit in the round hole. Phil Walden was building a studio in Macon, Georgia. I called him and proposed a 75/25 partnership in my new production company. His contribution: studio and rhythm section. We agreed and, after a Little Tommy project, which went unreleased, came the Doris Duke ('I'm A Loser') LP". Troy Davis had brought her to Swamp suggesting he record her. He says: "Three of those songs were already written (and) when I heard Doris sing, all of a sudden song ideas starting coming forth. I damn near lost everything with that (album) though. It was a woman's album; men found it depressing. I walked the streets of New York for six months trying to give it away, then onto Los Angeles. I totally believed in the concept when I walked into Wally Roker's Canyon Records. He played it once and said he had to have it. I damn near paid him. Canyon was damn near out of business (but they) had just enough money left to get it out on the streets."
But how did Doris Willingham become Doris Duke? She was now actually the second-time-married Mrs. Doris Logan. She claims the name was suggested by a male friend; however Swamp Dogg says he had the name copyrighted for her as he felt there was some good PR mileage to be obtained from using a name which was, at that time, already well known to the American public. The already-famous caucasian Doris Duke (born 1912 and who would die as the richest woman in America in 1993) was the daughter of James Buchanan Duke, who had founded the American Tobacco Company.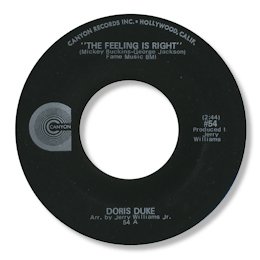 Swamp and Doris didn't hit it off too well. As a result, once it was time to promote the album, Swamp says several gigs were played by Sandra Phillips as Doris Duke, because Doris was acting "crazy".
However, sadly, by August 1970, Canyon had gone bust, which did little to help the promotion of Doris' third and last 45 on the label, "The Feeling Is Right" (Canyon 54), although her second outing "Feet Start Walkin'" (Canyon 35) had reached No.36 on both the Billboard and Cashbox R&B charts in May 1970, as well as No.86 on Cashbox's Pop chart, though only bubbling under at No.109 on Billboard's pop listing.

However, Wally Roker also issued stuff on labels like his own Roker logo and Swamp's RRG imprint. As a result, two more Doris Duke Swamp-produced sides from her Canyon album, 'Congratulations Baby' and 'Divorce Decree', had appeared on RRG 44004 in early 1970, some months before Swamp, having by then foreseen Canyon's impending death-throes, first took Doris to Quinvy to begin cutting the new material required to help launch his next venture, the fledgling Mankind logo. With David Johnson at the controls, the production work was all down to Swamp. Quin Ivy was notable by his absence.
It's clear from Swamp Dogg's observations in a 'Juke Blues' interview that he only cut another album with Doris at all merely because Nashboro wanted her signed to Mankind in view of her earlier Canyon success and, what's more, it also seems that his heart wasn't really into once again producing a singer who didn't like him and whom he didn't like. I suspect this is why so many non-Dogg 'cover songs' are 'thrown into' the second side of the album. Maybe, however, Swamp just didn't have enough new songs to hand as he was never one to waste time (which equalled money) in the studio as George Soule once noted. Swamp himself admits that: "I never believed in writing songs in the studio at $50 or $75 an hour when we could write them for free someplace else. So the guys (Brooks O'Dell, Gary Bonds etc.) used to come to my house in New York and we'd write there. I rehearsed a lot in New York too. I commuted from there down to (other) studios for a few years."
The four new tracks penned or co-penned by Swamp plus the two others which made up Side 1 of Doris' "A Legend In Her Own Time" Mankind 200 LP were again structured to create a 'concept' set; even Nashville husband-and-wife team Bob Tubert and Demetriss Tapp's

He's Everything I Need and Jimmy Roach's "I Don't Know How (To Fall Out Of Love With You)", originally cut in 1969 by The Persians on GWP 509, somehow gel with the Swamp Dogg items which 'surround' them and, coupled together, these two tracks would comprise the second of Doris' two Mankind single releases on #12013, put out by Swamp Dogg as late as the summer of 1972. However, the second side of the album, as noted above, was a series of 'covers' which, even when taken together, do not seem obviously to link in the same way to create a 'story'.
Perhaps the finest song of all was Swamp and Charlie Whitehead's evocative

If She's Your Wife (Who Am I) which was issued as Doris' first Mankind single release in the Spring of 1971 on Mankind 12002, probably in advance of the release of the album itself. (It's coupling was Track 2 from Side 1 of the album, namely Swamp and Gary Bonds' "It Sure Was Fun").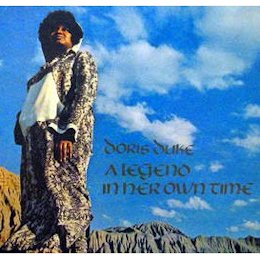 However, let's look at the tracks on the album in a little more detail. Swamp's slow-to-mid-paced deep slice of southern-soul, "I Wish I Could Sleep" opens Side 1. It's 3am and Doris is wide awake thinking of her 'ex'. Recalling her loss, she says "like suicide, my love-life came to an end". Sleep is what she craves as only then can she escape from reality and still be with her man in her dreams. There's less trauma evident in the faster-paced "It Sure Was Fun" (by Swamp and Gary Bonds) as, by now, Doris has become almost resigned to her loss as she muses "I guess it's all over but while it lasted it sure was fun." In Jimmy Roach's "I Don't Know How (To Fall Out Of Love With You)" Doris is re-reading his 'goodbye' note and saying she doesn't know how to stop loving him but will never hold a grudge and will leave her door open so that he can return if he fails to find true happiness. Tuber and Tapp's lilting piece, "He's Everything I Need" sees Doris comparing her two suitors: one offers her umpteen diamond rings and a fancy car, whereas the other lives in the 'real' world and offers her merely his love and the promise of only one ring – but it would be a wedding ring and, with it, his love for a lifetime. She's clearly going to opt for this guy over the other. However, by the next track, Swamp's driving opus

I'd Do It All Over You complete with some fine string overdubs, Doris is complaining that her man simply took her love and abused it, never appreciating what he had. There's some more nice string work and an almost plaintive country guitar on the aforementioned superb Swamp and Charlie Whitehead song "If She's Your Wife (Who Am I)". It's a stand-out track for sure, Doris playing the part of the guy's mistress who's even given him two kids, while it's his wife who gets all the attention as well as his money to spend. However, Doris is resigned to accepting the situation as she admits she'll love the guy till the day she dies. For me, though, even Doris' great performance of this song is overshadowed by Bette Williams' interpretation, also cut at Quinvy for Swamp Dogg (see next Part).
Side 2 sees the cover versions stacking up. First, it's Buddy Johnson's much-recorded schmaltzy old song "Since I Fell For You" but I have to say I've never heard the lyrics sung with more meaning than by Doris here. "Don't Let The Green Grass Fool You" had only then very recently been a No.2 R&B/No.7 Pop hit for Wilson Pickett on Atlantic 2781. This very pacy item is well handled by Doris who warns her 'wandering' man that while the grass may be greener 'on the other side', right here, with her, is where he belongs! Quillen and Smith's almost jaunty mid-pacer, "Let Love Touch Us Now" has Doris worried that her man loves himself too much to be able to share his love with her. Jimmy Holiday and Jackie De Shannon's "Bad Water" is country pop-soul but it's nicely done and the message is still potent enough, namely Doris notes that her love relationship has disintegrated, that she's all alone and now in 'bad water'. The final track is the one real 'turkey' on the album for me. "By The Time I Get To Phoenix" was a good-enough country-pop song never better sung than by Glen Campbell. It's a strange choice by Swamp to give to Doris and he has arranged it in a much too jazz-influenced way for my taste – I especially dislike the very jazzy meanderings of Popwell's bass (he should have saved that for his time with the Crusaders!) and the sax too plays all around the melody rather than along with it. Any 'soul' in Doris' vocal is negated by this unsympathetic treatment, which is so uncharacteristic of the talented Mr Williams.
In the event, "A Legend In Her Own Time" would not be as commercially successful as Doris' Canyon material, the album and her two spin-off Mankind 45's all failing to chart. They did also see the light of day in the UK, as Mankind did a deal there with the Mojo label, which was distributed by Polydor but overseen by "Blues & Soul"'s John Abbey and ex-EMI executive Bob Kilbourn.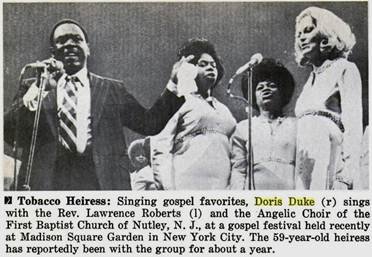 However, it seems likely that Doris' still significant success through 1970 on the strength of her Canyon material may have been at least partly responsible for a strange 'move' by the 'real' Doris Duke, the heiress. She herself had long been a more than useful pianist with a lifelong love of jazz but, from 1970 through 1971, amazingly she could be found singing regularly with the otherwise all-black Angelic Choir of the First Baptist Church of Nutley, New Jersey (see the related 1971 magazine photo and caption).
Whilst it's possible that significant financial contributions to related religious causes may conceivably have played a part in this strange arrangement, nonetheless it also seems that she may have been seeking to 'major' on the then success of 'our' Doris Duke as a solo artist, particularly as she chose to sing with a gospel group based right in Doris' 'home territory' of New Jersey. Doris Logan-Duke actually did not approve of this and commented unfavourably about the heiress coming to her home town to sing and cash in on her name (albeit even she would have had to admit that it was a name she herself had borrowed from the real Doris Duke – without permission - to try to cash in on its familiarity with the public!).
Doris and the Dogg soon fell out again and it would be 1973 before Doris got her next record deal, this time with Bob Shad's Mainstream label. An album to be called "The Other Side Of Doris Duke" was planned with Shad and Don French producing and songs by the likes of Ed Townsend and Luther Ingram were earmarked - but, in the event, this never materialised and Doris would cut only four sides for Mainstream. Her version of "A Change Is Gonna Come" and "Got To See If I Can't Get Daddy To Come Back Home" (originally cut – with 'Mommy' replacing 'Daddy' - by Jerry Butler, on whose version Doris had sung back-ups) both remained unissued at the time, while the not too impressive "Business Deal" and "Nobody To Have It But You" did see release on Mainstream 5543. However, the commercial failure of this 45 duly led to Duke's own 'business deal' with Mainstream ending prematurely.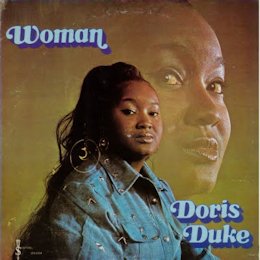 By now Doris, a mother of four, was no longer married to her second husband but was still living in Newark, New Jersey. It was 'on the bounce' from her 'Mainstream disappointment' that the aforementioned John Abbey managed to sign Doris the following year (1974) to his own UK Contempo label, for whom Doris would cut her well-regarded "Woman" set at the Central Sound Studio in Denmark Street, London in the Autumn of that year, to be released on Contempo 519. Abbey also managed to negotiate a US release for the album on Scepter/Contempo 5124 and Doris' version from the album of Marlena Shaw's "Woman Of The Ghetto" would even later be leased from an ailing Scepter in 1975 for single release on the Sam imprint (No.5001).

Some 5 years after the Sam release, in 1980, Doris was credited as "Sister Doris Duke" with a 1980 UK Manhattan 5033 album called "Funky Fox", although it transpired that she had nothing whatsoever to do with it and the tracks on the set were actually by Mamie Galore, Jean Bland and Tyrone Davis.
In fact, Doris only made one further known recording, a very rare 45 for Earl Lett's Cambridge/Boston-based Beantown label, namely "I'll Make A Sweet Man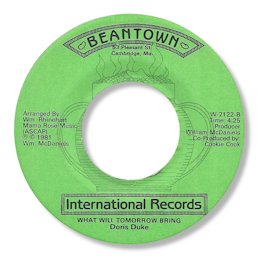 (Out Of You)" and "What Will Tomorrow Bring" (Beantown 2122), which was issued in 1981.
CD reissues of Doris' material include a 1988 Japanese P-Vine PCD-902 release of her "I'm A Loser" set and a 1991 two-fer from Charly on CD 302 which again featured just the "I'm A Loser" tracks along with the Dogg-produced Canyon tracks by Sandra Phillips. However, the definitive CD is UK Kent's "I'm A Loser" from 2005 on CDKEND 242 which includes all of Doris' Canyon and Mankind tracks plus three earlier Jay Boy items. Mind you, in 2007, Swamp himself issued "Swamp Dogg Presents Doris Duke and Patti Labelle & The Bluebells" on S.D.E.G. 1956, this CD also including all of the tracks on both "I'm A Loser" and "A Legend In Her Own Time". Those seeking out a CD of the Contempo "Woman" set need look no further than the 2008 UK Shout #45 release.
One footnote on Doris - it seems likely that sisters Geraldine and Joyce Curry, two of the four members of the All-Platinum group, The Heartstoppers, and also hailing from New Jersey, were related to Doris, probably being her younger sisters, or, just possibly, her cousins. The group first cut for Joe & Sylvia Robinson's company in 1971, and produced an eponymous album still highly prized by 'northern soul' fans, as well as offering up a now very collectable 45 "You're So Wonderful" on its London House subsidiary (#656).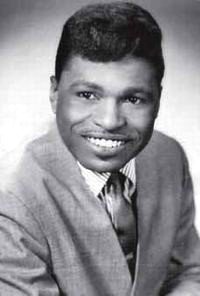 Let's move now to another artist brought by Swamp Dogg to Quinvy to cut for Mankind, namely Brooks O'Dell – and, talking of UK Kent as I was just now, I want to briefly preface my information about O'Dell with a huge acknowledgment to Tony Rounce at UK Kent for the ground-breaking research into O'Dell's background which he clearly undertook, partly via the Soul Source message-board site, in order to write the superb sleeve-notes to the 2008 UK Kent CD "I'm Your Man – The Anthology 1963-1972" on CDKEND 296, which is the definitive reissue for all collectors to seek out. I admit here and now that I have unashamedly borrowed from these fine sleeve-notes as they provide by far the most in-depth coverage of O'Dell's career that I could find anywhere.
O'Dell (born Brooks O'Dell Johnson in Philadelphia on 16 June 1933) was an R&B and soul-man already of long-standing whom Swamp had himself known since 1962, at which time Brooks was considered one of the more popular club attractions on America's Eastern seaboard. He then had a penchant for uptown big-city soul stylings, comparable to those of his idol, Chuck Jackson.
Brooks was raised a Seventh Day Adventist, attending that group's Pine Forge Academy in Philly before going on to Oakwood College down south in Huntsville Alabama, majoring in music and religion. The military call-up then delayed the start of his singing career. Brooks' first professional gig was at a venue in Chicago in 1955 and, in the late 50's, O'Dell joined fellow-Philadelphian Carl Holmes' group The Commanders as a featured vocalist, this group regularly backing artists on the local Cameo-Parkway labels as well as apparently cutting some stuff themselves. They became very popular on the 'society' circuit and this lead to a successful tour of Canada and several of Europe. It was the group's popularity, particularly in Italy, which led to Brooks' very first single on the Italian
Durium label, a cover of Ben E. King's "Don't Play That Song (You Lied)". Durium had links with UK Decca and US London and another single "Mai, Mai, Mai" and "For You Alone, Lucia" did well enough to be issued in early 1963 on London International 10711. On his return to the States, O'Dell formed The Majestics but, while gigging in Philly, he was 'spotted' and signed to a solo recording deal by Luther Dixon. The resultant 45, "Watch Your Step" on the Amy-Mala-distributed and Dixon-owned Gold label (#214) entered the Billboard Pop Hot 100 chart in December 1963 and spent 9 weeks there, peaking at No. 58. Doubtless it would have made a higher placement in Billboard's R&B chart had one been operating at the time (it made No.16 on the Cashbox R&B listing and No.70 on that Trade Paper's Pop chart). The hit song had been written by Dixon and the then still very young Kenny Gamble and Thom Bell. Sadly this first 45 would be O'Dell's only ever hit. The flip, "Walk On By" was an Ollie Jones song and not the Bacharach and David opus of the same name.

His follow-up "I'm Your Man"/"Shirley, Remember Me" was issued on what would be Gold Records' fourth and final release (Gold 216) in April 1964. "I'm Your Man" was a fine ballad penned by Dixon and Bell but somehow it failed to register. Chuck Jackson would use the same backing track on his own fine version for his 1965 Wand 667 album "Mr. Everything" and, in 1969, reggae artist John Holt would cut the first of several covers of the song in that particular musical genre. It seems that Luther Dixon even had some unissued Gold recordings by O'Dell which ended up at Wand-Scepter when Dixon returned there after Gold folded. Indeed two such tracks ("Soul Serenade" and "If I Had You") appear on the very fine aforementioned UK Kent CD anthology, the former side having first appeared in 1985 on UK Kent's LP No. 041 named after O'Dell's track and then on their 1997 CD "New York Soul Serenade" (CDKEND 149). Regarding "If I Had You", I have since found on You Tube what appears to be an unnumbered but released Jamaican Wand 45 of this track, the label-scan having been uploaded by the 'Northern Soul – Keeping The Faith' website.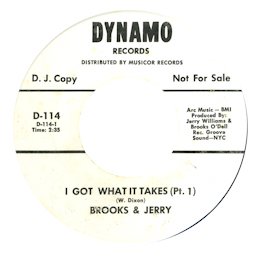 Brooks' next singles appeared in 1965 on Larry Uttal's Bell label, with production by Brooks' new manager, Larry Maxwell. The first, on Bell 612, paired an old 50's R&B song "It Hurts Me To My Heart" with the Brill Building vehicle "Walkin' In the Shadow Of Love". Then on Bell 618, O'Dell came up with arguably one of his finest-ever recordings, namely Horace Ott's dramatic opus "You Better Make Up Your Mind", strangely coupled merely with the instrumental "Slow Motion".
In early 1966, O'Dell signed with Jalynne Productions and proceeded to cut a 45 for Columbia. On 24 February 1966 he shared a Chicago session with Otis Leavill, each artist cutting four songs, with Brooks' versions of "Standing Tall" and "The Lively Ones" seeing release on Columbia 43664. One of two unissued Columbia tracks, "Heartless One", would finally appear on the aforementioned UK Kent CD anthology. Again, though, sales of Brooks' single weren't great and with Columbia now backing out of R&B and concentrating on 'white rock', O'Dell was not invited to cut anything more for the label.
In 1967 Brooks next turned up at Musicor/Dynamo, possibly through his old contact Luther Dixon, who was then performing A&R duties for Dynamo. Another old contact at Dynamo at this time was Jerry Williams in his pre-Swamp Dogg guise and, on Dynamo 114, they shared billing as 'Brooks And Jerry' on a two-parter, "I Got What It Takes". The disc also saw UK release on the Direction label.
Brooks would not appear on wax for Dynamo again but did stay long enough to collaborate with Jerry Williams on a few songs for the label, most notably perhaps Inez and Charlie Foxx's early 1968 hit "(1-2-3-4-5-6-7) Count The Days" (Dynamo 112) which made No.17 (R&B) and No.76 (Pop).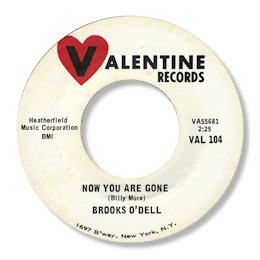 Not following Williams from Dynamo, Brooks struck out alone and soon got himself a deal with Billy Mure's small New York label, Valentine, which resulted in just the one single, namely "Now You Are Gone" and "Nothing's The Same Without You" on Valentine 104.
It seems Brooks' recording career went 'on hold' at this point until he teamed up with Swamp Dogg in 1970, possibly cutting a few sides first at Capricorn before moving down to Quinvy later in that year to start his main Mankind sessions at the age of 37.
At Quinvy, Swamp decided to cut enough material on Brooks to fill a Mankind LP, which he originally intended to issue as a follow up to what he hoped would be an initial hit single. The sides used for that first O'Dell single (the first for Mankind too, it being issue no.12000) were Swamp's and Charlie Whitehead's fairly run-of-the-mill mid-pacer about a guy wanting his girl to come back to him, "Turn My World Around", and a cover of Swamp's own moody and meandering "Predicament #2" which he had only recently cut at Quinvy himself as part of his "Rat On" album for Elektra (#74089 – see next Part). O'Dell's smoother semi-uptown vocal style provided a more mellow approach to this strong song about a two-timing guy with one woman to keep his family and another to keep his heart! However, the lyrics may still have proved a bit too potent for some radio stations and this could have been a factor in the commercial failure of the 45. Despite this, the backing track for "Turn My World Around" would be used again by Swamp in 1973 for a version of the song by Irma Thomas on her Fungus 25150 album "In Between Tears".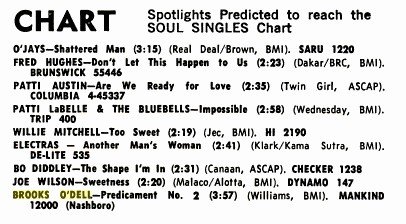 In the event, over the ensuing months Swamp seems to have concentrated on releases by other Mankind artists somewhat at the expense of Brooks and it would in fact be a full year before another O'Dell 45 crept out on Mankind 12010. Swamp and Don Hollinger's "Is It Real" was a strong uptownish big ballad with a full arrangement, well enough sung by Brooks, while "Got To Travel On", penned by Swamp and the guy who had introduced Doris Duke to him, Troy Davis, was more like a jaunty country-song, pleasant enough without being outstanding. Swamp would cut the same song also at Quinvy in 1971 on Bette Williams, although this much better version remained unissued at the time – see next Part.
Mankind 12010 was the last single Brooks O'Dell would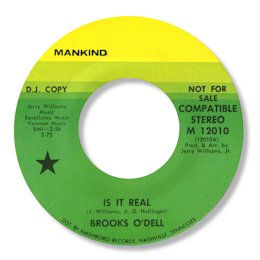 ever record and indeed little is known about him from that point on. Swamp had still intended to issue the 11 tracks he had cut on Brooks as an album on Mankind LP 205 but that plan went up in smoke towards the end of 1972 when Swamp and Nashboro/Excello fell out, resulting in most of the later Mankind singles being essentially Excello/Abet songs by Freddie North, Jean Stanback (the very tasty Sam Taylor song "The Next Man" on Mankind 12021), Kenny Lupper and Nazty, with Freddie North in 1975 utilising the Mankind 205 issue number which had originally been earmarked for O'Dell's album for his "Cuss The Wind" LP, this being essentially a reissue of part of his Abet 403 LP "The Magnetic North" album with a couple of new tracks thrown in (see shortly for our detailed look at Freddie North).

Fortunately for us, UK Kent acquired rights to all of the O'Dell tracks intended for his album and issued them on their excellent anthology CD already referred to. The LP would have included both sides of each of Brooks' Mankind singles, so that leaves 7 unissued-at-the-time tracks which would have gone to make up the 11-track album. Let us now have a look at those other seven Quinvy-cut sides, and we'll start with the five of these which were either penned or co-penned by Swamp.

What's So Wrong With You Loving Me, co-penned with Charlie Whitehead, is a nice piece of storyline soul about a married guy who can't quite understand why his extra-marital girlfriend finds it so difficult to commit completely to him. This song was first demoed by another of Swamp's acquaintances, New York singer Kenny Carter who, with Gary Bonds and Swamp himself, would make up the threesome who recorded around the time Swamp was forming Mankind as Slick 'n The Family Brick and who featured on the first 45 (#500) of the three only ever released on the short-lived Swamp Dogg Presents label. Next,

Everybody's Friend, Nobody's Lover tells the tale of a Mr Popular who is everyone's confidante but no-one's boyfriend, something he's inwardly oh so sad about, despite keeping such feelings to himself.

(I Didn't See the Smoke) Until the Fire Was Gone sums this next song up in its title-phrase, namely this guy clearly didn't give enough back to his very loving girlfriend who has now left him alone and regretful. "Don't Want To Hear It Anymore" is about a guy whose girl is being regularly unfaithful and he's decided it's time to move on rather than keep listening to her unconvincing excuses. The theme is good but the song is taken at rather too cheery a pace and comes across as too lightweight to my ears. "You Can Always Get It Where You Got It" is a soft, gentle, sad little song about a guy who has failed to hold on to a younger and very pretty girl but, whilst reconciled to this, wants her to know that his love for her is 'forgiving' and that she should know she can always come back to him should she so choose. This Swamp Dogg-penned song would also be cut in April 1972 (see later Part) by Percy Sledge, his version remaining unissued until 2010 when it featured on the Rhino Book Set "Percy Sledge – The Atlantic Recordings" (RHM2-526138).
Of the remaining two songs, "I Don't Want To Cry" was Brooks' paean to his own idol, Chuck Jackson, although O'Dell's version lacks the drama which Jackson's fine original gave to the lyrics. The final outing was a run-of-the-mill cover of B.J. Thomas' countrified "Hooked On A Feeling".
The third artist Swamp Dogg brought to Quinvy to record for Mankind was Freddie North.
In addition to recording spasmodically since 1959, North was now not merely a recording artist for Nashboro-Excello's Abet subsidiary but, having joined the business side of Nashboro in the mid-60's as a lowly stock-clerk, he had been promoted to their promotions department in March 1968, and had since become their national promotions director. Here's how Swamp recalls his initial dealings with him:
"He just happened to be the national promo man for Nashboro when I took my Mankind label there. He also had the power to stop my deal. (But) Freddie sealed the deal by telling Nashboro that I was just what they needed. Freddie had produced one album on himself ('The Magnetic North') that was a (commercial) failure, and he asked me at the signing of my deal if I'd produce him and navigate his career. I agreed without hesitation before I ever heard him sing because this was a way to pay him back for not blocking my path. After I heard him sing, what was to come was Pop/R&B history."
However, Freddie, born in Nashville in May 1939, the son of a locally well-known gospel singer, had apparently started out singing with a school group called The Rookies, who some sources claim cut a record called "Money, Money, Money" for Federal, though, if so, it appears it was never released. Anyway by 1961, Freddie was cutting solo for Sam Phillips' Phillips International label, "Don't Make Me Cry" (penned by Ray Stevens and published by Bill Lowery) and "Someday She'll Come Along" (penned by Rick Hall and published by Fame Music), both appearing on PI 3574 with Freddie's voice sounding as if it was influenced here by the likes of Roy Hamilton. These two sides later featured on the 1989 UK Charly LP "I'm Your Man" (CRB 1220 – more about this album later). It seems Freddie also recorded an unreleased track, "Blue Skies", for Phillips International.
Next, Freddie turned up on the small University label out of Little Rock Arkansas for the Buddy Killen production of the almost rock 'n roll styled "OK, So What" which was coupled with "How To Cry" (#605 but also shows #6108 as the main number on the label). This disc got picked up for distribution by Liberty/Capitol Records and led to North appearing on the American Bandstand TV show. As a result, Capitol themselves issued two further Freddie North sides in 1962, namely "Just To Please You" and "Ninety Pound Woman" which first appeared on 4832 and then strangely, once again on 4873.
These sides didn't sell well, and in 1964 Freddie would fare no better with his only appearance on Bobby Darin's R.I.C. (Recording Industry Corp.) label, his uptownish mid-paced performance of "The Hurt" being coupled with "It's No Good For Me" on R.I.C. 119. ("The Hurt" later appeared in CD format in 1997 on the aforementioned compilation "New York Soul Serenade" - UK Kent CDKEND 149).
With no real recent success as an artist, Freddie, while doing some dee-jaying on the "Night Train" show on Nashville's famous WLAC station, soon decided to also take on the aforementioned job with Nashboro records which eventually led him to being their Promotions Director by the time he encountered Swamp Dogg. However, prior to that, Freddie had also cut five self-produced singles and an album for Nashboro's Abet subsidiary, his voice here having aptly been described by John Ridley as having "hints of Joe Simon and Jerry Butler (with a) penchant for country stylings". His album ("The Magnetic North" on Abet 403) contained just 9 tracks, several of which also appeared on Abet singles.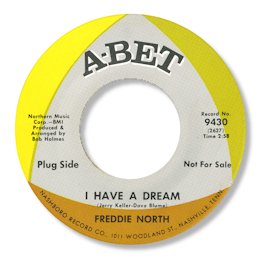 However, the songs on Freddie's first Abet 45 (#9418) from 1967, "Don't Make Me Look So Bad" and "Hold Back", were not included. Next, Abet 9430 combined vocal and instrumental versions of "I Have A Dream", the vocal side appearing also on the LP. Abet 9436 featured Freddie's version of Luther Dixon and Bert Keyes' vehicle for Big Maybelle, "Oh Lord, What Are You Doing To Me", which also made it onto the album, while its flip-side "Long Hard Road" did not. Both sides of 9439, "Love To Hate" and "Thank That Woman", also appear on the LP, while just one side of his final Abet 45 on 9440, "From The Blind Side", was also featured, while the flip, "Follow The Lamb", was not.
Album tracks which did not see single release on Abet were "Got To Get Your Mommy (To Come Back Home)", "I Loved Another Woman", "Sun Comes Up" and a good version of Tony Joe White's "Rainy Night In Georgia", which would see later re-release (like much of the "Magnetic North" material) in 1975 on Freddie's post-Swamp Dogg Mankind 205 LP "Cuss The Wind" - and then also on a 1976 Mankind 12025 single.
An unissued track from the Abet era was the Big Apple sound of Freddie's "Just Another Guy", which UK Kent included on their 1995 CDKEND 121 compilation "Uptown, Down South".
North joined Swamp at Quinvy (in 1971 and somewhat later than Duke and O'Dell), after a spell cutting demos in Nashville for other artists. This time, the Dogg was to successfully carry out the plan he had failed to follow through with Brooks O'Dell, namely to cut enough stuff to issue an album on the back of a successful single. The first 'A' side "She's All I Got" (Mankind 12004), written by Swamp and Gary Bonds, indeed did 'hit the spot', entering the R&B chart on 21st August 1971, staying for 17 weeks and peaking at No.10. It also crossed over to the Pop chart that October, spending 12 weeks there and peaking at No.39. This mid-paced countrified plea by North to another guy not to take his girl was very Joe Simon-styled with some good back-up singing and an almost Tex-Mex brass arrangement. The flip was the more bluesy and more storyline

Ain't Nothing In The News (But The Blues). Its fine lyrics, stemming solely from Swamp's pen, complained about all the aggro going on in the world, from the misuse of drugs to the inability of parents to communicate with their kids – sadly, as true today as it was back then!
"She's All I Got" earned Swamp and Bonds plenty of 'bread' that year though, as country star Johnny Paycheck's very quick 'cover' went to No.2 on the US Country chart and much more recently, in 1997, Tracy Byrd duly hit the No.4 country spot with his interpretation called "Don't Take Her, She's All I Got".
So it was that Swamp next launched North's album entitled simply "Friend" (Mankind 204) on the back of this hit-single and with a new single from it to promote, namely "You And Me Together Forever" coupled with "Did I Come Back Too Soon" on Mankind 12009.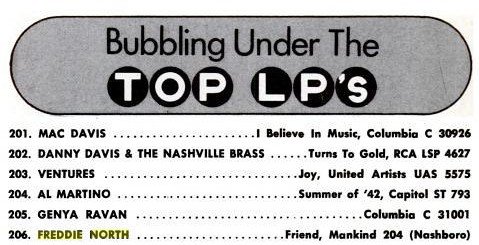 The 'A' side was not penned by Swamp but by Jimmy Roach, who had written Doris Duke's "I Don't Know How (To Fall Out Of Love With You)" and was a co-writer of the David Ruffin Motown classic "My Whole World Has Ended (The Moment You Left Me)", a fine version of which would appear on Freddie's 1975 (post-Swamp Dogg) Mankind 205 LP "Cuss The Wind" (see shortly). It was 5th February 1972 before this smooth, lay-back piece of pop-soul, entered the R&B chart. It would prove to be Freddie's second and last-ever hit 45, making only the No.26 spot during its 9 week stay, while merely 'bubbling under' the Pop chart at No.116. The flip,

Did I Come Back Too Soon (Or Stay Away Too Long), was a well-constructed Swamp, Bonds and Whitehead collaboration about a faithful boyfriend who comes back to his girl only to find her making use of their bedroom with another guy. Meanwhile the album itself had entered the Billboard R&B album chart on 29th January 1972 where it would stay for 4 weeks, peaking at No.41. It also made No.179 on the Billboard Pop Album Chart, which it had entered even earlier, on 1st January 1972 and where it would reside for five weeks.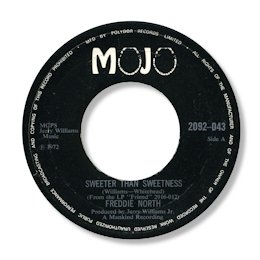 Hoping (in vain, as it turned out) to obtain another single hit for Freddie, Swamp next culled another two sides from the "Friend" album to constitute Mankind 12011. The 'A' side was Swamp and Charlie Whitehead's "Sweeter Than Sweetness", a nice rolling-paced, foot-tapping paean to an ideal girlfriend, while the same two writers' somewhat slower admission of guilt,

I Did The Woman Wrong, made for a quality flip. Billboard noted Radio action in Charlotte N.C and Chicago during the first two weeks of May '72. Sadly, as we now know, this time around, the record-buying public was not that impressed.
Freddie's next release on Mankind 12014 featured new Williams material which had not appeared on the "Friend" album, namely "Are You Thinking Of Him" and "Roll Over". However, sadly, these July 1972 releases still failed to return Freddie to the charts, though he could at least console himself with his recent promotion in June that year to Vice President of Nashboro, as well as with his newly-acquired position as Governor of NARAS (The National Academy of Recording Arts & Sciences).
North's next release would turn out to be Swamp's final shot at achieving another hit for Freddie, largely because 1972 was drawing to a close and Swamp and Nashboro were about to part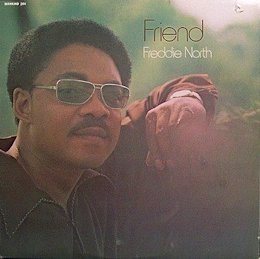 ways. This last Swamp Dogg-produced North 45 featured the fairly uptownish Williams and Bonds big ballad, "Song #29 (I'm Your Man)" on the 'A' side of Mankind 12016, while the flip once again made use of a song from the "Friend" album, namely the meandering, repetitive, countrified story-telling song "Laid Back And Easy". Apparently, this was not the stuff of which 'hot hits' were made and the 45 duly 'bombed'.
Swamp Dogg was now out of the Freddie North 'frame', although further already-existing Dogg productions would feature on later North releases (see shortly). Even without the Dogg in tow, it seems Nashboro were able to continue to use the Mankind logo and Freddie's next Mankind 45 (12018) was indeed still cut at Quinvy, this time with David Johnson producing, as shown by the label. However, it's interesting to note that the Quinvy Studio was now called "Quinvy Sound Studio". Remember, we are now in 1973 and this seems a pre-cursor to its full change of name to Broadway Sound Studio after David Johnson had purchased it from Quin Ivy later that same year (see later Part). Anyway, "You're Killing Me Slowly But Surely" (a song also covered by white soulman Reuben Howell) coupled with "It's So Groovy Doing What You Wanna Do" still failed to return Freddie to the charts.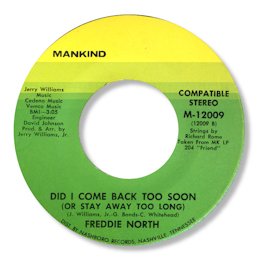 The same was sadly true of North's further four Mankind 45s. Number 12019 was still a 1973 release, the 'B' side featuring Freddie's old Abet 9439 track "Love To Hate", while the 'new' 'A' side, "Lovin' On Back Streets", is shown on the label as a Freddie North production and one can safely assume that Freddie was now back cutting records in his native Nashville. However, this track was a real southern soul gem and John Ridley has rightly described it as "a sublime gospel-chorded ballad with (a) no-frills organ and piano backing – the joys of cheating given a sanctified blessing!".
A Swamp-produced track from the "Friend" album found its way onto the 'B' side of Freddie's next (Mankind 12020) forty-five, namely "Raining On A Sunny Day", while the 'A' side was "Taking Her Love Ain't Gonna Be Easy", published by Music City Music, arranged by Bergen White, produced by Freddie himself and, therefore, another 1973 side which was clearly cut in Nashville.
It seems Freddie had no 1974 releases as Mankind 12022 featured the title track of Freddie's 1975 Mankind 205 LP "Cuss The Wind". This Swamp and McKinney song was seeing its first release and was the only song on the album which had been produced by the Dogg. It seems that this 45 appeared just before the album was released that year as there is no mention on the label that the song had been taken from it (whereas such a reference would appear on North's next – and last – Mankind 45 - see shortly). The flip was once again that old Abet side "Love To Hate", although this track now also made it onto the "Cuss The Wind" LP.
Indeed this LP contained only 8 tracks, six of which were reissued Abet sides. Only the recently issued "Cuss the Wind" itself and Freddie's version of the David Ruffin hit "My Whole World Has Ended (The Moment You Left Me)" were 'new'. This latter item offered up another very soulful performance from Freddie which even rivals the fine original.
Freddie's final Mankind 45 (#12025) appeared in 1976, coupling two tracks from the "Cuss The Wind" LP, namely the originally Abet-recorded "Rainy Night In Georgia" and "I Loved Another Woman".
One assumes Freddie was kept pretty busy with his day-to-day Vice Presidential Nashboro responsibilities as he did not record again until he journeyed back down to Sheffield in 1977 to revisit what had once been Quinvy but was now Broadway Sound Studio under the ownership of David Johnson. The visit resulted in a new 9-track album produced by Johnson, with string overdubs arranged by Mike Lewis at Criteria in Miami. Randy McCormick, Travis Wammack, Steve Gooch, Lenny Le Blanc and Jimmy Evans comprised the rhythm section with the Muscle Shoals Horns also featured along with back-up vocalists Terry Woodford, Ava Aldridge, Sue Richards, Mary Gresham and Barbara Wyrick. It's interesting to note that the only track on the album which Freddie had cut once before was the post-Swamp Quinvy-cut side "You're Killing Me Slowly But Surely". The album was leased out to the Californian-based Eagle label under the title "Floatin'" (Eagle 3139) but saw limited distribution, it probably attaining more attention in 1989 after being reissued that year by UK Charly records on CRB 1220 under the title "I'm Your Man" (this LP containing, in addition, Freddie's two released Phillips International sides, which he had cut some 16 years before his Eagle material).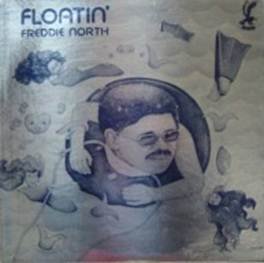 One certainly shouldn't dismiss this album, despite its appalling front cover! Indeed it could be argued that, soulwise, it contained some of North's best work with his own true voice showing just how good it was without any need to 'borrow' stylings from Joe Simon or Jerry Butler. Deep and melodic, it attains good empathy with the predominantly smooth-soul songs featured here. The lay-back, sparse storyline-soul of "Differently" is very sympathetically handled by Freddie. "I'm Your Man" is a strong storyline song with powerful dramatic passages, while "If This Is The Last Time" is a fine country-soul ballad. Freddie's version of "It's Not The Spotlight" rivals Bobby Bland's fine interpretation on his "California Album" even though North's version is more lay-back. Also impressive are Freddie's performances of two songs penned by those fine southern-soul songsmiths, Frank O Johnson ("Everlasting Love") and Phillip Mitchell ("If You're Ever Gonna Love Me").
Although aged only 38, the failure of this album commercially seems to have prompted Freddie to give up his own recording career for good. Doubtless his business connections with the Nashville scene kept him well employed. Those seeking out a CD version of "Friend" can find it on the apparently still-available 1994 UK Ace two-fer "Swamp Dogg Presents The Brand New Z.Z. Hill/Friend" on CDCHD 532.
In our next Part we shall be looking at the remaining Swamp Dogg productions at Quinvy, namely those for Z.Z.Hill, for his own "Rat On" LP and for Bette Williams.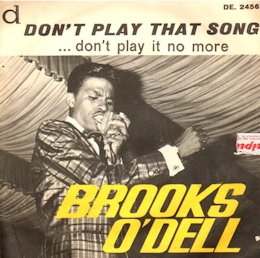 UPDATE ~ Since completing this Part I have acquired more information about Brooks O'Dell's early Italian Durium 45s, both of which came with picture-sleeves which utilised the same photo of O'Dell. "Don't Play That Song" was coupled with "The Tango Twist" on Durium DE 2456, a 1962 Italian release which made No.44 that year on the Italian Hit Parade.
O'Dell's "Mai, Mai, Mai", coupled with "For You Alone Lucia", was the very next 1962 release on Durium's DE series on DE 2457 and, although this is the 45 which also saw a release on London International 10711 in the USA in January 1963, it was not an Italian hit.

Below right is the Billboard report of the US release of the London International 45, printed in their 2 February 1963 edition. Whilst "Never, Never, Never" is the English translation of "Mai, Mai, Mai" and, although I have yet to find a label-shot of the London International release, I have indeed found a copy of this version of it advertised for sale on the web and the given title in the listing for it is still "Mai, Mai Mai" rather than "Never, Never, Never".



Whilst of discographical interest, nonetheless from this 50 second sound-clip, taken from the beginning of O'Dell's

Mai, Mai, Mai, you can tell that the song was simply a somewhat 'schmaltzy', romantic ballad in a more pop than early-soul style.
Notes ~
1. Swamp Dogg's own excellent website can be found here. Read all about the Dogg's upcoming gigs, reviews of his music and buy his great CDs!
2. Ace UK have issued the following CDs which feature material produced by Swamp Dogg. All are absolutely essential purchases:-
Swamp Dogg Presents The Brand New ZZ Hill/Friend Freddie North ~ Ace 532
Doris Duke I'm A Loser ~ Kent 242
Swamp Dogg's Southern Soul Girls ~ Kent 288
Brooks O'Dell I'm Your Man ~ Kent 296
It's All Good Swamp Dogg ~ Kent 346
Blame It On The Dogg - Swamp Anthology ~ Kent 293
Acks: Jerry 'Swamp Dogg' Williams, Ace Records Ltd., Tony Rounce, Clive Richardson, 'In The Basement' magazine, Trevor Swaine, Ray Ellis, Juke Blues Magazine; Chris Stovall Brown.