The Soul Discography Vol 3 ~ N - Z (Compiled by Bob McGrath - Eyeball Productions)
by Sir Shambling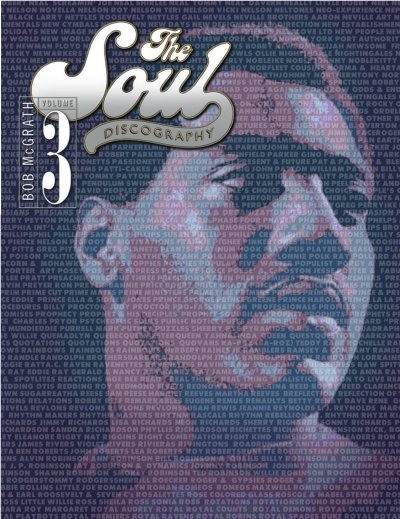 With the recent completion of the third and final volume of his Soul Discography Bob McGrath's astonishing achievement is clear. Over 10,000 artists have been covered ranging from sweet soul groups to funk and from artists who started in the doo wop era to those whose recording careers finished in the early 60s. The limits that Bob set himself were to restrict the scope of the work to Afro-American artists only, and of those only to include people who began their recording careers before 1980. So most of the horrible electronic rubbish that has proliferated since that date is mercifully not here.
And wherever possible I'm pleased to say that he has erred on the side of inclusion rather than exclusion. So that featured here are New Orleans rock 'n' roller Huey "Piano" Smith, blues pianist / singer Teddy Reynolds, doo wopper Nolan Strong & the Diabolos and legendary jazz vocalist Nina Simone. But the necessity of drawing lines in the sand does lead to some issues. The southern singer Charlie Roberson's lengthy career is covered here, including all those terribly disappointing modern CDs, but master balladeer Rockie Robbins, one of the most talented of all the singers to emerge after the 70s is omitted. As indeed is Ruby Roberson, a fine New York based R & B singer of the early 60s. Furthermore some blue eyed singers do make an appearance – the Sparkz, Chuck Rowe and Billy Joe Young for example.
And Bob's (totally correct) view of a discography certainly isn't like the puny efforts to be found on the pages on this website. For each artist there are not just titles given, but also their matrix numbers (not so relevant as for blues releases I know), recording location and dates, and musicians, arrangers and producers as well. LP tracks are listed – just imagine the hours Bob must have spent typing up all those musicians on the heavily orchestrated LPs of the 70s! So although not all this information is available for every entry, the intention is that discographical details are as complete as possible. Unissued tracks are also included and it was this feature that confirmed my view that it was Debbie Taylor duetting with Danny White on a recent acetate discovery.
This third volume, which covers the letters N – Z is as monumental as the previous volumes. In fact although the large 81/2" by 11" format is the same, there are "only" 754 pages here, arranged in two columns per page in a font which is just about legible to somebody with my poor eyesight – although a magnifying glass is recommended. As before Bob rightly credits a small army of enthusiasts – including myself – who have contributed information for this volume, and he also lists a series of books / websites / magazines from which material has been drawn. But the real plaudits must go to Bob for his incredible staying power in collating it all and following through to publication.
This is not to say that the discography is absolutely correct. Bob would be the first to accept that any discography is a work in progress, and that mistakes are inevitable in a project of this magnitude. For example there is some confusion between the Turner Brothers on Carnival and Allison & Calvin Turner who also recorded as the Turner Brothers. The super Willie & West 45 on Stang is incorporated in Willie West's listing sadly, Jackie Paine and Jackie Payne are not linked up at all, and neither are Frankie Newsome and Willie Parker even though they are one and the same guy.
And of course, although there is only a finite number of records that can be included within Bob's set of criteria, new discoveries are being made all the time. Sadly I found the third Ernie Rivers on Knox, and the second Booney Taylor on Dynamic too late for publication. Naturally enough there are some factual errors in details such as the absence of Tony Rice's fine Pearltone single, and no mention of Billy Watkins' hideously rare "Golden Soul & Country" LP which looks so promising from the title, but is so desperately disappointing when heard.
No doubt all these and other problem areas will be ironed out in subsequent editions, but it needs to be said loud and long that they are very much the exception. Far more important is the information that is correct and the details that will add to anybody's knowledge. I was astonished to see the long list of Charles Vickers' early recordings most of which I'd not heard of before this tome arrived. Bob has identified 10 different sets of Soul Brothers – I knew about half of them. I'm a big fan of the Patterson Twins music in the 70s but I'd no idea that the Soul Twins on the famous Greenville, MS Big Beat label was their first 45. On almost every page there is some titbit of info that makes you say to yourself "I never knew that!"
Like the other two volumes, this final one has become a constant companion on my desk. I wouldn't think a day has gone by since it arrived here that I haven't referred to it. This is an absolutely essential resource for anybody who is serious about their soul music and who wants to know more about its recorded history. I take my hat off to Bob for what he has achieved with these books – a simply astonishingly difficult task. And a truly indispensable result.
All Bob McGrath's publications are only available direct from his company Eyeball Productions which you can find here.
January 2014
Note ~ You can find my review of the second volume of the Soul Encyclopedia here.