THE SURINAM SOUL SCENE
By Tom de Jong & Harry van Vliet
Through Surinam the Netherlands always had a special relationship with soul music. Shouldered by the former British colony Guyana (west) and French Guyana (east), Surinam lies in the north of South America, bordered in the south by the Brazilian rainforest. Surinam is a former Dutch colony that became independent in 1975, a time at which some Surinam people in Holland contemplated going back, but more decided to choose the Netherlands as their permanent home. The Netherlands Antilles is still part of the Netherlands and these small Caribbean islands also contributed to the music scene.

Surinam is a musical melting pot. Its own music is called Kawina. It is sung by the people in the south and has its roots in the singing of the slaves on the plantations and ultimately in Western Africa. In the north, in Paramaribo, the capitol of Surinam, you hear calypso from the Caribbean, soul and funk from the US, reggae from Jamaica and Latin music from other South American countries. Some records were made in Surinam but most records in the region were pressed in Barbados, in the factory of The West Indies Record Label (WIRL) in St. Thomas. WIRL specialized in all forms of Caribbean music and also reissued some US soul. Many records found their way to Surinam and then to the Netherlands. Judging by the numbers in which records turn up on record shows and junk fairs, soul 45's were imported in great numbers in Holland in the seventies. All big Dutch cities had shops importing 45's; Unico Glorie or Tjins in Amsterdam or Fris record shop in Rotterdam.

The Surinam music scene In Holland flourished especially around the time of the Surinam independence, with the steady influx into Holland of people from Surinam, bringing their party culture with them. The bulk of the US import was Atlantic material: Joe Tex, Solomon Burke, Otis Redding and Aretha Franklin. But records by more obscure artists, like JP Robinson or Third Guitar were imported also. When the original was unavailable and in demand they released it locally. Sometimes this was a legit reissue, these all have STEMRA on the label and the Belgium ones have SABAM. Sometimes probably the reissue was not so legit. For instance, Lindel Hill's Remone is a rarity on the Arch label, but is commonly found here on Bobo 11202. Another reissue label was DoubleS hot, not to be mistaken with the US label of the same name. Double Shot 45's always had two ballad sides.

Sometimes the soul 45's you find now on record fairs are in pristine condition, but more often they are scratched, have several stickers and felt pen writing, to the extreme where one side is totally black, hiding the name of the artist. The writing will always be on one side, the slow side. (**See Ben the Balladeer views on this practise at the foot of the article). Unlike the soul scene in Germany (funk) and Belgium (popcorn), Surinam DJ's in Holland were after the ballads, which were played at parties and clubs, for a mainly black audience. And the scene is still active, as a Rotterdam concert featuring the Mighty Sparrow showed us a few years ago. Some US artists stayed in Holland, for a short period or indefinitely. Best known is Arthur Conley, who recorded a live album here in 1980 under the name of Lee Roberts & The Sweaters. Recorded in the Bijlmermeer, in the outskirts of Amsterdam, the Surinam part of town. Other artists that stayed in Holland included Billy Jones (see later), Archie Bell and Tommy Hunt.

The Surinam music scene has hardly been studied (but see surinamstars for a great introduction) and, as outsiders, we will not venture into that (we do hope someone else does and comes up with some juicy stories!). Here we will just list some Surinam people and groups that made good music, sometimes rivaling the music of their US heroes. Sometimes with a slightly Latin or Jamaican sound, often produced as if it were a live recording, never in a hurry.

Our Surinam top-ten is a mixed bag; the records were recorded in Paramaribo, Barbados, Holland, Jamaica or even in French Guyana. Our criterion was that all these records are good, virtually unknown outside the Surinam soul scene and were played here. One warning before you start your Surinam collection: not all Surinam records are soul and not all are equally good. There's a lot of middle-of-the-road stuff and the typical Dutch production in the 70's and 80's is guaranteed to spoil any soulful performance. But all the artists in our top ten are excellent and never got the credits they deserved.
Surinam Soul Top 10 (in random order!)

Billy Jones: I'm so glad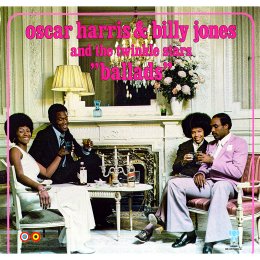 A smooth ballad taken from the 1972 "Ballads" lp by Oscar Harris, Billy Jones and the Twinkle Stars. Billy Jones, born 20 November 1945, came from Denison, Texas. After joining the US army he was stationed in Germany and later in Vietnam. He returned to the US in 1968, staying only five days. He then moved to Amsterdam, where he worked with Oscar Harris. Oscar is still performing as the "grand old man" of the Dutch Surinam soul scene. In 1969 Oscar had his first hit in Holland with backing group the Twinkle Stars, in which Billy provided background vocals. Billy then produced a string of 14 singles and three albums "Love's gonna rain on you" on Catfish in 1970, "Ballads" on Blue Elephant in 1972 (see pic) and "Birds of the sea" again on Blue Elephant in 1974. Billy died on 10 June 1982 after suffering a stroke during a basketball game. A double CD with his best solo recordings surfaced a few years ago in a very limited edition. We can only hope that someone opens the Dureco vaults, a major Dutch label at the time, and comes up with a proper reissue. Although Billy was from the US he is incorporated here. All his recordings were with Surinam bands and it was the Surinam community that embraced him after his Vietnam years. While many Surinam artists had a few good sides, the quality of Billy Jones' work is consistently on a very high level.

Falling Stones: Love is like a season of the year
Formed in the sixties, the Falling Stones, not to be mistaken with the Rolling Tones (we're not kidding, a band of that name actually existed in the Antilles!), are probably Surinam's most popular and longest lasting beat-soul group. They played in different combinations and are still active (see their website here). We chose for this 45 on the Suriname label (No. 1001). This B-side has a snail-paced Hammond and the atmosphere of a folk record. The other side "Now you want to leave me alone" is equally good, midtempo and with a horn section that blows away everything that comes in their path. The Falling Stones have one album on Suriname that is well worth seeking out, but does not contain the two sides of this 45.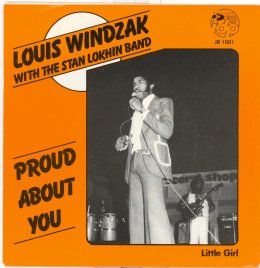 Louis Windzak & Stan Lokhin: Proud about you
Actually not a rare 45. Louis Windzak sang with the Falling Stones. Louis is still active around Rotterdam and Amsterdam. Louis Windzak is known as the Dutch Otis Redding and indeed there is a striking resemblance. Stan Lokhin directs the band. Anything produced by Lokhin is worth checking out. He worked with Billy Jones and Oscar Harris and many other Surinam artists. Lokhin's credentials as trumpet player or bandleader are listed at the surinamstars.com website. At the moment he is a director of gospel choirs in Amsterdam.

Hodi Boys: Something good
Slim Ali and the Famous Hodi Boys hail, surprisingly, from Nairobi, Kenya. Their album "You can do it" is mostly funk and came out with Reprise in France. This 45 is on Reprise but comes from Barbados and probably came out on the Barbados WIRL label also.

Lionel Abel: Lonely man
Less is more is the motto of this record with laid back hammond and bass. On the Guydisc label from Barbados, not to be confused with Guyjim (French Guyana) or Gaydisc (Jamaica). However, we wouldn't be surprised if all these labels were pressed in the WIRL factory.


SUMY: Stealin' love on the side
We know SUMY as a friendly record dealer who always gives a discount and is always keen in pointing out the really good records. He once said that funk was the second best option in the Surinam scene, deep soul being the first. He didn't try his hand at deep soul so much, but this cover of Paul Kelly's "Stealing' love" is pretty good. On SUMY's 1983 album "Trying to survive" he sounds a lot like Prince. This album is apparently hot among French funk collectors.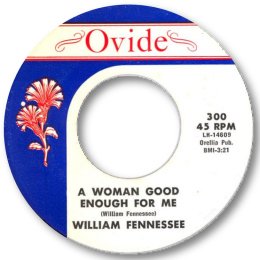 William Tennessee: A woman good enough for me
We never quite understood the Gifer story. Many of these Gifer 45's appear to be printed here, but this one comes from Belgium (labeled Sabam). Yet, as the sleeve testifies there is also a Miami connection. The spelling is not quite consistent (Fennessee?) but even without the typo William Tennessee is hardly a credible name for a US soul artist. We can only picture William sitting on the beach of some Caribbean island. Any other suggestions?

UPDATE ~ Well, we got this one wrong. William Fennessee apparently never left the States and the original record was released in Houston as Ovide 300. The other side is "I love you" on both Gifer and Ovide. This must be a very rare release, which makes it the more surprising that it was covered in Belgium. The relaxed ballad indeed fitted well in the Surinam soul scene. Thanks to Hans Plakke for the label scan.

Combo Five: Smile
From their sole album "Liar's talk" on Bluegrass SHOL 1466. We have little information on this group apart from what the liner notes say. Recorded live in the studio in Suriname around 1970. Vocals on this track are by Jules Sloote. They effortlessly combined soul songs with pop. "Smile" was written by Kaz Lux of the, then famous, Dutch rockgroup Brainbox. After the split with Brainbox, Tom saw Kaz Lux solo at the Utrecht Tivoli doing his own songs live. Must have been early 70's. No idea then of this Surinam cover.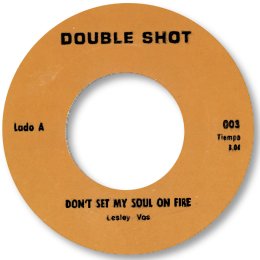 Lesley Vos: Don't set my soul on fire
Great voice and an absolutely lovely spoken text half way through the song: "Listen to the choir. They'll give you a much better idea of what I'm trying to say". Lesley's best solo outing. He later was the lead singer of the band Reality, which took off in a more funky direction. Vos - who was born in Curacao - recently celebrated his 40th anniversary in the business. His website is here.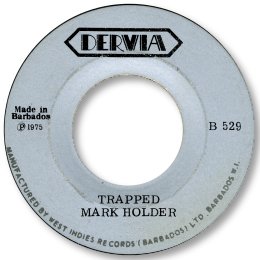 Mark Holder: Trapped
Label states this was made in Barbados. Mark actually has a whole album on Dervia with mostly funky tunes. This is the exception. Excellent deep soul with the frantic second female vocal on Trapped adding to the apparent hopelessness of the situation.
A personal postscript from Ben "the Balladeer" Feurich
I'm from Surinam in South America. During World War II, American soldiers were stationed in Surinam to protect the bauxite industry (for making aluminum) and of course their music came along with them, and it never left.

For me it started the day I was born (1954), my parents both loved music and dancing so there always was music in our home, first via the radio, later when I was around 13 our first Sony console came in and the rest is one great journey. After the war records were being sent to Surinam by old friends/contacts so we were always up to date on all kinds of music, DooWop, Country, Soul, Pop you name it we had it. At that time mostly soul was played on the radio plus local, Caribbean and South American music. The evening was mostly for Country and Easy music ( Nat King Cole, Sam Cooke, Jesse Belvin, Adam Wade just to name a few).
In Surinam in those days, there were house parties all over, sometimes maybe 10 to 20 in a 7 mile radius. I often got together with 1 or 2 friends and we stopped at most of them for a while, depending on the DJ and the songs he played. We often got invited in to the parties - the well known and much spoken of hospitality of the Caribbean and South America. I left Surinam when I was 18.
The reason for hiding the names/titles of records by writing over them was that the collectors were very competitive. They always wanted to be the only one who had a certain record. DJ contests/standoffs were held on a weekly basis in the 70's, to decide which had the best/rarest songs, be it 45 or albums. No information was given to anybody else if only one copy was available, they took no chances. If you went to their house to listen to records the record player was almost always in an other room or the label was covered, so you could not see any information. This practice is still going on today, but was normal behavior in the 70's and 80's. And if you were buying at their homes (most of the collectors also sold records) you only were allowed to hold/see the record after you paid for it. These records were sold for absurd prices, very often for more then 100 Euro, 250 Dutch Guilders at that time.

I know of one collector who was working for KLM and was able to fly very cheap, a two way ticket to the USA for less then 75 Dutch Guilders (50 Euro) at that time (70's). There was a period he was in the States every weekend. The US Airline allowed 2 or 3 suitcases of a certain size at that time, the weight was not important, 2 or 3 suitcases. This guy has a collection that sends chills down your back - I think he had somewhere around 50.000 records. He has a great, probably the best, Caribbean collection I know. He's also a DJ under the name Mr. Jamaica.
I have so many songs that touched me. My first love ("Girl I Love You" - Eddie Floyd and Sam Cooke - "When A Boy Falls In Love"). I never could find the Floyd single, finally found it in London in 1977. After that the first pain ("Don't Take It So Hard" - Johnny Robinson) I couldn't bear to buy that record, but I finally got over it and did buy the @%* record. My parents favourite dance tune ("Only A Fool Breaks His Own Heart" - Mighty Sparrow). My first school party (Jimmy James- "Come To Me Softly" and Jimmy Hughes - "Why Not Tonight". I never got to know what was wrong with that night). Much of the songs I have represent a part of my life, a moment alone with my parents, brothers & sister, neighbours, friends, just driving around on my bike from party to party at night (when I was older) just to be able to tell which dj had the best records. "Strawberries" - Jerry Butler was a song I got to know during one of those bike rides. Hearing someone shouting "Strawberries, Strawberries" , knowing it was a party, I did a Tour De France effort not to miss too much of the song!

When I got back to Surinam in 1992 I stayed for 10 years the music had changed, like everywhere else. There were still late night radio shows with oldies and weekend soul parties, but there was a different mood, it was very disappointing to me.
So now like never before I desperately hold on to my small record collection.
NOTE - Ben's excellent blog can be found here.

SOME MORE DUTCH 45s BY SURINAM ARTISTS
| | |
| --- | --- |
| | |
| WENDY COAST | TONY SHERMAN |
| | |
| RO WILLMS | EUSON |
| | |
| OSCAR HARRIS | LOUIS WINDZAK |
| | |
| SHERMAN BROTHERS | BILLY JONES |
| | |
| LESLEY VOS | SUMY |