Lenny Curtis
Like Harry Starr, Lenny Curtis was one of the last artist to find a release on George Goldner's New York based End label. And while the pounding "Nothing Can Help You Now" has attracted all the attention from dance fans, I much prefer the gentle rhythm of

Who You Gonna Run To. This chugging beat ballad has some fine chord changes and a superb arrangement - check out that lovely muted trumpet and sax - but the best part is Curtis' wholehearted vocal. Straight out of the Sam Cooke school of phrasing, he adds enough grit into his tone to satisfy purists like me. And of course his sense of dynamics is flawless.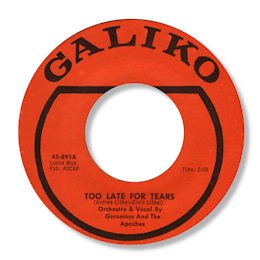 The following year Curtis took on a new persona as Geronimo and backed by the Apaches made another stunning 45.

Too Late For Tears is deep soul at it's finest. A superb singer who brings all the emotion in the world to a heartbreak lyric over a small band backing. No wonder this has been a favourite track for so many enthusiasts.
Discography
Nothing can help you now /

Who you gonna run to ~ END 1127 (1965)


Too late for tears / Oh yes baby I love you so ~ GALIKO 891 (1966)
Note ~ "Nothing can help you now" can be found on the Sequel CDs "Feelin' good all over" and "The End story".
Thanks to Naoya Yamauchi for the suggestion.