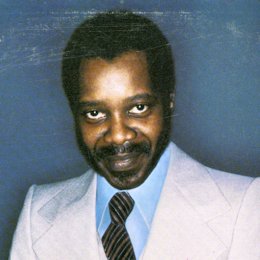 Paul Kelly
"This man will walk up to you and look you in the eye
Put his hand on your shoulder and tell you a big fat lie
He'll tell you 'God's gonna bless your children if you put your faith in me'
Then he'll pass the tray while the choir's singing "Nearer my God to thee"
These lyrics to Paul Kelly's "Stealing In The Name Of The Lord" hit the soul scene like a starburst in the spring of 1970. No mainstream black artist had ever criticised the Church and its preachers in this fashion before - and you could hear the howl of protest on the moon. The record was denounced from pulpits throughout the South, and radio stations that played it were picketed. No doubt the fury was heightened by the obvious gospel influences of the singer and the fiery sanctified playing of the crack Muscle Shoals band. One of the truly great soul records that really count, the disc was an R&B smash. More importantly it became a platform for Paul Kelly's career. No question - he is one of the most talented of all the great southern soulmen. Not only is he a songwriter of subtlety and considerable skill, as a vocalist he is one of the most intense of singers. Not for him the upfront emotional power of macho stars like Wilson Pickett, Kelly is a master of the "slow burn" school, piling on the pressure by slight changes of emphasis and phrasing, and capable of transmitting the deepest feelings in an understated, achingly soulful fashion.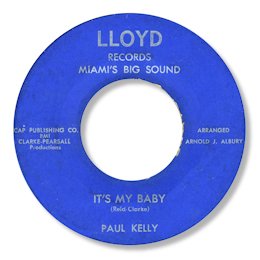 As with the majority of artists, before Kelly found his own individual voice there was a period of apprenticeship. He was born on 19 June 1940 in Miami, and became involved in the local musical scene in his teens. In high school he formed vocal groups called the Superiors and the Spades, both of which featured his brother Henry. Despite his later adoption of many of gospel music's traits, by his own admission Kelly's upbringing was not heavily church-based and his vocal techniques at this time, the end of the 50s, came from listening to his idol Sam Cooke. He turned semi-pro as lead vocalist to the Valadeers, and in 1960 the group made a record for the local musical entrepreneur Henry Stone, for release on his Dade label. The promo copies sent out by Stone caused some action around the city but when the group went back to Stone for more money, as an alternative to paying he withdrew the disc.

After this frustrating beginning, More groups followed, the Marvels among them, but it was another three years before opportunity knocked again. Kelly met Clarence Reid and became the front man for his band the Del-Mires. Under Reid's direction the group cut "Sooner Or Later" for the tiny Selma label which did good local business but despite Kelly's fine vocal only had Reid's name on it. Kelly was reportedly delighted to hear his own voice on the radio, but he did not have long to wait cut his first records under his own name.

It's My Baby on Lloyd came out in 1964 and its classic ballad structure and delicately subtle vocal made it Kelly's first deep soul winner. Nowadays this is a rare and very expensive disc, as the dancers have picked up on the flip "The Upset" which was inspired by Cassius Clay's surprise beating of Sonny Liston for the World heavyweight championship.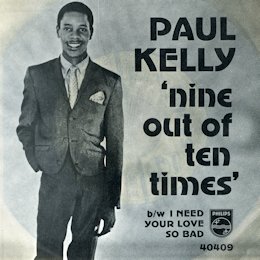 Buddy Killen, then very hot with Joe Tex, heard the disc, liked it and signed the singer to his own Dial logo. Killen re-issued "Chills And Fever" (the flip "Only Your Love" is a pleasant guitar led ballad,) and with the new label's much better distribution through Atlantic, was rewarded by a sizeable national sale. On Dial, Kelly had moved up a league and in Killen found a man willing to put time and effort into developing his career. However, he went back to Reid and Clarke for the disappointing and derivative follow-up "Can't Help It" / "Since I Found You".
After the disc flopped Killen himself took over the production duties, taking Kelly to Muscle Shoals and Memphis in 1966/7 to record a superb series of tracks which he leased to Philips. The pick of the bunch was undoubtedly the beautiful southern ballad

Nine Out Of Ten Times cut at Muscle Shoals, which, for the first time, put Kelly's voice into an arrangement that showed off its strengths. Other highlights of this period were "Glad To Be Sad", a splendid mid-paced number recorded at American in Memphis, and the deep Alabama ballad "If This Old House Could Talk". "Cryin' For My Baby" was another deep winner on which Kelly's growing maturity as a "delay" singer is becoming more evident. But none of these Philips issues dented the charts. The final Dial release "We're Gonna Make It" - not the Little Milton gem - but a similarly uplifting economic and social tale with some strong drumming from Gene Chrisman and "Call Another Doctor" is a typical Kelly mid-pace number featuring a splendid sax break did nothing, either. Kelly, who had moved to Nashville at Killen's request, now left for New York, frustrated at his lack of success as an artist and determined to try to make a living as a songwriter. He managed to place a wonderful track he'd cut back home on a fellow Miami-born singer, Annette Snell, with Juggy Murray who put out "Since There Is No More You" on his Juggy imprint. This quite superb deep ballad had crept out on the tiny Florida "Love Hill" label previously but the release in the Big Apple didn't lead to any bigger sales. But it should have done as this track is now an acknowledged classic not just for Snell's emotive power, but also for Kelly's beautifully judged multi tracks backing vocals.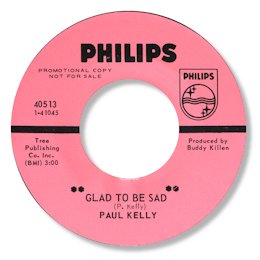 While based in New York he cut some unissued, and, according to Kelly himself, poor tracks for Stan Watson's Philly Groove label. But it was his failure to interest Sam & Dave, old acquaintances from Miami days, in some new material that brought him south again late in 1969, to his old mentor Buddy Killen. The song that the Double Dynamite Duo passed on was

Stealing In Name Of The Lord. Killen recognised its potential, cut it at the best soul studio in the south, Muscle Shoals, and placed it with Happy Tiger records, a new rock and pop label linked with the Flying Tiger airline. The disc first broke in Baltimore, thanks to a personal visit to DJ Rockin' Robin by Swamp Dogg and Kelly himself, but was eventually big enough for Paul to tour nationally on the strength of it. The label demanded an album and one was hurriedly thrown together after further sessions in Memphis, Nashville and Muscle Shoals. Some of the material, such as the hard- hitting autobiographical "Poor But Proud" and the rythmically insistent train song 509, were of very high quality indeed, but the whole LP didn't really hang together, no doubt due to the speed of assembly. Both the above two songs became Happy Tiger singles, as did "Hangin' On In" There, another chapter in his story, brought beautifully to life by the superb country/soul musicans from Jackson Highway, Muscle Shoals.
Happy Tiger folded soon after this release in 1971 and Killen landed Kelly a plum contract with Warner Brothers. They were no doubt attracted not only to his vocal ability but also to his songwriting, since the combination fitted more closely their usual formula of self-contained rock acts than other soul singers. The company purchased the Happy Tiger masters at the same time and almost immediately repackaged the album, changing a couple of the tracks and calling it after the initial WB 45, Dirt.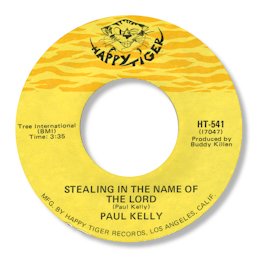 Warners were more orientated towards albums than 45s and Paul Kelly's first new recordings were released in 1973 as the "Don't Burn Me" collection, an LP that showed Kelly's abilities to the full. Twelve melodic masterpieces were the perfect vehicles for Kelly's matured style as a vocalist. His natural high tenor was compelling in its intensity - he didn't need to scream and shout to get his message across, the emotional effects were achieved much more subtly, notably by the use of double tracking and delicate falsetto moans and cries. Buddy Killen's magnificent production reinforced this by providing a rich, bottom-heavy sound from the great AGP combo, now based in Nashville, which made a superb contrast with Kelly's singing. This LP is one of the true gems of soul music. "Don't Burn Me", a mid-pace soul searing number and "Come Lay Some Loving On Me", a more gentle coutry soul opus no less intense in its effect, both reached the soul charts as singles. The burning emotion of the slow southern ballad "I Wanna Get Next To You" and the melodic

Love Me Now, with splendid bass from Tommy Cogbill, are two of the stand out cuts. This latter song has been covered by Johnny Adams, just one of the many major soul stars who have benefitted from Kelly's songs. By contrast, "Come By Here" is a joyous, sanctified workout complete with gospel handclaps, organ, tambourine and a strong horn section.
During this period Kelly was very active on other fronts as well, writing for Killen acts like Jean Knight and also trying his hand at production. Perhaps his most lasting achievements in this area were the sides recorded by Annette Snell for Dial. All three of her singles reached the soul charts and they represented, together with Candi Staton's later Fame recordings, the Indian summer for female country soul.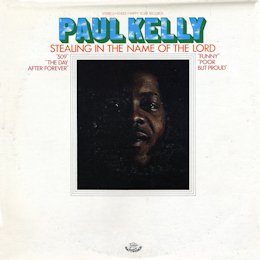 Kelly's own singing career continued in 1974 with the issue of the Hooked, Hogtied and Collared album. While it was a very fine set indeed, it suffered slightly in comparison to "Don't Burn Me". Although the musicans were largely the same, the sound wasn't as rich or as dense as before and some of the material was not as strong - hardly surprising since the earlier LP contained material Kelly had been working on since the 60s. But the best tracks were among the finest he ever recorded. "I'm Into Something (I Can't Shake Loose)" was the first single and this southern funker continued Kelly's chart run. The album's slightly slower title track was an even bigger seller, hitting the R&B Top 30 in the summer of 1974, and this was followed by Let Your Love Come Down whose mid-pace arrangement and bass line were reminiscent of Marvin Gaye's "Let's Get It On" smash from the previous year. "Take It Away From Him" featured some lovely country guitar from Reggie Young, and its gospel mood was echoed in "I Believe I Can".

Only two more Paul Kelly 45s dented the charts, the untypically rocking "Get Sexy", which actually caused a small stir in some European discos, and the disappointing "Play Me A Love Song". At Warner's request Paul travelled to the West Coast for his final recordings for the company and the result was "Stand On The Positive Side" released in 1977. Production duties were shared by Kelly and Gene Page, who also did the arrangements for the usual LA session players. The LP turned out to be an uneasy amalgam of standard California pop/soul and Kelly's deeper leanings. The sound was much slicker and lighter than ever before, and Kelly's vocals smoother and more stylised. Only the delicate

Feather In The Wind and the inspirational "God Can", superbly covered by The Staple Singers, really matched his previous levels of commitment.
None of the singles from the LP nor the LP itself sold in any numbers and Warners dropped him from their rosta, but not before there was one final hurrah in the shape of the desperately intense

Stealing Love On The Side. This little known killer deep ballad features one of Kelly's very best "slow burn" vocals ever – he positively quivers with barely suppressed desire. If you thought 1976 was about "boogie on" and "get down and party" then Kelly has some news for you – there are more elemental issues to get straight first. And check out Reggie Young's beautifully judged fills.

A projected LP for Epic, with Killen producing, failed to materialise and only one rather disappointing single appeared. He cut an interesting reggaefied version of "Been To The Well Before" for A & M in 1981 which I like a lot and during that decade scored several artistic successes as a writer for companies such as Rounder and Malaco. Real singers like Johnnie Taylor, Solomon Burke and Irma Thomas continued to interpret his melodic and always soulful material. Kelly also founded his own Laurence label, from his New York home, on which he issued occasional singles, no doubt mainly as demos. The songs were pretty much universally good, as he retained his talent for a melody, and his tenor voice with that highly effective falsetto always hit the spot ,but the low fi arrangements and some intrusive synths rather spoilt them. Among the best was the double sided "Change To Me" /

Call Me with their memorably tuneful hooks, the gentle island sound of "Livin' In A Dream" and especially the excellent

Makin' Love In The Night with its vintage Kelly vocal.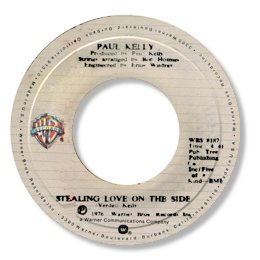 He cut a very interesting CD for Bullseye Blues in 1993 called "Gonna Stick And Stay" full of wonderful Kelly voacls and songs. Gems like "Baby Baby Come Back And Stay", "I'm Gonna Be Holding On" and "I'm Gonna Hold You To Your Promise" rolled back the years to the Golden Age with effortless ease. The determinedly minimalist arrangements – no horns or strings – worked well despite the producer's notes referring to Kelly's music as "folk soul" as t laid greater emphasis on his voice, double or treble tracked on many cuts.

For whatever reasons – and many have been put forward – this set wasn't followed up to every soul fan's intense disappointment, until Ripete, based near his new home in Ruby, SC, put out "Let's Celebrate Life" in 1999. And this release was a bit uneven – the recut of "Stealin' In The Name Of The Lord" didn't work at all well – and is a bit too full of sythn "instruments" to qualify as a must buy despite Kelly still being in wonderful voice, with his range seemingly unimpaired. But there are wonderful nuggets even so particularly the melodic "Children Are Listening" and the lovely "Change To Me" both recut from his Laurence days with human drummers. The chugging "Missing You" with a characteristically pertinent rap works well as does the upbeat "Everything That's Good To You" and title track has its moments too.

Paul Kelly never fulfilled his early promise to be one of the very top stars of the 70s. Perhaps he wasn't single minded enough, or commercial enough, perhaps the breaks never really came, more likely his success came a couple of years too late and he was swamped by disco. Whatever the reasons he remains a cult figure to knowledgeable fans, one of the great line of southern soul men like Sam Dees and Prince Phillip Mitchell, as good at singing as they are at writing. And his recorded CV will stand proud against almost all the opposition. Is it too much to hope that we will hear him recording again?
| | |
| --- | --- |
| | |
Discography
As THE VALADEERS
Dry your eyes / The big sound ~ DADE 1821 (1960)
as CLARENCE REED & THE DELMIRES
Sooner or later / Down with it don't quit it ~ SELMA 4002 (1963)

Its my baby / The upset ~ LLOYD (1964)
Only your love / Chills and fever ~ LLOYD 007 / DIAL 4021 (1965)
Since I found you / Can't help it ~ DIAL 4025 (1966)


Nine out of ten times / I need your love so bad ~ PHILIPS 40409 (1966)
We're gonna make it / Call another doctor ~ DIAL 4088 (1967)
Sweet sweet lovin' / Cryin' for my baby ~ PHILIPS 40457 (1967)
You don't know you just don't know / If this old house could talk ~ PHILIPS 40480 (1967)
Glad to be sad / My love is growing stronger ~ PHILLIPS 40513 (1968)


Stealing in the name of the Lord / The day after forever ~ HAPPY TIGER 541 (1970)
Sailing / 509 ~ HAPPY TIGER 555 (1970)
Poor but proud / Hot runnin' soul ~ HAPPY TIGER 568 (1970)
Soul flow / Hangin' on in there ~ HAPPY TIGER 573 (1971)
Dirt / Poor but proud ~ WARNER BROS 7558 (1972)
Here comes ole Jezebel / Travellin' man ~ WARNER BROS 7614 (1972)
Don't burn me /

Love me now ~ WARNER BROS 7657 (1972)
Come lay some lovin' on me / Come by hgere ~ WARNER BROS 7705 (1973)
I'm into something I can't shake it loose / (You bring me) Joy ~ WARNER BROS 7765 (1974)
Hooked hogtied collared / I wanna get next to you ~ WARNER BROS 8008 (1974)
I wanna be close to you / Let your love come down (let it fall on me) ~ WARNER BROS 8040 (1974/5)
Try my love / Take it away from him (put it on me) ~ WARNER BROS 8067 (1975)
Get sexy / I bleieve ~ WARNER BROS 8120 (1975)


Stealing love on the side / Play me a love song ~ WARNER BROS 8187 (1976)
Stand on the positive side of life / To the bone get it on ~ WARNER BROS 9347 (1977)
Hallelujah glory hallelujah / To the bone get it on ~ WARNER BROS 8421 (1977)
Shake your mind (like you shake your butt) / Everybody's got a Jones ~ EPIC 50555 (1978)
Been to the well before / I love the way you love ~ A&M 2320 (1981)
Livin' in a dream /

Makin' love in the night ~ LAURENCE 112883 (1983)
Better game / I keep holding on ~ LAURENCE 13184 (1984)
Tonight there'll be no holding out / Children are listening ~ LAURENCE 01 (1991)


Call me / Change to me ~ LAURENCE 689 (mid 80s)
Crack (the devils pipe) / Children are listenin ~ LAURENCE 81788 (mid 80s)
LPs
Stealing in the name of the lord ~ HAPPY TIGER 1015 (1972)
Dirt ~ WARNER BROS 2605 (1972)
Don't burn me ~ WARNER BROS 2689 (1973)
Hooked hogtied collared ~ WARNER BROS 2812 (1974)
Standing on the positive side ~ WARNER BROS 3026 (1977)
CDs
Gonna stick and stay ~ BULLSEYE BLUES 9523 (1993)
Let's celebrate life ~ RIPETE 2254 (1999)
Notes:-

1. Both sides of his first Lloyd can be found on the Numero Uno CD "Eccentric Soul: The Deep City Label".
2. Kelly's Dial sides can be found on the Kent UK CD "The Dial Southern Soul Story", "Stealing in the name of the Lord" can be found on the same company's "Take Me To The River" box set, and the excellent "The Days After Forever" is on their Dave Godin Deep Soul Treasures Vol 4.
3. There are several collections of Kelly's Warner Bros recordings available - make sure you've got at least one of them.

Special thanks to my friend John Lias whose obsession with Paul Kelly may just be greater than my own.