Jay Lewis
Jay Lewis started his recording career in Atlanta but is best known for his West Coast releases. He only made a handful of records but there isn't a duff one amongst them, and there are a couple of real beauties.
His initial release for Capitol - almost certainly cut in Georgia by Bill Lowery - "Had It Not Been For Love" is a fine midpaced R & B number with a pronounced New Orleans feel to the stop-go rhythm and horn chart. The second for Capitol is a blues ballad with a nice melody – although the string arrangement makes "Tell Us What Went Wrong" almost into uptown territory. And although Lewis is much more restrained here, when he does let loose with one of those blood curdling screams they seem even more effective.
His duet with Zilla Mays is a very pleasant blues ballad – as you would expect from two such accomplished vocalists with Lewis' gruff delivery contrasting very well with Zilla's purer tone. Even better though was his partnership with Betty.

Love Is To Blame is a wonderful blues ballad - but while Betty gives a confident vocal she is totally eclipsed by the screaming, harsh singing of Lewis. Could this be Betty Willis by any chance - certainly sounds a lot like her.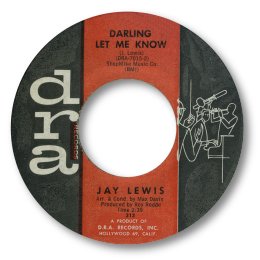 Back singing solo again the standard was raised considerably higher by "Love Is Real" which is a bluesy beater of considerable fire with a stinging lead guitar emphasising Lewis' impassioned and powerful delivery. Love those screams! But the flip

Darling Let Me Know is another fierce and compelling vocal from Lewis over a blues ballad arrangement – this may just be his best ever cut. Great guitar and horn support too.

That's Enough for Venture is Lewis second great 45 – not as obviously bluesy as his other 45s but the song is a very strong one and his voice is even more throatily impassioned. Not too sure about the bridge though – can that be a melodica? Surely a tenor sax would have been much more appropriate. The flip "Oh" is a class piece of midtempo music just on the soul side of R & B. Is that Lewis doing the whistling?
UPDATE ~ Brian Poust (see Links) writes to say "Jay Lewis also did some arranging with James Hudson for the Tragar label. He worked on both the Chuck Wilder and Franciene Thomas 45s."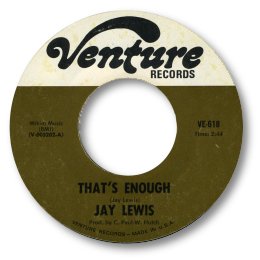 FURTHER UPDATE ~ Conny Aidanpaa has identified "Betty" on the DRA duet as Betty Jeanette. You can see her performing with Muddy Waters at Newport in 1960 here.
EVEN MORE NEWS ~ It is now confirmed that Jay recorded as "Joe Hinton" after the Venture 45. I have updated the discograhy accordingly. The best track he cut under this name is the fine melodic deep ballad "Take My Hand In Your Hand". But the jury is still out as to whether or not he also cut as "Little Joe Hinton" before the Capitol 45s. Watch this space.
LATEST NEWS ~ Bob Eagle has written from Australia to say that "BMI shows that "You And Me Baby" is a composition by Joe Hinton, Zilla Hinton and Marlin D. McNichols, and indeed Zilla Mays' name at death was Zilla Hinton. This suggests that Joe and Zilla had married, and that Joe used the name Jay Lewis for his early recordings to avoid confusion with Earl Hooker's cousin, the Back Beat Joe Hinton. After the other man died, he changed to his real name for recordings." I'm very grateful to Bob for his clarification and wonderful info. You can now find my page on Little Joe Hinton here.
Discography
Love her / Had it not been for love ~ CAPITOL 4957 (1963)
Tell us what went wrong / Should I come back ~ CAPITOL 5095
Old buttermilk sky / Into each life some rain must fall ~ ABC 10558 (1964) (as ZILLA & JAY)


Love is to blame / Pt 2 ~ DRA 310 (1965) (as BETTY & JAY)
Love is real /

Darling let me know ~ DRA 313 (1966)


That's enough / Oh ~ VENTURE 618 (1968)
as JOE HINTON
Let's save all the children / You are blue ~ SOUL 35080 (1971)
Take my hand in your hand / Short version ~ HOTLANTA 102 (1973)
Hannah's love / Shouldn't I be given the right to be wrong ~ HOTLANTA 306 (1974)
We've got each other / Where do we go from here ~ HOTLANTA 308 (1975)
Notes:-
1. I'm grateful to Brian Poust for the new info, and to Conny Aidanpaa for his great detective work. Also to Peter Hoogers for spotting the Joe Hinton connection.
2. "Take My Hand In Your Hand" can be found on the Ace UK CD "Full Time Groovers".