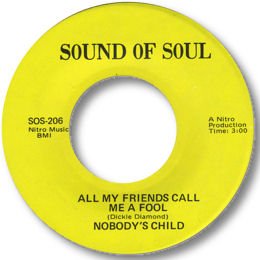 Nobody's Child
This may be a bit smooth for some fans – not many tracks recommended here have quite such a prominent flute – but the song and the vocals are simply far too good to let that get in the way. Although you might think that Nobody's Child would be a group,

All My Friends Call Me A Fool is a fine solo performance, full of power and lovely gospel flourishes. The downbeat song is beautifully played by the MSSS crew especially Barry Beckett making the whole listening experience a delight.

Various version of the backing track were also used by other vocalists in August Moon's stable including Dickie Wonder and Larry Saunders but this is the best cut I believe. The track to the strong uptempo flip was similarly vocalised on more than a couple of occasions.
Discography

All my friends call me a fool / Geraldine Jones ~ SOUND OF SOUL 205/6