Sheppard Bros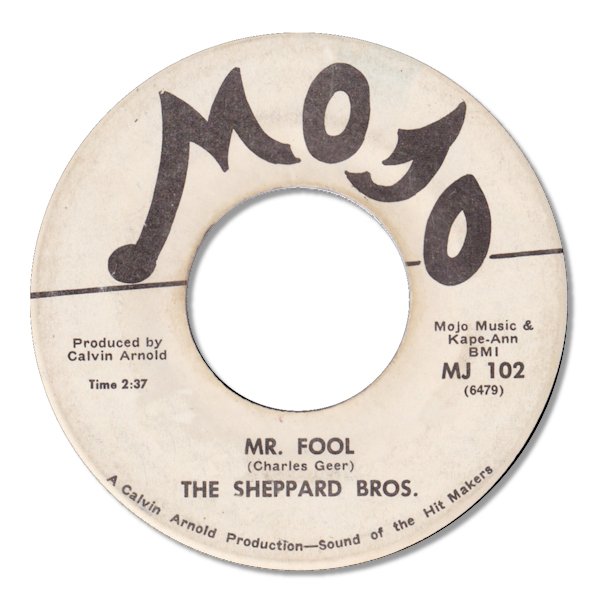 Although the Sheppard Brothers only made just 4 singles towards the end of the 60s, the quality of 3 of them was sky high. As are the prices for any of the 45s nowadays – but I hope that their music will become a little better appreciated by this page and the attached soundclips. They certainly deserve a little oxygen of publicity.

All their discs come from the Atlanta area so I guess the brothers did as well. The lead singer and creative force would appear to have been Calvin Sheppard who wrote most of the songs. Their first 45 would appear to have been the Mojo release which, as with almost all the discs on Calvin Arnold and Herb Lance's cult label, was a very strong double sider. "If She Don't Want You…." Is a fast dance tune with a little hint of funk which can only have missed out on Dance action due to its rarity. The other side

Mr Fool is a first rate deep soul ballad which verges on a masterpiece. Classic chord changes herald a splendid vocal (Calvin?) and super punchy horn charts. Any deep or southern soul fan will love this – listen and then play it again.
The World Wide 45 has had some action on the funk scene for "Night Flight" but it is far to messy for me. And although I'm not a big fan of Christmas tunes I'll certainly make an exception for

Seasons Greetings. Love the arpeggio introduction and the burst of harmony vocals which take you into a short rap. Then Calvin takes over as he sends a message to his woman so far away. Great emotional tone and dynamics – lovely especially when he hits those falsetto notes. A really splendid deep soul item.

The Sheppard Brothers 45 on the legendary Gaye concern is another really fine effort. "Mess Up My Mind" is a strong uptempo southern soul effort with just a hint or two of Otis Redding in the treatment – never a bad thing.

Hold Me Closer is another well constructed and arranged ballad. This time there would seem to be two voices present – Calvin and a much higher pitched voice which might just be Little Spudnic from the Baby 45.
Spudnic's vocal on "Wrong Number" which has had some northern soul plays, is frankly embarrassingly poor over a fine instrumental uptempo track which sounds as though it could easily have been cut in Memphis. But I can't stand kiddie soul. I'm not keep on the faux-Tex/Mex flavour of "Maria Of Old Mexico" either.

But I can easily forgive the Sheppard Brothers for 2 dud tracks in view of the top quality of all their other tracks.
Discography
If she don't want you to have it you can't get it /

Mr Fool ~ MOJO 102 (1969)
Night flight /

Seasons greeting ~ WORLD WIDE 4025 (1967)
Mess up my mind /

Hold me closer ~ GAYE 3047 (1967 / 8)
Wrong number / Maria of old Mexico ~ BABY 1001 (late 60s)
Special thanks to Richard Lewis.