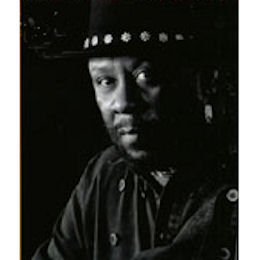 Wilie West
If you look up Willie West on the internet you will find many references to this fine New Orleans singer, almost all of them highlighting his funk sides with the Meters at the end of the 60s and into the 70s. But with all due respect to the funk community this is a very one sided look at the guy's career. He cut many more ballads than he did dance tracks, and all his 45s up to the Josie single had at least one slow side. So not for the first time (and certainly not the last) this website will try to bring some balance to the history of a man who was – and still is – a very fine soul singer indeed.

Millard Leon West was born a little way out in the country from New Orleans in 1942 and started his singing career with the newly formed Rustone label in nearby Houma, LA in 1959. His first 45 "You Stole My Heart" is a fine swamp pop ballad in the then current styles of Cookie & the Cupcakes for example. I've written elsewhere about the influence of Louisiana music on deep soul and you can hear more of it on this disc – especially the horn chart. His second disc was the excellent "Did You Have Fun" another ballad with more than a nod in the swamp pop direction in the chord changes. His final 45 for Rustone was the bluesy

It's No Use To Try. On all these tracks the young West sounds confident in his tenor range, but there are few gospel flourishes – he sings the lyrics straight, more like an R & B stylist or doo wop performer.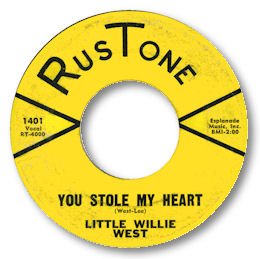 This changed when he joined Connie LaRocca's Frisco label in 1962 after Rustone folded. The plaintive ballad "Lost Love" was his first release for the company and this fine tune with it's attractive and unusual chord changes was his best to date. Great falsetto bursts – not too sure about the flute though. The plodding "I Need Your Love (Baby)" was a bluesier effort, with West using some more vocal tricks. He got better with every Frisco 45 issued and

Don't Be Ashamed To Cry from 1964 is a really strong beat ballad with West's timing and phrasing right on the button. Love the gritty run out groove.

When Frisco ceased operations West joined Allen Toussaint and Marshall Seahorn who were about the most prominent partnership in New Orleans at the time. He had three singles on Deesu in the mid 60s of which the first – his version of "The Greatest Love" – was probably the weakest. The recut of

Did You Have Fun is an out and out gas – a superb piece of Toussaint's imagination and creative flair turns it into a deep soul classic. Super horns and his own lovely touches on the piano surround West who embellishes the lyric with some fiery vocals, and the way he trades "Maybe Yes" with the girl chorus' "Maybe No" at the end is the icing on a quality cake. The way Toussaint changes the chords around is yet more evidence of his musical genius. The flip

Keep You Mine has a similar feel with Toussaint on organ this time, and a big rich horn section. Lovely.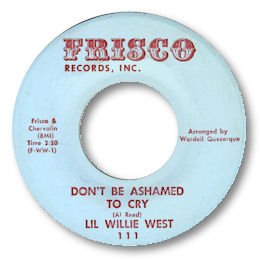 On the back of a deal that Seahorn and Toussaint did with Big Apple label Josie West had a 45 released. This is the one the funk guys go for – and like so many of the Sansu product from this time – it has been reissued in more than one form. For me the version of "Fairchild" that has the horns on it is by far the better one. As part of a similar deal the two partners in Sansu made with Warner in the 70s West's final 45 was issued. This is quality funk all the way with "It's Been So Long" a particularly tasty slice of New Orleans danceability.

His recent CDs are full of great songs beautifully sung by Willie still with all his lovely falsetto fourishes and soulful delivery - but all those synths! I just can't take them. A real pity. But from Willie's point of view they keep him out there still gigging from his post-Katrina base in the Mid West. Let's wish this excellent soul singer all the best.
UPDATE ~ Willie himself has written to me with the exciting news that he has just recorded a new CD in Minnesota using real instruments. I'll post more info when he confirms that this has been released.
Discography
You stole my heart / Sweet little girl ~ RUSTONE 1401 (1959)
Did you have fun / A man like me ~ RUSTONE 1403 / CHECKER 965 (1960)


It's no use to try / Willie knows how ~ RUSTONE 1406 (1961)
Lost love / I'm back again ~ FRISCO 107 (1963)
I need your love (baby) / You told me ~ FRISCO 108 (1963)


Don't be ashamed to cry / Am I the fool ~ FRISCO 111 (1964)
Greatest love / Hello Mama ~ DEESU 306


Keep you mine /

Did you have fun ~ DEESU 314 (1967)
Face the music / Baby baby I love you ~ DEESU 317 (1967)
Fairchild / I sleep with the blues ~ JOSIE 1019 (1970)
It's been so long / Said to myself ~ WARNER BROS 8087 (1975)


From West with love ~ CD (1999)
When love ain't there ~ GIFFT CD (2001)
When you tie the know ~ POWER TYME CD (2002)
Notes ~
1. Willie's My Space page can be found here.
2. A fine detailed look at Willie West's career can be found here.
3. "Fairchild" can be found on the Rhino CD box set "What it is" as well as the Grapevine 2000 UK CD "Crescent City Funk" which also includes "Said to myself".
4. All the Frisco tracks can be found on the Ace UK CD "The Frisco Records Story" (CDCHD 679).
5. All the Rustone tracks bar the ones on his first 45 can be found on the Night Train CD "The Best Of Rustone". As always with material from this company however beware - the tracks are dubbed from disc and the sound quality is awful.
Thanks to Pete Nickols and Matt Futerman for CD info.