THE SOUL OF GOSPEL, THE GOSPEL OF SOUL ~ PART 2
By Karl Tsigdinos & John Glassburner
Let us run some names by you: Henry Johnson; Clay Graham; John Holmes; Sandy Foster.
They don't really trip off the tongue of the average Soul fan, do they? But they have every right to! Recordings by these artists (and so many more) deserve to be side-by-side with those of the Soul greats in every discerning record collection, as their performances are among the most deeply soulful ever committed to wax. But because they chose to ply their trade in the world of Gospel music, many Soul fans remain unaware of their talents.
Those talents are perhaps best appreciated in what we call Soul Gospel.
In the first part of this series we looked at Gospel songs whose secular variant is well known to southern Soul fans. This time around we bring you 20 Gospel originals that are incredibly soulful. Some of the tracks carry a gospel message, albeit often less overtly than most hardcore gospel tracks, while others make no reference whatsoever to God. Regardless, the themes explored are as universal and varied as in soul music; love, loss, wonder, jubilance, longing, loneliness, hard times, social injustice and so on. What they all have in common is the sort of soulfulness that was becoming increasingly rare in Soul music, as first disco and then dance music stripped the "blues" element out of "rhythm and blues" through the 1970s and 1980s. Some of the artists were (and still are) well known, but were past their peaks when these songs were waxed. Others managed only one or two recordings before disappearing into the mists of time.
It would be nice to say that these Soul Gospel recordings found big, if underground, audiences. The reality is that even at the time few of these recordings sold in the kind of numbers racked up by their soul counterparts.
This is certainly not a reflection of the quality of the sounds, as you shall hear.
PART 2 SOULFUL GOSPEL SONGS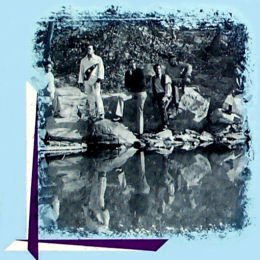 This Is Not Your World
The Tears of Joy (77 SV 906) 1974
John Richburg's Nashville-based collection of labels was responsible for some of the deepest Soul music of the 1970s, and for keeping the Soul flag flying longer than most. The Tears of Joy were one of the rare Gospel groups in Richburg's stable, cutting this treasure for SeventySeven in 1974. Reflecting the social consciousness that informed many contemporary recordings, "This is Not Your World" benefited from the fervor of the vocals, which build tension to a dramatic finish. The Tears of Joy also recorded an album, "Building Up a Nation," for the HSE label in the mid-seventies, though none of its tracks match this 45. Since then they seem to have disappeared altogether. [Further information about this terrific singing group would be greatly appreciated.]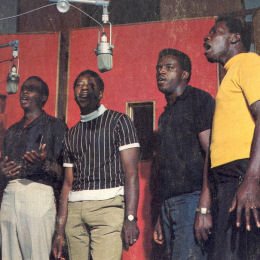 I Stood On The Banks Of The Jordan
The Brooklyn All Stars (Nashboro 7079) 1969
The Brooklyn All Stars were, in gospel terms, very successful. They integrated the feel of 1960s soul earlier than most groups, helping to establish the soulful 70s gospel sound. Hardie Clifton was an original member, and his lead here is to-die-for. Nashboro Records was owned and operated by Ernie Young, well known to R&B fans as the founder of Excello Records and the proprietor of Ernie's Record Mart in Nashville, TN. Mr. Young sold a ton of Nashboro gospel records through his mail order business, advertising throughout the South on radio station WLAC.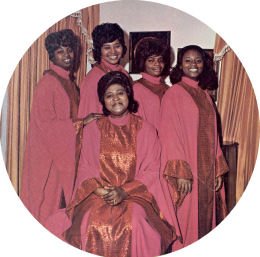 Strange Man
Dorothy Love Coates and Her Singers (Savoy 14466) 1977
Dorothy Love Coates was a quiet, reserved, humble woman in her private life. But when she sang she was transformed, "filled with the spirit", and the soul poured forth. It's difficult to think of anyone in the soul world to compare her to, perhaps because she was truly incomparable. All her recordings with the Gospel Harmonettes are highly recommended.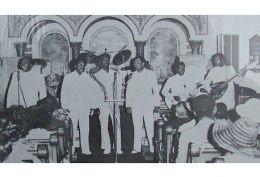 Taking Life Easy
Prodigal Sons (Richburg 132) 1976
We featured a Prodigal Sons' track in the first installment of this series, and happily add another one here. We've plumped for a joyous vocal by Johnnie Holmes, which declaims on all the things he doesn't have – and doesn't need – with the rest of the group adding sumptuous harmonies. The Prodigals' "Sunshine in a Storm" LP is one of the greatest Soul albums ever made, even if it is at heart a Gospel recording.
It's so good that almost any track would have fit here, and choosing just one made life, temporarily at least, very difficult. It took a quick spin of this song to have us taking it easy once more…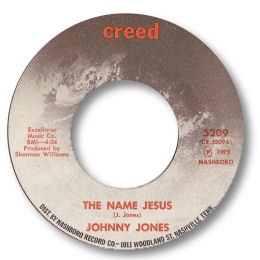 The Name Jesus
Johnny Jones (Creed 5209) 1972
Another returnee from Part 1 is Johnny Jones, long-time lead vocalist of the Swanee Quintet. Jones also fronted his own group, the Little Johnny Jones Singers, as well as (briefly) singing with the Soul Stirrers and even cutting one Soul disc for the Fury label. But this 1972 non-LP solo 45 is Jones' finest moment on vinyl by far. It's built around a Hammond organ and sparingly played guitar that are pure deep Southern Soul (it sounds like it could be Spooner Oldham and Bobby Womack in support), with powerful backing vocals, possibly from the Swanees themselves. The music seems to provoke Jones to ever more impressive vocal acrobatics as the song progresses, leaving the listener thoroughly wrung out by the fade. Four minutes of Soul-Gospel heaven.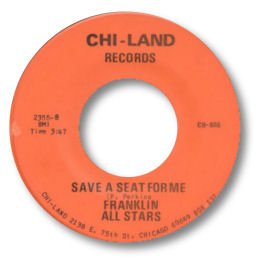 Save A Seat For Me
The Franklin Allstars (Chi-Land 808) date unknown

This may be a group headed up by Rev. Ernest Franklin, but that's a guess. For every gospel singer or group who managed to make a name and sell significant numbers of records, there were hundreds, perhaps thousands who made a handful of recordings on small, short-lived labels and sank into obscurity. The lead on this recording displays a soaring but plaintive, high tenor voice, reminiscent of soul singer Ted Taylor.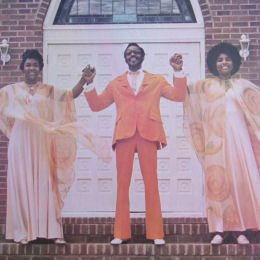 Can You Use Me (Just As I Am)
Bill Moss & the Celestials (Jewel LPS 0112) 1975
The late Bill Moss was one of Gospel's most prolific recording artists, waxing many albums and singles across a half-century long career, most in tandem with his wife Essie. This track comes from his 1975 album "I Don't Want to Do Wrong," and is as close to a secular love song as Gospel gets. All you have to do is substitute the word "baby" for "Jesus," and you'll have it. Moss may not have been Gospel's most powerful singer (Essie supplied most of the juice in the Celestials), but he conveyed world-weariness better than just about anyone, and that perfectly suits the simplicity of this song's sentiment. When he tells us he's "tired, weak and worn," you feel it to your bones, and that's the mark of both a great singer and great Soul music.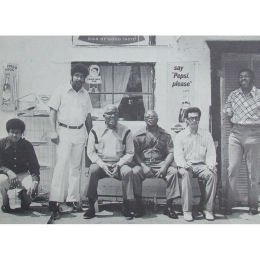 I'm Going On With Jesus
The Blind Boys of Mississippi (Jewel 273) 1980
The Blind Boys of Mississippi have a tradition stretching back over sixty years. This later incarnation of the group featured Sandy Foster on extremely hard lead vocals. Foster's opening monologue decries a music manager who was trying to convince him to "sing rock and roll." You can't blame the poor man: Foster is an amazing vocalist. He brings all of his considerable powers to bear on the ensuing mission statement, which stands as both a rejection of pop music and an affirmation of his fealty to the Gospel path. In response, the Blind Boys sound better than they had done in many years.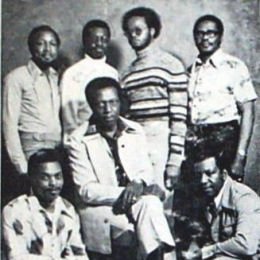 Why
Holy Disciples (One-Way) 1977

The lead singer on this deeply soulful track goes unaccredited. It was not uncommon for gospel groups to leave their names off records entirely, as to do so would be prideful. (There's not a lot of that kind of humbleness in today's music industry!) One-Way, a consistently quality gospel label out of Chicago, was owned by Offe Reese, famous in both the gospel and soul worlds as one of the Kelly Brothers.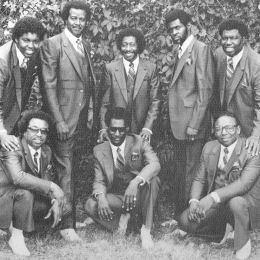 Woo Wee
The Southern Four (Champ LP 1988) date unknown

We've focused mainly on ballads here, to highlight the deep qualities of soulful gospel. But in this mid-paced track we find grit, funk, and, "woo wee", even humor! Champ Records was a 1970s label out of Nashville, headed up by Jim Stanton. His studio was very active, recording both white and black groups, gospel and secular. Much of his business was in "custom" work, with the groups paying for studio time in exchange for a certain number of records to sell at programs. Note the prominence of the rhythm section which drives the proceedings, something you would not have heard in 1953 when the group was formed, a time when this would have been the mark of the "devil's music". The lead singer here is probably George Metcalf.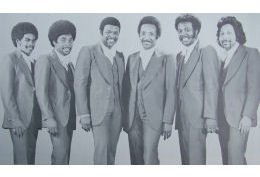 It's So Beautiful
Pilgrim Jubilees (Nashboro 7181) 1977
More funk, this time from the Pilgrims Jubilees. Another long-standing Gospel group., the Jubes were originally assembled in Mississippi in the 1940s by Elgie and Theopholis Graham. They rose to prominence when the group was re-formed in Chicago in 1952 by younger brothers Clay and Cleve and they recorded extensively from that point, notably for Peacock and Nashboro. Here Clay Graham fronts them, and his warm, rough vocals positively dance across a loping guitar and very funky bass backdrop, with the Jubilees themselves extremely tight behind him. This record swings with the easy funk that underpinned so much Southern Soul – and which was fast disappearing from commercial Soul music in the late 1970s.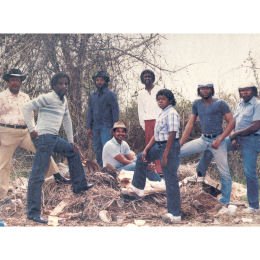 Somehow
The Canton Spirituals (J&B LP0028) 1980

The Canton Spirituals recorded extensively through the 1970s and early 80s for James Bennett's J&B label, a terrific little independent gospel imprint out of Jackson, Mississippi. This recording was made at Malaco Studios, the source of a lot of great soul music. Listen to the call and response between the lead, Harvey Watkins, Sr., and the group members. The group functions much like a horn section in soul recordings, punctuating, underscoring, and urging the lead.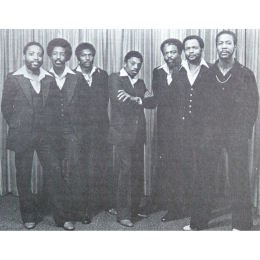 Just As I Am
Soul Converters (JAS 535) c.1979
Yet another group carrying over from our first installment, the Soul Converters were one of the most Soulful of all the 1970s Gospel quartets. Thematically, "Just as I am" is the hard-edged flip side to the Bill Moss cut, with the sort of tough lead vocals any deep Soul act would kill for, punctuated by sharp backing vocals - including a gorgeous ghost vocal at points - all laid down over a spare Soul ballad-style backing track. What more do you need? (A Soul Converters CD came out on the New Joy label from Paterson, New Jersey in 1997. The absence of label details means we don't know if it's the same group, and aural evidence shows little connection to the Soul-Gospel powerhouses here.)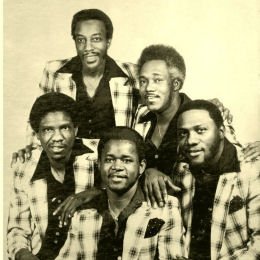 I'll Fly Away
The Calvary Singers (Richburg 0152) 1980

Words can hardly describe the emotional intensity of the dual lead work by M. Thomas and Andrew Brown. Sam and Dave would have struggled to follow this act! The Calvary Singers recorded an album for King in the late 60s, and then inexplicably not another for twenty years.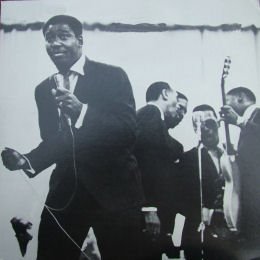 Striving
Soul Stirrers (Checker CK-1241) 1970

In many ways, the Soul Stirrers never fully recovered from the departure of Sam Cooke from their fold, and they spent many years trying to find a direct replacement for him. And yet, many great vocalists passed through their ranks, including Jimmy Outler, Dillard Crume, Johnnie Jones, Willie Rogers, and Eddie Huffman. In this mid-1970s version of the Stirrers, it's Martin Jacox handling lead. Here a mid-tempo funk rhythm underpins some of the hardest singing you would have heard anywhere at the time.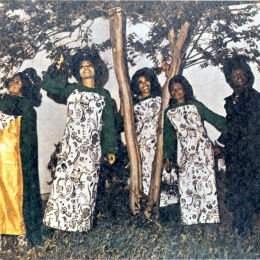 It's Over Now
The Loving Sisters (Peacock PLP 176) 1973

The Loving Sisters were one of the best female gospel groups recording in the 70s. Their albums for Don Robey's Houston based Peacock label are about as soulful as they came. Gladys McFadden is an inspired lead singer.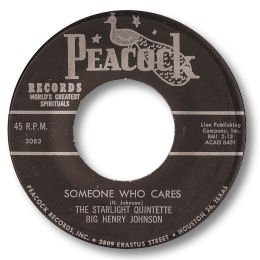 Someone Who Cares
Starlight Quintette (Peacock 3083) c.1965

Big Henry Johnson was one of the great voices of the closing days of the Golden Era of Gospel music, and he served stints with the Blind Boys of Mississippi and the Mighty Clouds of Joy. Here he fronts his own group, the Starlight Quintette. The eccentric spellings of "Quintet" and "Starlight" on the labels of his various 45s added to the charm of this soulful group. Johnson was a fluid singer with a rich set of pipes, and he could have successfully "crossed over" into the pop world, as evidenced by this song, which could easily be a blues or soul number.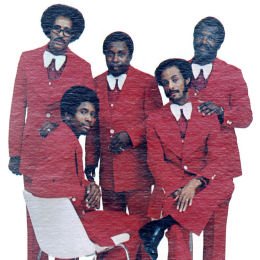 Nobody's Fault
The Highway QC's (Savoy 14437) 1977

The Highway QC's were formed in Chicago in 1945 by a group of teenagers including Sam Cooke, and they remain active to this day. Spencer Taylor joined the group in 1956. His gorgeous, assured, and surprisingly "modern" lead vocal displays similarities to Johnnie Taylor (no relation), who also sang with the group. One can only imagine what Spencer Taylor might have done if he'd "crossed over" and, for instance, joined Syl Johnson and Al Green at Hi Records during this time!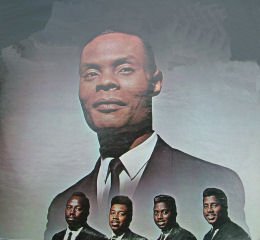 It's Time
Swindell Brothers with JJ Wilkerson (VEEP VPS 16530) 1968
The Swindell Brothers were a popular gospel group that really caught fire when (Bishop) Johnny "JJ" Wilkerson joined their ranks. Wilkerson tells this cautionary tale with an incredibly soulful vocal. The Swindells add piercing harmonies for emphasis, while the band builds to a crescendo underneath them. This was recorded at the same time that Soul music was reaching its creative and commercial peak and is as good as anything produced by contemporary Soul groups.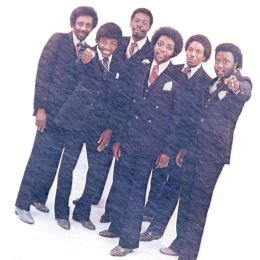 All Alone
Willis Pittman and the Burden Lifters (GRP Records LP-0777) c. early 1980s

The lead on this lovely, country soul ballad is long-time group leader Willis Pittman. His singing here has the same kind of spare, emotional gravitas as the best of James Carr's classics. The album was recorded at Muscle Shoals Sound Studio, Sheffield, Alabama, legendary amongst southern soulsters, and was produced by Roger Hawkins and Charles O. Johnson.
Thanks to Howard "H.C."Robinson and Mike Finbow.