MID-TEMPO DEEP SOUL
by Pete Nickols
In my earlier article Deep Soul Towards A Definition, I ventured to suggest that for a soul performance to be 'deep', the pace of the performance usually has to be slow and that examples of even mid-paced but still genuinely deep soul records are quite rare. Of course every 'rule' has to have its exceptions which 'prove it' and, before others choose to point some out, I thought I would offer some myself.
I still maintain that the purest form of deep-soul will almost always be performed at a slow pace. However, there are quite a few soul recordings which have a genuinely 'deep' feel to them by virtue of the nature of the vocal performance and/or the message within the lyrics and yet are performed to a rhythm somewhat faster-paced. I have selected a few examples here, which I believe also evidence some of the different aspects of deep-soul.
Fasten your safety belts, then, and enjoy some deep, raw, impassioned (yet rhythmic) soul.
Lee Moses –

How Much Longer (Must I Wait) (Musicor 1263).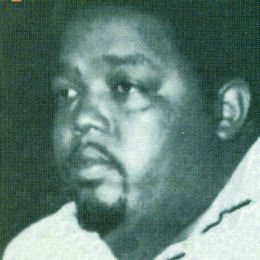 The first recording would feature in my Top 5 all-time deep performances quite regardless of its tempo – and, indeed, it featured on the late deep-soul guru Dave Godin's first-ever "Deep Soul Treasures" CD, compiled for UK Kent in 1997 (CDKEND 143). Deep soul can be storyline, country-based, gospel-based, quiet-fire or an intense inferno (or, indeed, combinations of any of these sub-categories). This first example, though, is without any doubt firmly in the 'intense inferno' league. With due deference to Dave, I can do no better than quote his own description of this recording: "Heavy, hard and driven by despair and anger, (this) masterpiece displays a tremendous force and passion which is just barely held in check as the lyrics and feelings they express struggle every which way to get out….the rhythm (note Dave's use of the word rhythm – this is no funereal-paced piece) is full of threat and anger as it rails against a calamitous relationship-breakdown."
Lee Moses was born in 1941 in Atlanta and formed his first band, The Showstoppers in the 50s, apparently befriending local girl Gladys Knight, who wanted him to become her guitarist. However, wishing to strike out on his own as a vocalist as well as a musician, Lee and his group went on to work with many local performers (now legendary deep-soul names) like King (the Mighty) Hannibal, his wife Dee Dee (Delia) Gartrell and the late Barbara Hall. On tour, Moses encountered Johnny Brantlley, a New York-based writer-producer who ran Vidalia Productions, and, in the 60s, Lee began making regular trips up from Atlanta to the Big Apple to cut stuff for Brantley and to assist a certain Jimi Hendrix in backing up Brantley's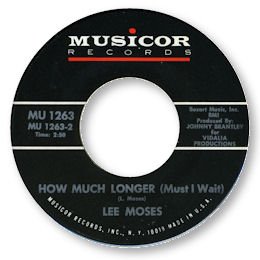 other acts on guitar (which soon included that other soul singer/guitarist Hermon Hitson, who had already cut two singles for Royal, a label owned by Arthur Conley's manager, Wallace Spann). Lee himself introduced Hitson to Brantley and he would soon co-pen Hitson's first Brantley sides "I Got That Will" and "Too Much For The Human Heart", which were leased out to Atco. Moses' own first solo release was his raw, impassioned cover (on Lee John 618) of Joe Simon's Hush/Vee-Jay country-soul vehicle "My Adorable One", both artists' recordings being deep winners but as different in vocal approach as chalk and cheese. Lee's next outing, and his first for Musicor, was a two-sided instrumental, but his fabulously powerful vocals couldn't be kept quiet for long, as evidenced by his next release, the two-part 'screamer' "Bad Girl" (Musicor 1242), which was covered at the time and later released by Hitson on Minit, Hermon himself having played guitar on Moses' version. Then came our featured deep Moses classic, which was actually the 'B' side of the almost-as-good "I'm Sad About It" (Musicor 1263). Switching to sister-label, Dynamo, Lee next produced another deep winner with "If Loving You Is A Crime (I'll Always Be Guilty)" (Dynamo 115). Following a good double-sider on Front Page 2301, Lee then cut a now rare 9-track LP for Brantley ("Time And Place") which appeared on Maple 6001, distributed by All Platinum, with "Every Boy And Girl" being the deep gem from this set. Much of this information is thanks to Simon White's excellent sleeve-notes to the 2007 CD reissue of this album (plus most of Lee's other early material) on Castle CMQCD 1350. Details of Lee's connection with Hermon Hitson also feature in Kevin Goins' notes to the 2005 Soul-Tay-Shus Hitson retrospective CD "You Are Too Much For The Human Heart" (SCS CD 6352). After his one and only LP, Lee returned permanently to Atlanta in the early 70's, cutting a version of Penn and Oldham's "Dark End Of The Street" on Gates 1502. After holding down many regular local club gigs, Lee's health eventually deteriorated and, sadly, he died in 1997. However, his vocal genius lives on in tracks like the one featured here.
Tony Borders –

Cornbread Woman (Quinvy / South Camp unissued at the time)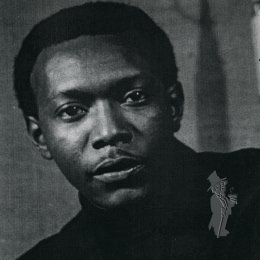 Our next selection moves us away from the almost savage vocal intensity of Lee Moses to the expressive country-influenced southern soul purveyed by one of the finest singers to record at Quin Ivy's little Quinvy studio in Sheffield, Alabama. Tony Borders had recorded between 1961 and 1966 before he reached Quinvy (in Beaumont Texas and in Nashville, some of the results appearing on various small labels owned by producer Bill Hall, a collection of which appeared in 1982 on the Brylen album "Bordering On Love"). However, it was at Quinvy between 1967 and 1970, thanks partly to that studio's fine bunch of white southern musicians, that Border's true soul talents came to fruition. He is rightly revered in deep circles today for performances like "You Better Believe It" (South Camp 7009) and "Cheaters Never Win" (leased out to MCA for release on Revue 11025). However, one of six unissued-at-the-time tracks he laid down for Quin Ivy is the lesser-known gem we feature here, the piece finally seeing vinyl release only on a 1989 UK Charly LP ("You Better Believe It" CRB 1223).
It takes talent to successfully deliver a fine piece of deep, storyline country-soul in the space of a mere 2 minutes 14 seconds and Borders has it for sure. Although slower-paced for its scene-setting intro, the main body of the song is taken quite briskly, yet the nature of the lyric and Borders' emotive interpretation of it make this deep-soul in my book. In the tale, a Big City woman has just left country-boy Borders without a cent to his name (as his mother warned him she would) and he realises that what he needs is a small-town southern soulmate as "it takes a Cornbread Woman to satisfy a Cornbread Man". Simple stuff perhaps, but it's the down-home material from which the best southern soul is often made. All 18 of Border's recordings for Quin Ivy can be found on the excellent 2007 CD "Cheaters Never Win" (Soulscape SSCD 7002).
Betty Harris –

Trouble With My Lover – Sansu 480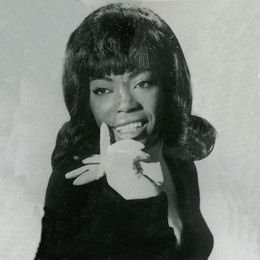 Time to turn to the distaff soul side now and Betty Harris ranks among the top handful of women singers who were expert at bringing a genuinely deep feel to a song. I love her Jubilee sides but perhaps her finest moments were saved for her later Sansu and SSS-International outings. For me "What'd I Do Wrong" (Sansu 455 and 478) is the solo-recorded pinnacle of her relatively short-lived career, although I think her remarkable duet with the late Lee Dorsey ("Take Care Of Our Love" on Sansu 474) is even better. However, for a mid-tempo deep winner you couldn't really beat the side on offer here.
Allen Toussaint had paired down his arrangements for Betty by this time and it was all to the good. A superb low-tuned guitar, some nice brass interjections (especially by the baritone sax) and a sparsely-used but telling femme back-up group all come together with the beautifully expressive lead-vocal by Betty to create a genuinely deep feel for this fine mid-pacer. What good is love, says Betty, if you can't have it when you want it? What good is love if you don't own it? Her lover satisfies her when he does come around but he's clearly 'playing away from home' – and she knows it.

Betty's best recordings for all her labels (and a full discography within the sleeve-notes) are included on the very fine "Soul Perfection Plus" Westside WESA 807 CD from 1998.
Solomon Burke –

Cry To Me (Atlantic 2131)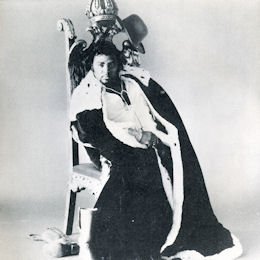 Of course it was the wonderfully talented Bert Berns who produced Betty Harris' fine version of the Berns-penned "Cry To Me" (Jubilee 5456 and 5658), a song much covered by soul artists over the years. However, Berns had also co-produced the original hit version of the song, which we feature next. Early 1962, when it became a hit, was a time when the term 'soul music' had not even been invented, yet Solomon Burke had already during the previous autumn introduced what would become known as country-soul to the charts with his version of "Just Out Of Reach" (Atlantic 2114). This pre-dated Ray Charles' chart appearance with "I Can't Stop Loving You" (ABC-Para 10330) although one could perhaps argue with hindsight that 1960's "Georgia On My Mind" by Ray (ABC-Para 10135) was the earliest country-soul styled hit. But it was as early as 6th December 1961 that Burke cut his fine version of Berns' "Cry To Me".
For Betty Harris' version of his song Berns would slow down the tempo and increase the gospel-feel a touch, making it, if anything, probably deeper than Burke's original. However the tango-paced rhythm and overly-white back-up group used on Atlantic's arrangement for Burke probably accentuates this difference, although one simply cannot overlook the superbly expressive and potent lead vocal provided by one of soul's great male singers. Also, whilst one wouldn't ever accuse Atlantic (in this era)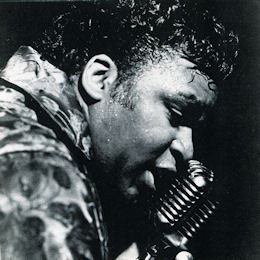 of being a crossover-at-all-costs label, nonetheless they had their eye on selling records and, having seen Burke's "Just Out Of Reach" actually make No.24 on the Pop Hot 100, they were hoping to emulate this with "Cry To Me" (which actually only made No.44 on that chart). The lyrics of course are pure deep pathos – when your baby leaves you all alone and nobody calls you on the phone etc. However, it's a girl who is having all the grief and Burke seizes his chance by playing the White Knight and encouraging her to 'cry to him'. Deep soul anoraks sometimes get so caught up in listening to and discussing rare obscurities that they can be in danger of overlooking the superb body of work laid down by the better-known and more commercially successful soul artists. Burke (along with the likes of Franklin, Redding and Pickett) is a case in point. He sings deep gospel- and/or country-infused soul as well as anyone and he does just that here on this great New York recording. The track has been reissued many times but my first CD encounter with it stems from Rhino's 1992 double-CD Burke retrospective "Home In Your Heart" (R2 0284).

Jean Wells –

I Feel Good (Calla 137)
Next, we return to another truly great female soul voice. It genuinely wasn't the modest remuneration which attracted me to compiling the first-ever CD of Jean Wells' material for UK Ace in 1994 ("Soul On Soul" – Kent CDKEND 113). For years I had cherished my Calla 1103 and UK Sonet SNTF 606 copies of Wells' "Here Comes…" LP and to combine this wonderful material with some of her other work for CD release was an opportunity I couldn't refuse, particularly as the tapes were being provided direct by her producer from that era, the very talented Clyde Otis, whom West Palm Beach Florida-native Wells had first met during her regular forays north to Philadelphia. Wells' deepest gems like "If You Ever Loved Someone" (Eastern 610), "Have A Little Mercy" (Calla 143) and her original of "Sit Down And Cry" (Calla 147), so well covered by Ella Washington, are all recordings near the top of the deep-soul pile. However, Wells' so expressive vocal style also lends great deep qualities to the faster-paced self-penned item we feature here.
For a change we have a lyric which is actually celebrating a successful relationship rather than pining for one either going sour or already lost. The bold brass interjections and the pace here create an almost jaunty, almost funky feel at times, yet the drum and bass backdrop has a certain brooding quality about it and that, combined with Jean's wholly involved interpretation of the lyrics, makes this a much deeper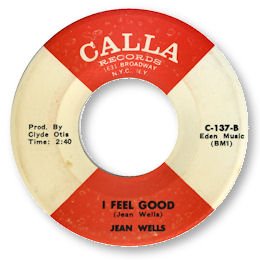 performance than the rhythm or subject-matter would normally suggest.
Vernon Garrett –

I'm Guilty (Modern/Kent unissued at the time)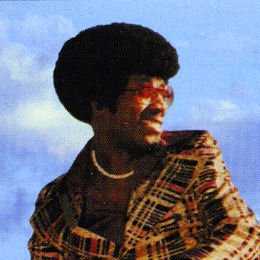 Vernon Garrett was born and raised in Omaha Nebraska but has been a West Coast blues and soul man since 1957. Not all bluesmen can sing soul successfully, yet those who could, like Johnny Copeland, Little Milton and Bobby Bland, were often able to add that special bluesy touch to a soul song and make it sound genuinely deep. However, whilst Garrett's toughish vocals lent themselves well to up-tempo stompers lilke "If I Could Turn Back The Hands Of Time" (first issued on a P-Vine CD 4766) and driving mid-pacers like the superb "Running Out" (Kent 476), he is not generally thought of as a deep singer. But wait a minute – just spin the mighty "Shine On" (Kent 459) and, instead of being out on the West Coast, you could be at a One-derful or M-Pac early 60s session in Chicago and Garrett could almost be a last-minute stand-in for an absent Harold Burrage or Johnny Sayles. The powerhouse almost threatening and insistent musical backing behind Garrett's never-let-up but genuinely expressive vocals creates a fabulous rough-tough-but-deep end-product. Our chosen track though features an even more moody vocal from Garrett in front of a similar mid-paced backdrop to that on "Shine On".
Here, it's Garrett's heartfelt vocal and the nature of the lyrics which qualify this mid-paced opus for inclusion. He readily admits "I'm a fool to cause us to part and I'm guilty of breaking your heart." Later in the song he pleads "Please come back to me, I can't stand this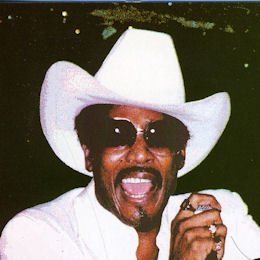 misery. I'm lonely every night, I swear I'll treat you right". In some hands this could come across simply as a guy coming up with easy platitudes merely to get a few more weeks of company in bed – but not the way Vernon tells it. Here we really are left with the impression that he is totally remorseful and missing (and wishing to reignite) a real and meaningful relationship. That important difference adds to the deep quality of the recording. This fine performance remained 'in the can' until UK Kent's 2003 CD Garrett compilation "I Made My Own World" (CDKEND 224).

Lorraine Ellison –

Try (Just A Little Bit Harder) – Loma 2094
We return to the realm of gospel-soul for our next deep mid-pacer. The tale of how Lorraine Ellison recorded her name-making monumental slab of deep soul "Stay With Me" (Warner Bros. 5850) at a New York Warner session with a full orchestra intended not for her but for the Reprise star Frank Sinatra has been told many times but Lorraine was far from being a one-song soul singer. She was a singer who had in abundance what British soul ambassador to the USA, David Nathan rightly calls "intensity and passion". Many of her arrangements were large and lush (no tight southern combos for this Philly born lady who had started out managed by Sam Bell of The Enchanters and who had first been signed to Mercury before being introduced to Jerry Ragovoy, who, in turn, took her to Loma/Warner). Such a 'big' sound didn't always lend itself to a deep-soul hallmark and yet, rather like the equally legendary Linda Jones, she never let that stop her from allowing her gospel-derived magnificent set of pipes lift off into the stratosphere when the feeling got to her (which, fortunately for us, was most of the time). "Heart Be Still" (Loma 2074) and "Only Your Love" (Warner Bros 7302) are virtually gospel recordings with secular lyrics but Lorraine's incredible delivery turns them firmly into deep gems. Perhaps, though, her greatest deep recording alongside "Stay With Me" would be the quieter-fire Ragovoy-penned "You Don't Know Nothing About Love" (Warner Bros 7394), a genuinely beautiful song on which Lorraine's performance gets the gold accolade
from the melisma club as her voice builds from its quiet opening meanderings. Lorraine pulls much the same trick on her attack-dominated (and, dare I say it, superior) version of Ragovoy's song for Irma Thomas, "Time Is On My Side" (unreleased until the 1995 "Stay With Me" Ichiban Soul Classics CD on SCL 2106-2). Our selected track by Lorraine is in a somewhat different but no less appealing mould.
That usually absent instrumental group (albeit not southern but sounding it) is very much in evidence here, along with what sounds like the wonderful Sweet Inspirations. No full orchestra or grandiose arrangements are in sight. The piano's intro riff is pure Allen Toussaint and this is slow-to-mid-paced lazy funk overlaid by Lorraine's oh-so-soulful delivery. The lyric of course simply has Lorraine promising to try that little bit harder to make the object of her desire love her all the more, so he won't want to leave her for someone else. This is undoubtedly a Class A recording, which first appeared in CD format on the 1991 German based Line CD "Stay With Me" (LECD 9.01011.0).

J J Barnes –

Help Me (Groovesville unissued at the time)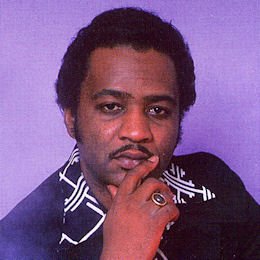 Detroit soulman and one-time Chrysler Motors worker J.J. Barnes is most revered in 'Northern Soul' circles, especially for cuts like "Our Love (Is In the Pocket)" (Revilot 222) and "Sweet Sherry" (unissued in the USA except on the bootleg 45 Groovesville 555, though later issued in the UK in 1975 on Contempo 2048). Having teamed up early with producer Don Davis, for whom he cut many sides for various small local labels, he next spent nearly a year at Motown but had the dubious distinction of never seeing any of his many recordings there released. Perhaps he was just too tough and gritty a vocalist for the 'Crossover Kings'. He returned to the Don Davis fold where most of his issued material appeared either on Groovesville or Revilot. He had singles for Buddah and Volt in 1969 and then for a string of lesser-known labels on into the 70s and early 80s.
Barnes, though not known for deep performances, had a wonderful vocal range and could sing mellow or tough and could shout and scream on key with the best of them. His passion and involvement in this wonderful mid-pacer is there for all to hear. Barnes really pleads for help with such emotion that we can almost believe the love-troubles he's describing. The story of having lost his loved one, being lonely and wanting her back is merely the stuff of a million other soul (and pop) songs but here it musters a special ring of truth thanks to Barnes' soulful fervour,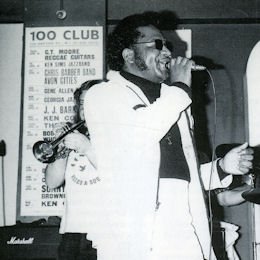 especially his barely controlled vocal histrionics near the end. Great singer. Great performance. The track eventually appeared on vinyl on a UK Contempo LP (CLP 520). It features on the 1994 Goldmine 2-CD set "The Groovesville Masters" (GSCD 108).

Marie Knight –

Cry Me A River (Musicor 1076)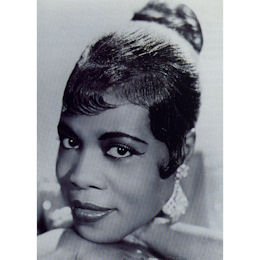 A return to a gospel-soul performer now, indeed a lady best known simply as a gospel singer ("a full-throttle contralto" as described by gospel writer Bil Carpenter) but one who 'turned pop' as early as 1956 and made some interesting soul recordings too. This was not altogether surprising as the lady in question, Marie Knight (together with better-known partner Sister Rosetta Tharpe whom she first joined in 1946) was involved in the late-40s in recording some of the first gospel crossover songs like "Up Above My Head", "Precious Memories" and "Gospel Train". Born in 1918 in Sanford Florida (and raised in Newark, New Jersey), Marie was close to 50 years of age in soul's 60s heyday but you wouldn't have known it from the quality of her amazingly well-preserved voice. By the mid 70s she had decided to return to gospel recording, starting with the excellent "Today" set, made available on CD in 1996 by Blues Alliance (TBA 13006). Sadly, as I complete these notes, it has been reported that Marie died on 30 August 2009. However, back at the start of the 60s, Marie was recording in New York where she cut for Carlton, Addit and Okeh. In 1963/4 she had three singles on Diamond and by 1965 her producer Stan Kahan (a.k.a. as songwriter Bob Elgin) had placed her with Musicor. In February of that year she cut her first recording for the label, a marvellous restructuring of an old Julie London-recorded torch-song from 1955.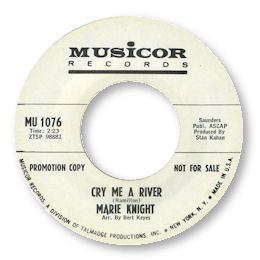 Female power-vocals don't come much stronger than this one from Marie. It's more a case of direct singing which comes across as deep and soulful without there being much note-bending going on. In many ways Marie almost espouses her gospel roots in favour of the original 'torchy' concept but the sheer power of her delivery is almost scary and, when it is complemented, as it is here, by some very churchy back-up singers, the combination is irresistible. The slow jogging pace is thanks to a potent musical backdrop which adds to the menace in Knight's delivery – don't forget the theme of this song is quite mean and revengeful because the singer is revelling in the fact that a guy who left her and for whom she cried a river, now wants her back; but she isn't about to say 'yes', so the guy can go cry a river himself for all she cares! That 'revenge' aspect absolutely 'lives' in Knight's delivery and if I was that guy I sure as hell wouldn't want to mess with her any more! This recording featured on the 2001 "Bluesoul Belles Vol.4" CD (Westside WESA 897), which coupled tracks by Marie with some by the also gospel-honed and quite wonderful Judy Clay.
Clarence Carter –

Slip Away (Alantic 2508)
A child of the deep south, blind Clarence Carter was born in 1936 in Montgomery Alabama, learned guitar by listening to records by bluesmen John Lee Hooker and Lightnin' Hopkins, and got himself a music degree at Alabama State. He became an accomplished musician who could also play keyboards, arrange and write music in braille. By the early 60s Clarence had teamed up with Calvin Scott and the vocal duo cut for Fairlane and Duke before, in 1965, paying Fame's Rick Hall $85 to let them record "Step By Step" and "Rooster Knees And Rice". Atlantic's Jerry Wexler was tipped off about the recordings and the two sides duly appeared on Atco 6362. A car crash involving Scott ended the duo's days and Carter set off on a solo career at Fame, which was successful enough for him to be signed to Atlantic by 1968. Carter was and remained a raunchy singer who often favoured cheatin' songs and songs with sexual innuendo. His trademark 'dirty laugh' was included in many such songs and added extra 'spice'. The side we feature is in the cheatin' vogue and was a big hit for Carter in mid-'68, reaching No.2 in the R&B chart and an amazingly high No.6 spot on the Pop chart.
The Fame musicians get a really lovely rolling riff going behind Carter's unrepentant encouragement to his married ladyfriend to 'Slip Away'. There are many fine cheatin' soul songs which are slow-paced and deep but this one is as good as any of them, despite the faster
pace. Carter needs his lady and wants to see her right now. He tells her how sweet it is when you 'steal' it. He says he knows it's wrong – the things he asks her to do but he doesn't mean to hurt her. Again he asks if she can't just slip away without her husband knowing she's going so that the pair can meet somewhere where they won't be recognised. To me the quality in Carter's voice is perfect for what is clearly a purely sexual motivation on his part. Unlike the Vernon Garrett song above, there is no desire here for a long-term relationship. Carter needs sex and wants his married floosy to cheat on her husband just so he can get it. This much is quite clear in both his tone and his attitude. Few singers could have put this across so well as Carter – it was his forte and he majors on it superbly here. If Candi Staton, whom he married in 1970, is to be believed in her autobiography "This Is My Story" (Pneuma Life Publishing 1994 ISBN 1-56229-422-9), he began cheating on her almost a soon as their first child was born and continued as their marriage disintegrated, with violence on Carter's part also alleged. This is not something for us to dwell on here but perhaps, even though "Slip Away" pre-dates all of this, it does indicate that when Carter sings a cheatin' song so well, maybe it is at least partly because he really can personally relate to its theme. "Slip Away" has appeared on many CDs but I first came across it in that format on the 1992 Rhino Carter retrospective "Snatching It Back" (R2 70286).
As well as trying to show how some soul songs of a mid-tempo can still come across as 'deep' I have also attempted to include examples within some of the different sub-genres of deep-soul. Whilst I wouldn't place all of these tracks in my all-time deep soul Top 20, some would feature there while others seem to me to at least justify inclusion in the deep-soul category. Whether you agree or not, I hope you've enjoyed the tour.
September 2009