Various Artists "Thank You Sam!" Li-Jan LJCD 05
By Pete Nickols
George Freeman ~ My Darling, My Darling ~ Epic 10583 and I'm Like A Fish ~ Shout 201; Geronimo & The Apaches ~ Too Late For Tears ~ Galiko 891; Hoagy Lands ~ My Tears Are Dry ~ MGM 13041 and Pledging My Love ~ Paramount 0232; Jimmy Lomax ~ He'll Have To Go ~ Camille 116 and Remember Me ~ Cab 3004 & Camille 128; James Phelps ~ Wasting Time ~ Argo 5509 and You Were Made For Love ~ Apache 2007; Bobby Montgomery ~ Time Brings About A Change ~ Vault 962; Bobby Harris ~ Password Is Love ~ Turntable 715; John Thomas ~ Lonely Man ~ Veep 1272; Johnnie Taylor ~ I Need Lots Of Love ~ Derby 1010; Lenny Curtis ~ Who You Gonna Run To ~ End 1127; Paul Vann ~ I'm Surprised ~ Chance 1; Sammy Jones ~ Nothing Can Change This Love ~ Hull 1203; Vann Perry ~ I Know I'll Be Alright ~ Stonel 1005; Willie Rodgers ~ That's When I'll Stop Loving You ~ Ronn 62; June Yamagishi featuring Bobby Womack ~ I'll Come Running Back To You ~ Meldac LP MEL-41; Womack Brothers ~ Yield Not To Temptation ~ Sar 118; Johnny Copeland ~ Dedicated To The Greatest (Tribute To Sam Cooke) ~ Wand 1114.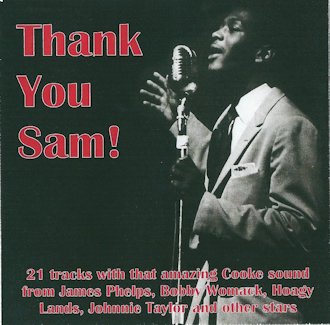 For a singer who had left us by the end of 1964, a time when 'soul' music was still in its earliest years, Sam Cooke certainly had a terrific influence on other soul vocalists and this CD, emanating from Thailand, seeks to honour that. Of course, it was Sam's ethereal voice, with its unmistakable trade-mark curlicues, which was so influential, in particular his use of it during his gospel days.
Three tracks here feature performers who were directly influenced by Cooke as he produced their recordings for his own Sar/Derby labels. Writer Peter Guralnick says Sar "could be seen as The School Of Cooke, so closely did its artists adhere to Sam's direct stylistic approach and so frequently did they record his songs."
First, there's Johnnie Taylor, who replaced Sam himself in the Soul Stirrers, a group who would cut for Sar; but here we get a later Cooke-produced 1964 Derby secular side, "I Need Lots Of Love", a much bluesier item than Sam himself would have recorded and a forerunner of Johnnie's later typical Stax material.
Then, from 1961, we get the Womack Brothers' "Yield Not To Temptation", another Cooke-produced side cut in Chicago. Curtis Womack's tenor-lead is very after Sam's own style. It's a superb emotive performance and the only religious song on the CD.
Of course a 17-year old Bobby Womack was a member of that group and the CD also features a 1988 'take' by a 44-year old Bobby on Sam's "I'll Come Running Back To You", cut for the now New Orleans-based Japanese guitarist June Yamagishi's "My Pleasure" LP. Certainly the Cooke inflections are still much in evidence.
Another guy is awarded two tracks under two different names, neither of which are his given one! Lenny Curtis' 1965 New York side "Who You Gonna Run To" is rightly described on his artist page as "straight out of the Sam Cooke school of phrasing", while his Galiko 45 as Geronimo from the following year is a deep-soul winner for sure. Lenny was actually Jimmy Harris, whose better-known brother Bobby Harris cut a Sam Cooke tribute called "We Can't Believe You're Gone" but has a different track featured here, namely the very Cooke-like mid-pacer "Password Is Love".
George Freeman was another fine soul singer influenced by Sam, whose two excellent West Coast sides here were arranged by Rene Hall who had been one of Sam's own prime arrangers at Sar.
Other artists boasting two tracks each are Hoagy Lands, Jimmy Lomax and James Phelps. Lands has the Latin-edged 1961 item "My Tears Run Dry" which his artist page confirms has a Cooke influence "so pronounced that it could almost be a parody - except for the sincerity of the rendition". Then we get Hoagy's last 45 from 1973, a Cooke-like re-cut of the old Johnny Ace hit "Pledging My Love". Lomax has two fine intense deepies with Cooke inflections, both featured on his artist page, while Phelps, with a gospel pedigree to rival Sam himself, offers up the beautifully deep and very Sam-like "Wasting Time" and also the less 'soundalike' ballad "You Were Made For Love".
Of the rest, Bobby Montgomery's Vault cut is a superb dramatic piece of soul but doesn't remind me of Sam at all. John Thomas' "Lonely Man" is a lovely slow-burner with shades of Otis as well as Sam, while southerner Paul Vann's Cooke-influenced offering is the pacy "I Know I'll Be Alright". Sammy Jones' superbly deep offering of Cooke's own "Nothing Can Change This Love" rivals any other version and that includes not only Sam's but Otis Redding's and Z.Z. Hill's too! Vann Perry's track is a fine slow-to-mid paced New York recording but not very Cooke-like to my ears. Willie Rodgers' style was very after Sam's as his Ronn side here indicates; which leaves just about the best-ever 'Cooke Tribute' 45 of the many that emerged after Sam's untimely death, namely the magnificent Johnny Copeland's "Dedicated To the Greatest".
I doubt if this is a licensed release and its eastern origins are underlined by the rather strange English used in what passes for a mini-sleeve-note. However, whilst not every track reminds me of Cooke, most do and even the others are good soulful outings so – yes, it's a good value 21-tracker.
March 2012