Quin Ivy And His Norala and Quinvy Studios, Part 10 – The Swamp Dogg Quinvy Productions (Part 2 – Z.Z. Hill, Swamp Dogg himself and Bette Williams)
by Pete Nickols
So we next move to Swamp Dogg's recordings at Quinvy in 1971 with Z.Z. Hill. Here's how Swamp and Z.Z. got together – and, clearly, it wasn't an easy passage!
Basically Quin Ivy's still extant contract with Hill was becoming an embarrassment as Z.Z. had blamed both Phil Walden and Ivy for failing to get his records selling 'big' for Atlantic and had long departed Alabama, taking refuge recording-wise back on the West Coast with his brother Matt, who had finally managed to achieve a big hit for him with "Don't Let Me Pay For His Mistakes" (coupled with "Think People") on Hill 222, which had spent 8 weeks on the R&B chart from 13 February 1971, peaking at No. 17, whilst also hitting No.62 on the pop Hot 100.

In fact, of course, Quin Ivy had rights to this recording as Hill was still officially contracted to the Quinvy Corporation but Quin, knowing he could never get Z.Z. to record again with himself producing, duly approached Swamp Dogg (who, of course, had already by then been cutting some of his Mankind stuff at Quinvy) to buy out Hill's contract. With Hill now a currently hot 'chart act', Swamp was indeed interested and duly bought both the contract and the existing Quinvy Hill masters. This deal included the seven Quinvy masters recorded back in October '69 (see Part 6) which themselves included the already Quinvy 7003 issued "Faithful And True" and "I Think I'd Do It" (see Part 8). Ivy was to obtain royalties on the sales of any of these tracks once released by Swamp and the Dogg also obtained (via Ivy's negotiations with a now disinterested Atlantic) the rights to the Quinvy-recorded masters for the 1969 Atlantic 45 tracks "(Home Just Ain't Home At) Suppertime" and "It's A Hang Up Baby", issued that year on Atlantic 2659 (again, see Part 6).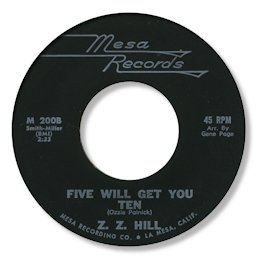 So now Swamp, unbeknown to Hill himself, had the singer under contract and technically had rights to the still big-selling Hill 222 hit. This was the 'lever' that Swamp used in order to finally get Z.Z. to record for him. At this point we'll let Swamp himself take up the story.
"Now I'm on my way to meet 'my act'. Hill was appearing in New Orleans and I drove in to meet him formally and to avail him of the great news that I, someone he could depend on, had purchased his contract. He refused to meet with me or acknowledge me. He became more pissed at me than he was with Phil and Quin, after he found out that I was friends with – and doing business with – both of them. How can I get his attention? I had (my lawyers) place an injunction on (Matt and Z.Z's) hit record and freeze all assets at the distributor level. Matt came to the table immediately as the representative for both of them. I levelled with (him) and told him that, even though the record was legally mine, I had no intentions of claiming it, or its assets. I just wanted to work out an arrangement with Z.Z. to get him into the studio. The deal (was) I would remove the injunction and Z.Z. would meet me in (Sheffield) for a week (to) record an album at Quinvy where Quin Ivy (would) not show his face. Z.Z. (was to) learn the material I presented to him and not engage in any lacklustre vocal performances (and) upon release of the records he (was to) agree to 2 concert engagements for expenses only. He would be paid the royalty guaranteed in his Capricorn/Quinvy agreement and I would give him an immediate release of contract upon him finishing the last song scheduled in the session."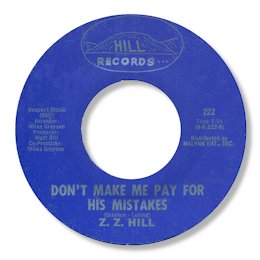 This effectively confirms that all of Hill's 'new' material for Swamp was cut at Quinvy purely during that week-long session at the end of July and the first couple of days of August 1971. According to Swamp there are still a couple of tracks missing from that session which neither he nor David Johnson nor Quin Ivy have yet found. Hill clearly appreciated the terms of his deal with Swamp (particularly, I would imagine, the contract-release clause which came into force as soon as the session was complete). As a result, Swamp says "we had a great session and I gave him the release as promised. I enjoyed knowing and working with Z.Z. He was one of the nicest and most sincere people I've ever met or had the God-given pleasure to work with."
As noted above, earlier in the year, and well before Hill had ever entered a studio with Swamp, the Dogg had issued amongst his first batch of early 1971 Mankind releases a stereo re-mix on Mankind 12003 of the first Z.Z. Hill masters he had already obtained from Ivy, namely the previously released "Faithful And True" coupled with "I Think I'd Do It". Sadly, once again, this fine coupling failed to dent the charts.
Meanwhile, as explained, Hill had returned to his brother Matt's 'fold' to try to achieve that elusive major hit.
His first two 45s put out by his brother did not succeed in that respect. "Five Will Get You Ten" coupled with "The Right To Love"on MHR 220 were two songs previously issued together way back in 1964 on Mesa 200, this small label having been based in La Mesa, a suburb of San Diego.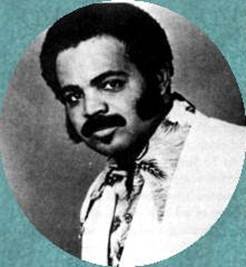 Next, Matt Hill issued Z.Z's "Mister Nobody, Somebody", his shorter-titled version of Johnnie Taylor's "Mr Nobody Is Somebody Now", originally from Johnnie's 1968 album "Who's Makin' Love" and then a 1969 Taylor single on Stax 0055. However, Z.Z's version, coupled with the first outing for "Think People", on MHR 221, would also fail to chart. Nevertheless, by February/March 1971, Z.Z. was finally enjoying his biggest hit to date with "Don't Make Me Pay For His Mistakes" (as already detailed above).
Although not down to Z.Z., his old label, Kent quickly cashed in on this success by reissuing his 1965 Kent 416 side "Someone To Love Me", though this was now re-titled "I Need Someone (To Love Me)" and 'benefited' from added string sweetening. Coupled with "Oh Darling" on Kent 4547, the release scored well on the back of the recent Hill hit, staying 7 weeks on the R&B chart from 22nd May 1971 and peaking at No.30, while also creeping into the pop Hot 100 for three weeks from 19 June, where it stalled at No.86. (The original song had already been well covered in around 1969 by Tommy Soul on Gaslight 12945 – you can hear Tommy's version here).
Kent tried unsuccessfully to play their trick twice by then issuing another 45 of more old 'in the can' Z.Z. material, namely "You Don't Love Me"/"Have Mercy Someone" on Kent 4550, while Hill's brother Matt formed a new label called Audrey especially for him.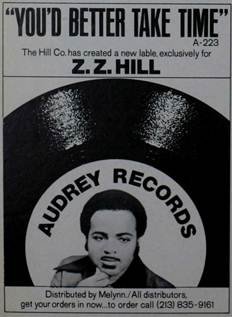 However "You Better Take Time"/"It Can Be Fixed" on Audrey 223, which was released in August 1971, also failed to return him to the charts.
A further release would appear at the turn of the year on Audrey 224 – after Z.Z's second Mankind 45 had already hit the R&B charts (see shortly) - but "Ain't Too Proud To Beg"/"Sweet Woman By Your Side" would not register nationally.
Soon Matt Hill would choose instead to resurrect his Hill label which, after Z.Z.'s time with Swamp, he would manage to get linked to United Artists.
So, while these other parties were trying to get Z.Z. back in the charts, Swamp Dogg was busy from 26 July 1971 onwards cutting enough tracks on Hill to add to those 'old' Quinvy ones now under his own belt in order to release an album on Z.Z. and, what's more, to hopefully launch it with a successful single taken from it. For the session Swamp recruited Lou Mullenix, Fred Proudy and Jasper Guarino on drums, Pete Carr and Jimmy Evans on guitars (was this drummer Jimmy 'Be Bop' Evans?), Charles Haywood, Bob Wray and Butch Owens on bass, Clayton Ivey, Ronnie Oldham and Chuck Leavell (plus Swamp himself) on keyboards, nine horn-men including Bowlegs Miller and James Mitchell, plus Phillip Mitchell, Leawaii Little and Cheryl Echols on backup vocals. David Johnson was at the board.
In fact only six new tracks cut by the Dogg were included on the 10-track album that resulted, which, in the circumstances, was rather mis-named as "The Brand New Z.Z. Hill" (Mankind 201). However, to be fair, some of the unreleased tracks Swamp had acquired from Hill's October '69 Quinvy session may well have been 'unfinished' and may therefore have needed some extra work and/or re-mixing, although only 2 such tracks appeared on the album, the other two 'acquired' tracks having already seen full release.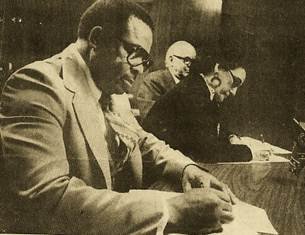 Bob Carl Bailey
Wanting to continue his concept approach adopted earlier with Doris Duke, Swamp turned Side 1 into a three act "Blues At the Opera" and the five tracks used were given Scene numbers with the final track being the Finale. The opener was Swamp, Gary Bonds and Don Hollinger's "It Ain't No Use", a repetitive blues with Hill's 'stand in' (see shortly) speaking rather than singing the lyrics for the first half of the track; mind you, when Z.Z. himself gets down to singing, it's impressive stuff, with some nice guitar work too from Pete Carr. Swamp and Bonds' "Ha Ha (Laughing Song)" is much funkier with again a repetitive backdrop behind spoken lyrics throughout its first part, while this time even the sung portion of the track is not outstanding. As noted. throughout both these tracks there are some spoken conversations between Z.Z. and his 'girl', although in fact a certain Bob Carl Bailey was used for Hill's spoken parts, while the 'girl' was Cleazell Brown. Bailey was a dee-jay for the Tuscumbia-based AM radio station WZZA, "The Soul Of The Shoals", a station he and his wife Odessa would own from 1972. Apparently, Bailey just happened to call by the studio when Z.Z. was being reticent about performing the spoken parts himself, chiefly because he felt it was already going to be hard enough to successfully put down his new songs within what he saw as a fairly tight recording schedule.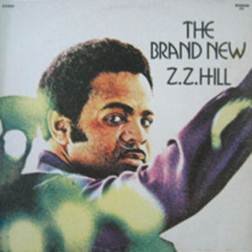 Returning to Hill's album, the beginning of Swamp, Bonds and Hollinger's "Second Chance" again uses one of these 'conversations' before the music cuts in and Z.Z. takes up the lyric of what then becomes a fine melodic piece of fairly deep soul – taken in isolation, easily the best track on Side 1 along with the re-issue at the Finale of "Faithful And True". More spoken conversation kicks off the pacy, driving and quite 'catchy' Swamp, Bonds and Whitehead piece "Our Love Is Getting Better". Finally, on Side 1, The Dogg decided to add a pre-nuptial chat between Z.Z. and his 'best man' before cutting into the previously-recorded 'wedding song' Finale to his 'opera', which, as we've just noted, was "Faithful And True".
Side 2 deserts the concept approach (and the spoken word) and simply offers up 5 Hill performances. The opener is a fine new version of Harlan Howard's great song "Chokin' Kind", perhaps most associated with Joe Simon. Next, we get a previously-recorded item, "Hold Back (One Man At A Time)", which on its original October 1969 session-sheet had been called "Hold Back (Give Your Love To One Man At A Time)". It's a fine, walking-paced piece of storyline soul well enough handled by Hill. Then it's the final 'new' Hill recording on the album, a well-sung interpretation of Swamp and Gary Bonds' lilting piece of country-soul, "A Man Needs A Woman (A Woman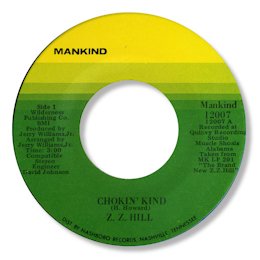 Needs A Man)". The last two tracks on Side 2 see the re-use of Bobby Darin's "Early In The Morning" and the Sam Dees-penned original flip-side to "Faithful And True", the potent, pacy and funky "I Think I'd Do It".
Personally, with regard to Side 1, I find the operatic concept somewhat pretentious and the spoken passages, which attempt to knit the meaning of the songs together conceptually, little more than an irritating interlude. Frankly, I would prefer just to hear the music. However, others may well agree to differ and this ground-breaking format may indeed have helped sales in non-R&B markets, the album never making it to the R&B album charts but at least managing to creep into the bottom of the main pop Top 200 album list for just two weeks in January 1972, peaking at no.194. The single which was taken from the album and which was used to promote it was

Chokin' Kind coupled with the aforementioned older "Hold Back (One Man At A Time)" on Mankind 12007. By 9th October 1971 it had entered the R&B chart and would stay there for 8 weeks, peaking at No.30, while bubbling under the pop Hot 100 at No.108. (Incidentally, "Joel Whitburn's Top R&B Singles 1942-1988" contains a rare error in wrongly numbering the hit release of Hill's "Chokin' Kind" as Mankind 12017 – an understandable error perhaps, as the same track was later reissued, without any chart success, on that particular Mankind number – see shortly).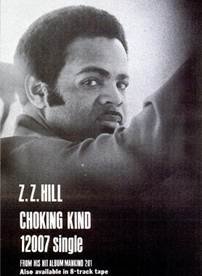 Second Chance, also from the album, was aptly released as Hill's second 45, although not before May/June 1972. Along with the older Quinvy side, "I Think I'd Do It", on Mankind 12012, it duly did pretty well in the R&B chart, entering on 24th June 1972, staying there for 12 weeks and making no.39. "It Ain't No Use" and "Ha Ha (The Laughing Song)", the first two tracks on Hill's album, were coupled on Z.Z's next forty-five on Mankind 12015, with the top side providing Hill's third Mankind hit when it entered the R&B charts on 4th November 1972 where it stayed for 5 weeks, peaking at No.34.
The aforementioned reissue of "Chokin' Kind" coupled with the first-time-on-single

A Man Needs A Woman on Mankind 12017 was a 1973 release which failed to chart, issued after Swamp had parted ways with Nashboro.
This would be Hill's last Mankind release and it would only be when he once again got back with brother Matt, who by now, as we've noted, was leasing his material to United Artists, that Z.Z. would next pick up further chart action.
Swamp Dogg himself made the most of his Hill masters and in 1983 and 1984 he stripped down the tracks and had a new bunch of session men help him re-record some of them out on the West Coast, using new technology and mixing capabilities. The seven tracks given these embellishments were "(Take Me) Just As I Am", "Faithful And True", "Put A Little Love In Your Heart", "Hold Back (One Man At A Time)", "Early In The Morning", "I Think I'd Do It" and "Touch 'Em With Love". Three studios in L.A. were apparently used, namely Perspective Sound, Hit Man and EFX. The musicians employed included Swamp himself on piano, Bob Etoll on guitar and sitar, Pete Carr on guitar, Eddie Rodriquez on drums, Phil Sanchez on bass, John Barnes on electric piano, eight horn players (including Harrison Calloway and Ronnie Eades) and five background vocalists (including Swamp himself and the fine West Coast R&B singer Young Jessie).
These re-worked recordings were issued by Swamp in 1984 on the Rare Bullet 2001 LP "Thrill On The (Z.Z.) Hill", together with a new instrumental 'album-filler' called "The Z.Z. Thrill" (according to the sleeve, or "The Z.Z. Hill" according to the label!).
The re-vamped "Touch 'Em With Love" made use of one of those tracks acquired by Swamp which had been originally cut by Hill at Quinvy in October 1969 in the wake of a minor hit with the same song by Bobbie Gentry, which had bubbled under the charts at No.113 in May/June of that year on Capitol 2501 and had spawned an album of that name on Capitol 155 which was also a small hit that August, Brook Benton having failed to chart with his single version on Cotillion 44031, issued around the same time as Gentry's. "Touch 'Em With Love" had first been offered to an apparently disinterested Dusty Springfield as a possible follow-up to "Son Of A Preacher Man" before Bobbie Gentry acquired it and some claim that Z.Z's version also made it onto a 1984 Rare Bullet single (#4241) in the wake of Hill's then recent chart success with Malaco. A release for this song on this label number is shown as an alternative issue by Soulful Kinda Music (with no details about its flipside), although the same web-site also rightly shows the regular issue for this label number which combined the two Hill tracks "Hold Back (One Man At A Time)" and "Put A Little Love In Your Heart". I have only ever seen copies of this recording with this pairing, so maybe Hill's "Touch 'Em With Love" was first pencilled in for single release and then withdrawn.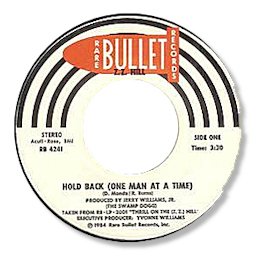 All the Quinvy-cut Hill sides have received a large amount of reissue activity over the years but perhaps the best earlyish CD was a 1994 two-fer from UK Ace on CDCHD 534 which paired together the tracks on "The Brand New Z.Z. Hill" with those on Freddie North's "Friend" album (plus two extra North tracks). I am advised that, at time of writing, this fine CD is still available. However the most intensive compilation of Quinvy-cut Hill sides came from Swamp himself in 2002 with the issue on SDEG CD#1951 of "Swamp Dogg Presents The Brand New Z.Z. Hill Plus 11 Bonus Tracks". This contained detailed sleeve-notes by Swamp himself from which some of the quotes and information provided above have been obtained. The CD contained all of Hill's work at Quinvy (including the acquired masters to the two Atlantic-issued sides) plus all of Swamp's 1983-4 re-mixes, except for the re-mix of "Touch 'Em With Love", only the original version of this recording being included, although the re-mix had appeared back in 1984 on the Rare Bullet LP.
Now, in addition to Doris Duke's, Freddie North's and Z.Z. Hill's Quinvy-cut Mankind LPs, the only other album recorded at the studio by Swamp Dogg was his own 1971 release, "Rat On" (Elektra 74089).
His previous album had been "Total Destruction To Your Mind" on Canyon 7706 from which "Mama's Baby, Daddy's Maybe" and "Sal-A-Faster" had been issued on a Canyon 30 single (a No.33 R&B hit in April 1970 and a No.113 'bubbling under' pop hit in May/June 1970), while "Total Destruction To Your Mind" and "Synthetic World" were next culled from the album for single release on Canyon 53. Then, around the time Swamp was forming Mankind, his self co-penned potent and bluesy "Straight From My Heart" (featuring Lonnie Mack on guitar) was coupled with Joe South's "Don't Throw Your Love To The Wind" on the second of only three 45s on Swamp's own Swamp Dogg Presents label (#501), which was distributed by Jamie/Guyden. These were 'new' songs but, a little later in 1971, two further cuts from the "Total Destruction…" LP, namely "These Are Not My People" and "I Was Born Blue", would creep out on Roker 505.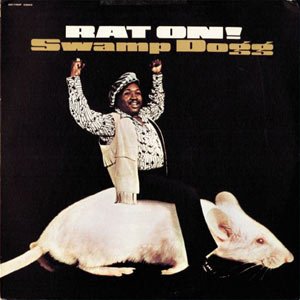 Although Mankind was now his No.1 production concern, Swamp himself was contracted as an artist not to Mankind but to Elektra and the credits on his Quinvy-cut "Rat On" album for the label were as follows:

"Produced, arranged, piano, vocal background, and everything else of any importance: Jerry Williams, Jr.; Stacy Goss: trumpet, flugelhorn; Sonny Royal: tenor, clarinet, baritone; Mike Stough: trumpet, flugelhorn; Robert Popwell: bass, percussions; Jesse Carr: guitar, background vocal; Jasper Guarino: drums.
Engineering: David Johnson."

The album cover has been voted one of the worst of all time. Personally I love it and Swamp himself refers to it a little later in this piece but it was designed specifically to depict the black man finally getting to spend some time 'on top' of the white man (rat). In fact, the rat was actually a 'blown up' photo of a hamster with a little 'doctoring' to make it look as though it was smiling, while Swamp himself was superimposed apparently 'riding' it while actually sitting on a bar-stool with one leg hidden.
This album is a storyline/message album where the lyrics to the songs mean almost more than the music. One minute they're dealing with racial and/or religious discrimination, the next with different aspects of guys (and gals) two-timing their regular partners.
Swamp and Troy Davis'

Do You Believe kicks off the album in suitably contentious mode by posing some interesting questions, for example: do you believe that everyone believes in something or other, if only their mother? It goes on to point out that only one man found that the world was round (hinting by implication that he could be wrong!). Then we're asked if we believe that there's no-one to believe in - but that it might just be safer to keep believin', which very neatly sums up a dilemma faced by many a religious 'fence sitter'. Finally, we get into the racial stuff and get asked if we believe in the NAACP or the Ku Klux Klan, the Panther Party or Uncle Sam. The song actually poses some serious questions and ranks amongst Swamp's best. As a piece of music it's also got plenty of mid-tempo, foot-tapping, down-home funky appeal.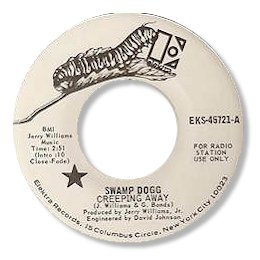 "Predicament #2" is a slow-paced potently-worded song about a two-timing husband who wishes just one woman could successfully look after both his family and his sexual needs. In fact this guy has both - but only via his two women, his wife and his mistress and you get the impression that he reckons no one woman could ever successfully fulfil both roles. I prefer Dogg's original here to Brooks O'Dells' early cover, also cut for Swamp at Quinvy for the first Mankind 45 on No.12000 (see Part 9).
"Remember I Said Tomorrow" is a rolling mid-tempo pleaser with a "Change Is Gonna Come" storyline envisaging better days ahead for black Americans, while Swamp and Gary Bonds'

Creeping Away is another song with a two-timing theme – Swamp goes visiting his 'far away girl' in Tennessee from his home in North Carolina courtesy of a Greyhound bus. She's the butter on his regular home-baked bread.
The Bee Gees' "Got To Get A Message To You" is taken at a much slower pace than the original and while this makes it somewhat more dramatic it also seems overly ponderous. Perhaps the most anti-status-quo song here opens Side 2, namely the cleverly titled "God Bless America For What", which again draws attention to the racial and religious inequalities in the American system, although it descends at the end into a long spoken plea, even to the Lord above, to help right all of the wrongs.
"I Kissed Your Face" is a rather messy piece to my ears, with too many tempo changes and with Swamp singing throughout in rather too high a register.

That Ain't My Wife sees Swamp coming home to catch his wife with her fancy man. He instantly disowns her and walks straight out the front door. However, after going for a few drinks he returns just to check things out but the couple are now even more embroiled in a sexual triste than before and so he walks out again, this time for good!
Mickey Newbury's country song "She Even Woke Me Up To Say Goodbye" deals with the desolate sadness experienced by a guy whose girl has left him - and yet it seems he is prepared to forgive her because he's sure she tried in vain to make things work and even at the end didn't mean to be unkind or to upset him. "Do Our Thing Together" is another Swamp and Troy Davis collaboration. It's a funky piece about a couple who believe they can make a real difference and who just can't go wrong providing they stick together. Personally I think Davis makes the best writing partner for Swamp on this particular album, their songs together being generally stronger than those co-penned with Gary Bonds.
Swamp's album was released in June 1971 but had been preceded by a single on Elektra 45721, issued in April, which featured two tracks from the LP, namely "Creeping Away" and "Do You Believe". As usual, Swamp (and presumably Elektra) had been hoping the single would hit, thereby giving a great fillip to the upcoming album - but it was not to be.
The album certainly made some bold and establishment-challenging statements for the early 70's and, chiefly because of this, Swamp's association with Elektra didn't last long. No-one summed this up better than Swamp himself, as we can see from this 'integrated' quote, compiled from two sources, namely Swamp's phone interview with James Porter in 2000 and his own notes to his "Little Jerry Williams Anthology (1954-1969)", released on SDEG 1942 in the same year:
"Canyon went down the drain and Elektra wanted Swamp Dogg. With my partner-attorney Robert Fitzpatrick we made the Elektra deal with loads of hoopla but enjoyed only moderate success. Elektra was a lily-white company. They had one black artist (the Voices Of East Harlem) at the time. They got rid of them when I came. But now, there was also a thing where I was kinda militant and I was asking questions about how come there ain't no blacks working here? I was just really too deep into their shit. A lot of shit that, quote-unquote, just wasn't none of my motherf….in' business. But I was makin' it my business. Then, when I decided to go on tour with Jane Fonda and her Free The Army revue, they really went off. I turned out to be everything that Elektra didn't want - Anti-War, Pro-Black, a Peace movement participant and very candid. As if this was not enough, I designed the album cover with me mounted on the back of a smiling white rat, symbolizing the Black Man getting a ride for a change and called it "Rat On". I was also sued by the Irving Berlin Foundation for writing "God Bless America For What". I definitely was not winning any popularity contest!".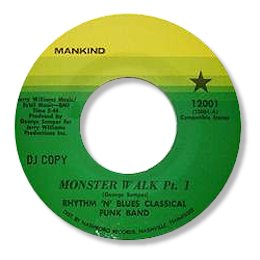 UK Charly issued a CD in 1991 (Charly/Snapper 301) featuring both the "Total Destruction To Your Mind" and "Rat On" tracks. In 1996 a similar CD featuring the tracks from both these albums was issued by Swamp himself on S.D.E.G. 1940 under the title "The Excellent Sides Of Swamp Dogg, Vol. 1: Total Destruction To Your Mind/Rat On". If you can't get hold of either of these, the full "Rat On" album was still available for MP3 download from Amazon at time of writing.

Swamp's early Mankind releases by the likes of the Rhythm 'n' Blues Classical Funk Band (with their George Semper-produced two-parter "Monster Walk" on #12001) and Something Real ("Yes I Do" coupled with "Ain't That Cold" on Mankind 12008) were not cut at Quinvy.
Neither was the Mankind 202 LP "Whatever's Fair" by the Greene Sisters, who were technically a gospel group whom Swamp had encountered before. We'll let Swamp take up the story via quotes from his 2000 posting to the southernsoul Yahoo group and also from his 1998 interview (updated in 2001) for Juke Blues:
"I visited a church in New York, circa '67, to see the Mighty Clouds perform and this group was on the bill. I signed them, took them into the Musicor Studio and produced a part 1, part 2 single entitled 'Thank You Lord' which was released on Dynamo 128 and written by Gary Bonds and myself. There was another cut on that session that I never released entitled 'The Lord Is Watching You'. This was my first stab at gospel music. Their first album had been on Hob (Hob, standing for 'House Of Beauty', was Scepter's gospel 'arm' and the album had been called "The Greene Sisters Sing" on Hob 267 - author) and (that) spawned a hit, 'Rushing Of The Mighty Wind' (Hob 169 coupled with "About My Soul", though the Sisters had an earlier Hob single too, viz."Yonder Comes My King" and "This Is It" on Hob 160 – author). At that time, their father was singing with them. When I signed them he had a heart attack and retired from singing and roadwork. The Greene Sisters of Baltimore, that's how they were usually billed."

Swamp continues: "There were just three actual sisters. If you look at the album cover, the girls are (l to r) Maxine Greene, Joyce Butler (nee Greene), Edna Issacs (nee Greene), Evelyn McLaughlin (nickname Jap) and Shirley Brooks. Willie Jackson is on the back cover - he was the piano player and a damn good gospel singer as you can attest to on Side 2, Track 1 (a medley of "Lord Keep Me Day By Day" and "If I Had A Hammer"). After the Mankind LP, they continued to sing in churches, at conventions and in venues throughout the country including Alaska."
The Greene's Mankind 202 LP was cut at The Regent Sound Studios in Philly - the back-sleeve makes it plain that it was engineered there by Joe Fein. The arranger was, of course, Richard Rome and the session featured some of the top Philly session men of the day, including Norman Harris on guitar, Ronnie Baker on bass, Ronnie DeStefano on drums and Richard Rome and The Greene's usual accompanist, Willie Jackson on piano. Swamp himself is simply credited as Producer. The album was mastered in Nashville.
However, there was one more aesthetically fine albeit not widely known soul singer whom Swamp did indeed record at Quinvy and that was the unrelated Bette Williams, who, like the Greene Sisters, also hailed from Baltimore. Swamp takes up the story, courtesy of his interview for Juke Blues magazine:
"The disc jockey who brought her to me was Rockin' Robin. So, I gave him a piece of the publishing of an instrumental and renamed the song 'Robin Right On' (laughs) Oh, I love this business!" (it was the flip of Bette Williams' pacy 'He Took My Hand' on Swamp Dogg Presents 101, a forty-five which appeared in the late-summer of 1970, before Swamp took Bette to Quinvy).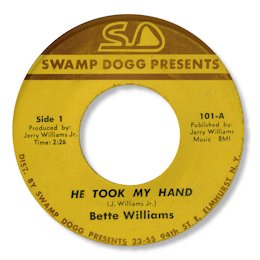 Swamp continues: "(Later) she was on Gregar Records. She was supposed to be on Elektra, but it was the time of the cute black woman. She didn't look like a Freda Payne, she was full bodied and dark-skinned. She was from Baltimore. After I cut her, I did something that almost back-fired. I got the contracts made. Elektra didn't have but one black act at the time (me!). This was the first time they were going to have two black acts. But they didn't want the girl to look black. They wanted her to look very 'fair'. It just wasn't going to work, so I got distressed and gave the (tracks for the) album to my wife (Yvonne). I said, 'Look, this is your album. Go sell it. Whatever you get off of it is yours.' So, she messed around with it and got it to George Greif who owned Gregar, distributed by RCA. I think they gave her $25,000. They put out a bunch of singles, but the album never came out."
Gregar was an L.A-based label, named after the first three letters of the surnames of its owners, long-term artist management men, George Greif and Sidney Garris. Greif had been a significant artist manager for many years, having Billy Eckstine on his books as early as the late-50's and then going on to earn plenty of dollars from his main 60's acts The New Christy Minstrels and Jose Feliciano. He would also be associated over the years with the likes of Stan Kenton, The Crusaders and Lamont Dozier.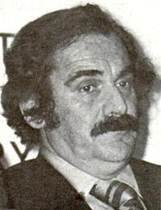 George Greif
By 1967 he was representing the US interests of UK Island Records and it was at Island that he first encountered future US Rolling Stones manager Jimmy Miller, with whom the Greig/Garris agency would forge more formal links in 1971. Over the years Greif also represented the US interests of several other UK acts, from late-50's/early 60's 'names' like Frankie Vaughan and the King Brothers to jazzy R&B man Georgie Fame and the significant UK composer Norman Newell. During Gregar's existence, in 1970 Greif opened an L.A. night club of the same name, it having no liquor license, so as to allow youngsters to frequent it 'unsupervised'. Grief was also prone to speaking regularly at music industry seminars on a variety of subjects ranging from managerial matters to the effects of drugs on the music scene. In 1982 he would become President of the 'veteran jazz' label "Crusaders Records", named, no doubt, with more than a 'nod' to the pop-jazz group of the same name whom he had managed.
Greif and Garris' adventure owning a nationally-distributed label lasted only from 1967 to September 1972. (A predecessor label, Go Go, saw just 5 releases from 1966 through to 1967). Gregar was distributed throughout its five-year existence by several different concerns, including Epic, Mira, CBS and RCA. The label released some 28 singles and several LPs, its singles having three separate series, an early 00-prefix series of just 2 releases (this was the same prefix as used by Go Go), then a 7000 series which saw seven 45s released, while its main (and last) 71-prefix series would see nineteen. The label had a strange, eclectic variety of acts, with several in the so-called 'acid psych rock' field. These included the Danish band Savage Rose and the San Franciscan outfit Faun. Also thrown into the Gregar mix were Brill Building veteran Tony Bruno, the Edwin Hawkins Singers, the Watts 103 Street Rhythm Band, Norman Greenbaum, Frankie Beverly's Raw Soul, Dr Watts' Medicine Show & Jug Band, actor-singer Randy Boone (nephew of Pat Boone) and, of course, Greif's own New Christy Minstrels. Suffice to say that even allowing for Raw Soul's presence on the label, the deeply soulful vocal style of Bette Williams would prove a very different kind of act for Gregar.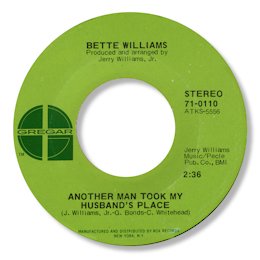 Bette was taken down to Quinvy in mid-'71 by Swamp and there she would record a total of 10 songs, only 5 of which would see release on two 45s for Gregar. Five may seem an odd number for two 45s but "If You Get Him (He Was Never Mine)" appeared only on the promo version of Gregar 77-0113, being replaced on the issued single by the pacy and powerhouse

Now That I'm Gone (When Are You Leaving?), with its fine brass interjections and great lead-vocal from Bette. This Swamp & Whitehead song had first been recorded for The Dogg by Sandra Phillips on her Canyon 7712 album "Too Many People In One Bed".On the other side of the released 45 there remained the wonderful Swamp Dogg/Charlie Whitehead song

If She's Your Wife (Who Am I), previously cut by Doris Duke (see Part 9).
This was Bette's second Gregar single, the first being "A Feeling (For Someone Else Has Grown)" and "Another Man Took My Husband's Place" on Gregar 71-0110. The unissued sides were

Can't Win For Losing and "Got To Travel On" (which both survived) whilst the tapes for "The Baby Is Yours", "I've Been Down So Long" and "After All I Am Your Wife" were sadly lost.
Her first 45 on Gregar 0110 was issued around September 1971 and although it proved commercially unsuccessful it was an excellent example of good southern soul. "A Feeling For Someone Else Has Grown" was a tough driving piece with a great bass-line and a powerhouse vocal from Bette. The slower cheatin' song "Another Man Took My Husband's Place", complete with femme back-up chorus, sees Bette reminiscing how she took another lover simply because her husband was a 'travellin' man' who was always away from home.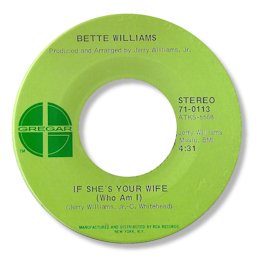 However, from Bette's second 45, "If She's Your Wife (Who Am I)", was simply outstanding. The arrangement is sparser here than on Doris Duke's original and the song is all the better for it. An insistent, repetitive bass note, together with some great churchy-piano work and simmering organ beautifully underpin the slow-paced story-line about a mistress who has had two children by this guy but sees the wife getting all the respect at her expense. What's more she works two jobs to keep her head above water while the wife simply goes out spending her husband's money. Nonetheless, the mistress admits she will keep on loving the guy until the day she dies. It's a wonderful Swamp and Charlie Whitehead song and, although, as already intimated, the arrangement is simple and uncluttered (with some gospelly femme back-up vocal support only appearing near the song's fine climax), this is precisely all that is needed to neatly underpin Bette's superbly emotive delivery. In my book, this is quite simply the finest of all Swamp's many fine soul productions.
The promo-only "If You Get Him (He Was Never Mine)" sees Bette resigned to the fact that her rival for her man's attention will ultimately win out and take him from her. It's another wonderful piece of slow-paced southern storyline soul penned solely by Swamp, beautifully interpreted by Bette and it clearly deserved a full release.
Of the surviving two unissued sides, the slow paced "Gotta Travel On" retains the high quality of Bette's other offerings and is superior to Brooks O'Dell's version for Mankind (see Part 9). The side was well worthy of release but presumably the commercial failure of the first two singles meant Gregar couldn't risk issuing yet another. "Can't Win For Losing" is another potent in-your-face piece of driving southern soul with Bette riding the riffs majestically as she complains about her lack of success with the opposite sex. Again this was easily good enough for release. It's such a shame that the three other unissued cuts got lost and just as much of a shame that Bette's strong, clearly gospel-honed, empathetic voice was apparently never heard on record again.
This fine Bette Williams material (including not only her two surviving unissued Gregar recordings but also both sides of her 'Swamp Dogg Presents' 45) first received full coverage as part of UK Kent's "Swamp Dogg's Southern Soul Girls" CDKEND 288 release in 2007, the remainder of this excellent CD concentrating on the tracks from Sandra Phillips' 1970 Swamp-produced "Too Many People In One Bed" Canyon 7712 LP (these Phillips recordings having not been cut at Quinvy of course but, along with most of Swamp's Canyon stuff, at Capricorn Studios in Macon, with some overdubs courtesy of Sigma Sound in Philadelphia). However, this fine CD should be in every southern soul lover's collection.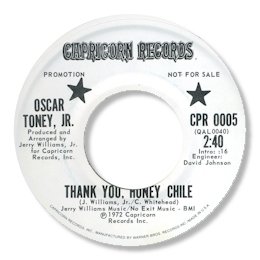 In our next and final Part we'll give a broad coverage to the other activity at Quinvy during its last years of existence from 1971 through to 1973, when David Johnson would acquire the studio and re-name it Broadway Sound.
UPDATE ~ While researching my article for this web-site on Oscar Toney Jr., it came to my notice that the label of Oscar's fourth and final 45 for Capricorn in 1972, "Thank You, Honey Chile" c/w "I Do What You Wish (But I Wish What You Do Wouldn't Hurt Me So)" (#0005), shows that it was produced and arranged by Swamp Dogg but also that it was engineered by David Johnson. Now, neither I nor Sir Shambling are aware of David having engineered a track at any studio other than Quinvy (up to 1973) and Broadway Sound (the same studio further to his acquisition of it in about late 1973). Hence, I believe this is yet another Swamp Dogg-produced Quinvy recording from 1972 that we have omitted to mention above.
Notes ~
1. Swamp Dogg's own excellent website can be found here. Read all about the Dogg's upcoming gigs, reviews of his music and buy his great CDs!
2. Ace UK have issued the following CDs which feature material produced by Swamp Dogg. All are absolutely essential purchases:-
Swamp Dogg Presents The Brand New ZZ Hill/Friend Freddie North ~ Ace 532
Doris Duke I'm A Loser ~ Kent 242
Swamp Dogg's Southern Soul Girls ~ Kent 288
Brooks O'Dell I'm Your Man ~ Kent 296
It's All Good Swamp Dogg ~ Kent 346
Blame It On The Dogg - Swamp Anthology ~ Kent 293
Acks: John Ridley, Jerry 'Swamp Dogg' Williams, Ace Records Ltd., Tony Rounce, Ray Ellis, Juke Blues Magazine, The Right Track Radio Show's Interview with Swamp Dogg on 26 Feb 2008 which you can listen to or download at: http://www.therighttrack.org.uk/jerry_williams.html